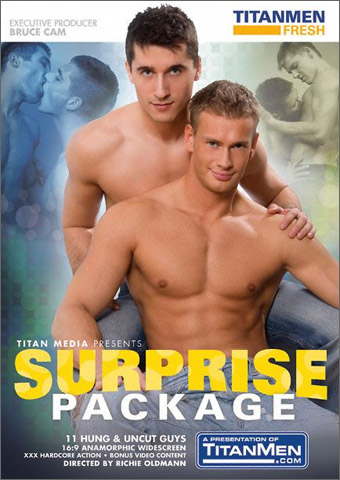 Studio: Titan Media / Titan Fresh
Directed by: Richie Oldmann
Year of Production / Release: 2008
Country of Production: Czech Republic

CAST:
Damian Dickey
Adam Hanks
Hans Kaas
Dano Janda
Jirka Mendel
Arkady Beran
Tony Eliott
Kuba Pavlik
Jay Roberts
Boris Sacharov
Thomas Winter
FROM TITAN MEDIA WEB SITE:
At the super sexy birthday bash in Surprise Package, the birthday boy doesn't even get to blow out a single candle before his crew of hot friends are blowing and fucking each other all over his house. Lean and muscled Jay Roberts kicks the party off by jumping out of a big gift box in nothing but a jock strap and a bow tie. He lures the birthday boy—muscular blond Edvar Soucek—into the bathroom where they're joined by hung and handsome Thomas Winter; the three guys stuff each other's faces with their meaty, uncut cocks. Thomas and Edvar spray Jay with gobs of spunk as Jay moans and shoots his own load all over his hard pecs. Edvar fucks Jay until he blasts another huge pool of sperm.
   In another part of the house, hunky George Kovar and hot blond Atticus Aron take turns cramming David Begua's cute face and bubble butt full of cock until he nuts all over his ripped abs.
   Back in the party room, handsome Adam Hanks and studly John Paul deepthroat Jirka Mikhel's enormous horse cock, choking and gagging as they swallow every inch of his monster meat. John and Jirka splatter Adam's smooth, hard pecs with jizz, but the two horndogs aren't finished yet and take turns skewering Adam's beefy ass until all three explode in another spunk eruption.
   Cute couple Dano Janda and Arkady Beran show up late for the party but quickly find an empty bedroom and gorge themselves on each other's stiff dicks. Dano tongues Arkady's luscious hole and assrams him until they're both soaked in cum. A fucking good time was definitely had by all!
SCENE ONE
Edvar Soucek, Jay Roberts and Thomas Winter
Beefy blond Edvar Soucek celebrates his birthday with a bunch of his hot friends, who arrive with a big birthday package. When Edvar opens the box, handsome Jay Roberts springs out in nothing but a black jock strap and a bow tie. Jay lures Edvar into the bathroom, strips Edvar out of his clothes and inhales his thick, uncut dick. Hunky Thomas Winter wanders in and rips off his clothes; he joins Edvar on the floor as they both swallow Jay's cock to the base, sliding their tongues up and down his rock-hard shaft as he moans in pleasure. Edvar and Thomas stand over Jay and jerk their cocks until they splatter his lean, ripped pecs with cum, then Jay manhandles his own meat until he launches a big wad of spunk all over himself.
   The guys find a bedroom and throw Jay onto his back on the bed. Edvar tongues Jay's muscular ass while Thomas skewers Jay's throat with his hard cock. Edvar pulls on a condom and slamfucks Jay while Thomas strokes Jay's dick. Jay flips onto all fours and Edvar, his chiseled body gleaming with sweat, continues to ream his ass while Thomas crams his cock down Jay's hungry throat. After Thomas leaves to check on what's happening back in the party room, Edvar fucks the cum out of Jay, who shoots a huge load all over his smooth tan abs and pecs. Edvar finally explodes, mixing his creamy jizz in with Jay's.
SCENE TWO
David Begua, Atticus Aron and George Kovar
Lean David Begua and hot blond Atticus Aron find an empty room where Atticus pulls David's clothes off to reveal his incredibly ripped torso and bulging briefs. David beats Atticus in the face with his dick before plunging it down his throat. Just as David gets on his knees to take a turn slobbering and sucking on Atticus' massive member, muscular cute George Kovar shows up and starts stroking his cock as he watches David and Atticus in action; David and Atticus then tag team George's hot tight throat. Atticus and George whack off, sending spunk shooting all over David as he shoots his own load all over his six pack abs.
   Back in the room where the birthday's party's going on, handsome Adam Hanks and Jirka Mikhel are playing with dildos given out as party favors while making out on the couch.
   The action cuts back to David, George and Atticus, who are now on a couch; Atticus fingerfucks and rims David while jacking his own cock, and George stuffs David's face full of hard dick. Atticus plunges his cock deep into David's fuckhole while David deepthroats George's rod. David impales himself on George's shaft while Atticus stuffs his dick down his gullet and sucks on David's cock as David's getting fucked. David flips on his back and George pounds his ass while Atticus and David kiss. George pulls out of David's vice-gripped asshole and showers him with jizz while David creams all over himself. Atticus, who's been stroking himself while kissing David, explodes, sending a river of cum all over David's chest.
SCENE THREE
John Paul, Adam Hanks and Jirka Mikhel
Study John Paul arrives at the party late to discover Adam Hanks and Jirka Mikhel making out passionately on the couch. The three guys quickly rip off their jeans and John and Adam hungrily deepthroat Jirka's enormous horse cock, choking and gagging as they swallow every inch of his huge dick. Jirka swallows Adam's cock while John, on his knees, continues to vacuum his tight throat around Jirka's massive prick. Adam takes a try at getting Jirka's monster cock down his throat while Jirka and John make out. Adam dives back and forth between his two friends' poles; the two guys stand over him moaning and groaning until they spray their cum all over Adam's tight, smooth pecs. Adam gets on all fours, then Jirka spits on his fingers and crams them up Adam's tight ass to loosen him up – a good idea considering how much meat there is to cram in! He works his cock up Adam's hole while John rams his swollen fleshpole down Adam's throat. Jirka and John drench the groaning Adam in cum as he jerks off and shoots a load of prickjuice all over himself.
SCENE FOUR
Dano Janda and Arkady Beran
Cute couple Dano Janda and Arkady Beran are the last to arrive but quickly find an empty bedroom, strip out of their jackets and start making out; the guys get completely naked and Arkady practically inhales Dano's juicy dick. They flip and Arkady lies back on the bed while Dano slowly gorges himself on Arkady's hefty cock. Dano tongues Arkady's tight asshole to tease it open, then flips him on his back and plunges his cock deep into his hot hole. Dano lies back and Arkady slowly eases his ass down onto Dano's condomed cock and slides up and down the massive shaft with his legs spread wide and his own hard cock slapping against his hard abs. Dano lunges in and out of Arkady's tight muscular ass to the point when he can't take any more, then pulls out; they both stroke their cocks until they hurl two gigantic wads of sticky cum all over themselves and the bed.

MORE INFO, PREVIEW OR WATCH RIGHT NOW:
TITAN MEDIA
TO PURCHASE THIS, GO TO: TITAN MEDIA STORE