Studio: Lucas Entertainment
Directed by:
Year of Production / Release: 2015
Country of Production: U.S.A.

CAST:
Leo Alexander
Pedro Andreas
Drae Axtell
Mario Costa
Sean Duran
Rafael Lords
Armond Rizzo
Xavier Saldana


INFORMATION FROM LUCAS ENTERTAINMENT:
The summertime is on fire with "RAW LATIN HEAT" and Lucas Entertainment has harnessed its energy to release this season's bareback hit! Drae Axtell stars in his first-ever sex scene, and it's with seasoned gay porn star Pedro Andreas. Later on Sean Duran turns Xavier Saldana into his raw fuck slut. Rafael Lords takes all 12 inches of Leo Alexander's bare cock. And Armond Rizzo gags on Mario Costa's fat uncut meat. Take care around all the "Raw Latin Heat," else you'll get burned!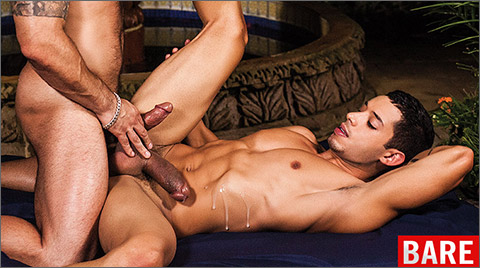 SCENE 1: Drae Axtell Takes A Raw Fucking From Pedro Andreas
Drae Axtell takes a raw fucking from Pedro Andreas! Drae is a model that has been building a presence on the web for a bit before this initial scene's debut, and when you finally see him in action you'll realize what all of the hype is about. Pedro Andreas is a seasoned performer, and he knows how to guide guys who are new to the industry. He takes it relatively easy on this newcomer, but even when he's trying to be a bit gentle Pedro still fucks hard after awhile. He gets into his men, as Drae Axtell can attest!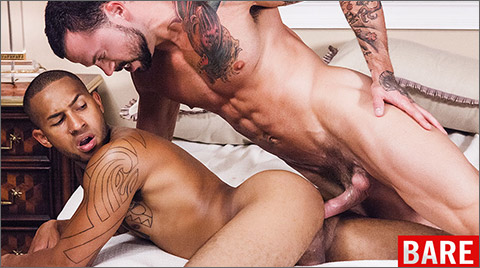 SCENE 2: Xavier Saldana Gives Up His Ass To Sean Duran
In Xavier Saldana's model profile, he makes his sexual preference very clear — in his own words it's all about "anal penetration." With that said, the production team expected him to deliver a performance as a hungry bottom, and he didn't disappoint. That's why he was paired up with Sean Duran, who knows how to give a bottom just the right amount of pounding. A favorite moment in the scene, based upon the opinion of your humble porn content writer, is around the 2:38 timestamp. Sean kicks back and Xavier sets out in pleasuring his man orally. Hey, if Xavier is submissive then he might as well work for it all the way. But Sean rewards Xavier for his hard work. Don't believe me' Check out 21:15 and judge for yourself.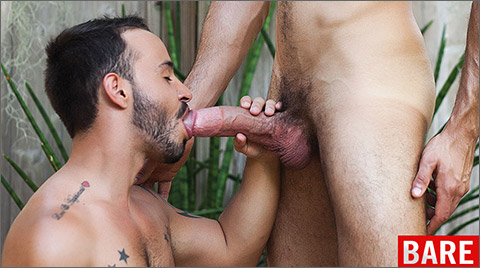 SCENE 3 – CHALLENGE ACCEPTED: Rafael Lords Takes Leo Alexander's Monster Cock
Challenge accepted indeed — Rafael Lords is a little guy, and Leo Alexander presents him with an oh-so very big dick. You really have to admire Rafael's gusto for not only handling Leo's meat, but also enjoying all of the work he puts into his encounter. Because his mouth barely fits around it, Rafael uses both oral and hand techniques while working to get Leo Alexander hard. And to what end, you might ask' Skip ahead to 24:12 to see for yourself.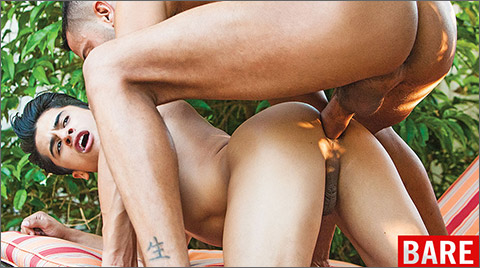 SCENE 4: Armond Rizzo Bottoms For Mario Costa's Raw Uncut Latin Cock
These little Latin boys sure are size queens. Armond Rizzo is back, and he puts us all to shame with his skills wrangling ridiculously large penises. Whose ridiculously large penis is in the running this time, you might be wondering' It's Mario Costa, who is new to the set of Lucas Entertainment, and with any luck he will be making a return appearance in future films… with endowment like that, it would be a shame not to. And judging by 16:25, I think Armond Rizzo is in agreement. Clearly, Mario Costa is a skilled top — it must all be in the Cuban breeding.

SEE THIS NOW / MORE INFO:
LUCAS ENTERTAINMENT
Scenes Premier online prior to DVD release and are available to view anytime in the Members Area.
Members can watch scenes from all Lucas Entertainment releases anytime online.