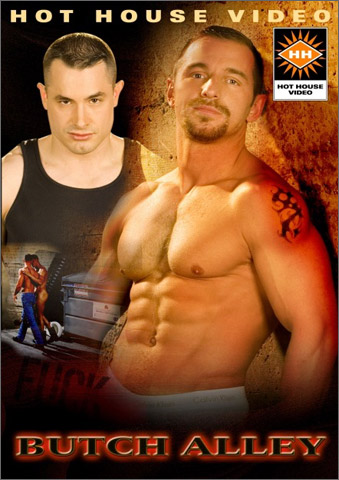 Studio: Hot House Entertainment
Directed by: David Lamm
Year of Production / Release: 2006
Country of Production: U.S.A.

CAST:
Thom Barron
Dillon Brody
Braeden Casey
Alex Collack
Enzo Grimaldi
Antton Harri
Kyle Lewis
Tony Mecelli
Nick Piston
Jason Ridge
Christoph Scharff
Kirk Ziegler
INFORMATION FROM HOT HOUSE:
Hot House Video takes you to a deserted alley in San Francisco's notorious South of Market District where men go to blow off some steam and blow a load after a hard day's work. Rugged construction workers, buff blue-collar types, mechanics, men with lunch boxes and big tools all hookup for hard-edged man-to-man sex. These men don't waste time talking – they know what they want and they take it. If you like your men tough and your sex rough you're going to spend a lot of time cruising, sucking and fucking in the shadows along Butch Alley.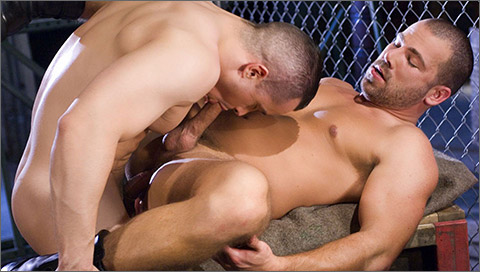 SCENE 1: Antton Harri fucks Jason Ridge
Hot House Exclusive Jason Ridge has a new rougher, tougher look and about 25 pounds of extra muscle to back it up. Antton Harri discovers that Ridge has a new attitude as well when Ridge pushes Harri up against a chain link fence and aggressively eats his ass. Thanks to a reach around, Harri's long curved cock is rock hard as Ridge stands up to shove his throbbing cock into Harri's bubble-butt. Still in charge, Ridge orders Harri to eat his ass. Harri's expert oral attention moves from Ridge's nuts to his cock and back to his ass, lubing Ridge's fuck-hole with spit. Harri stands up and shoves his huge cock deep into Ridge's ass and jacks him off while he fucks him. Harri returns to eating Ridge's ass until Ridge explodes all over the top of Harri's head. Covered in cum, Harri gets himself off sitting at Ridge's feet.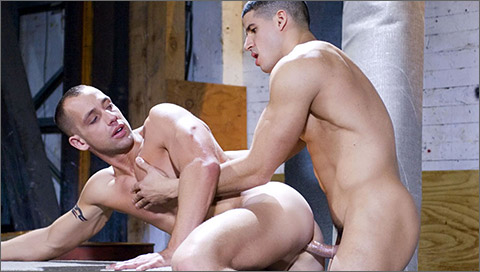 SCENE 2: Tony Mecelli fucks Kyle Lewis
Hot House Exclusive Tony Mecelli lets his cock hang out while he stands in the alley smoking a cigarette. Kyle Lewis sees the fat cock hanging out of Mecelli's jeans and before you know it he is smoking pole. Mecelli returns the favor with a hot, wet, intense blow job that almost makes Lewis pop. But before he can, Mecelli turns Lewis over and shoves his enormous 10+ inch cock deep into Lewis' ass. Lewis opens his hole wide by rolling over on his shoulders, allowing Mecelli to stand over him and power-pump-fuck him. Mecelli pulls out and they both blow their back-alley loads all over Lewis' chest.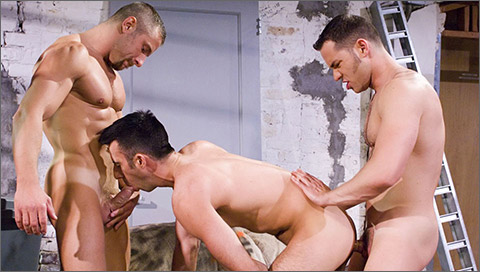 SCENE 3: Alex Collack fucks Christoph Scharff; Alex Collack & Christoph Scharff fuck/spit-roast Dillon Brody
Dillon Brody throws his wedding ring on the dashboard of his car before he ventures into the alley to suck some dick. Luckily he finds Russian sex machine Alex Collack and classic euro-hunk Christoph Scharff waiting on a scaffold. Brody whips out his all-American Beef and begins stroking, prompting Collack and Scharff to pull out their huge uncut European cocks. Brody wastes no time swallowing Collack's tool while Collack opens wide to receive Scharff's fat monster. Collack stands up to take Scharff's ass, shoving his cock deep into his ass. Brody takes advantage of Scharff's curved cock, which slides right down his throat. Next Brody is the center of attention getting both holes filled, this time with Scharff plowing Brody's ass. Chiseled demi-God Collack mounts Scharff and jack-hammer fucks him. Scharff falls face-first onto Brody's cock, sucking and stroking while he gets his ass fucked. Scharff is the first to nut, followed by Collack. Finally Brody rubs one out and shoots all over the other two, then eats it.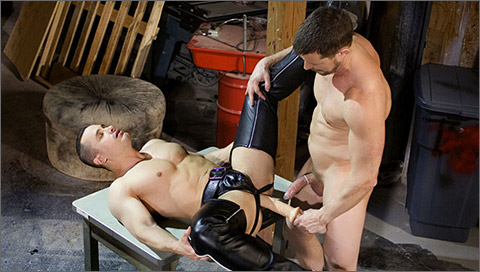 SCENE 4: Kirk Ziegler fucks & dildo-fucks Antton Harri
Horned up Kirk Ziegler tugs on his fat uncut cock, looking up and down the alley for some action. Alley regular Antton Harri sees Ziegler playing with his foreskin and can't resist the bait. Ziegler can't resist Harri's perfect round ass and thows him on his back to rim him. Ziegler starts to open Harri's hole with a probing finger, then two, then four. Soon Ziegler slides his huge cock in Harri's ass and fucks him slowly. Harri's moans increase with each thrust and soon Ziegler is pounding his ass hard. Before he cums, Ziegler pulls out and shoves a foot-long dildo in Harri's ass instead. Harri takes the dildo to the base! Harri wants more of Ziegler's cock so he sits down on it, nursing a load out of the monster in a reverse cowboy. Ziegler grabs Harri from behind and jacks him off until the floor is slippery with man spew.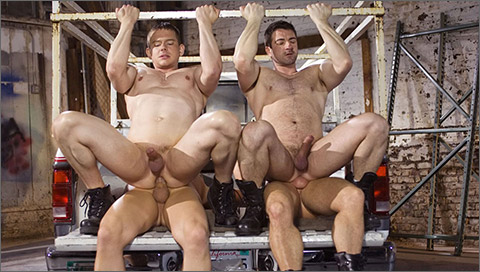 SCENE 5: Nick Piston & Thom Barron fuck Braeden Casey & Enzo Grimaldi
Hot House Exclusives Nick Piston and Enzo Grimaldi converge on well-hung Hot House favorite Thom Barron and throw him down on the flatbed of his truck. Grimaldi deep throat's Barron's gigantic rod while Piston slobbers on Barron's balls and ass. The men get rock hard immediately and fall into a three-way fuck, Piston plowing Barron who fucks Grimaldi. Middle-man Barron does most of the work with each thrust of his hips massaging Piston's fat cock and filling Grimaldi's deep hole. Piston wants a piece of Grimaldi too, so he fucks his ass and sucks Barron's cock at the same time. Braeden Casey stumbles upon the action and jumps butt-first onto Barron's world-class cock. Casey and Grimaldi prove to be dedicated bottoms when they straddle their tops and bounce up and down on their fat cocks using the roll-bar of the truck for leverage. The athletic feat works and all four cocks are rock hard and close to exploding. Piston, Barron and Grimaldi stand jacking off over Casey. All three blow hot white spunk all over Casey's chest as Casey shoots his load, leaving him drenched in cum.

WATCH IT NOW / MORE INFO AT:
HOT HOUSE ENTERTAINMENT
Hot House Backroom Members can see this film anytime online.
With extensive additional photography from every scene.
Members can download their favorite Hot House scenes.