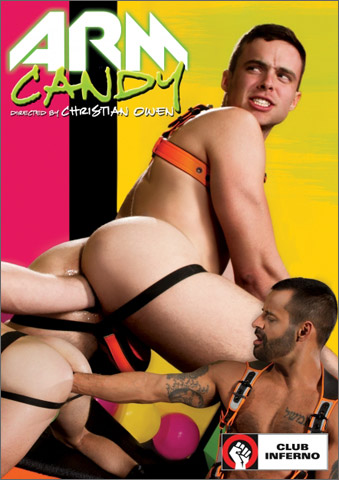 Studio: Hot House Entertainment / Club Inferno
Directed by: Christian Owen
Year of Production / Release: 2015
Country of Production: U.S.A.

CAST:
David Benjamin
Brian Bonds
Brandon Moore
Dominic Pacifico
Armond Rizzo
Dylan Saunders
Dolan Wolf
INFORMATION FROM HOT HOUSE:
Get ready for glazed holes, red rosebuds, and lots of creamy cum in 'ARM CANDY!' Director Christian Owen assembles a cast of raunchy pigs who get it on in a candy-colored fisting craze! Brian Bonds glazes Brandon Moore's smooth hole with lube, then adds his creamy cum to the recipe. Hairy-assed Dolan Wolf shows his rosebud to Dylan Saunders, then opens up Dylan's chute with a massive banana-yellow dildo. Armond Rizzo gets his ass stretched wide with an arsenal of freaky ass toys, then works over Dominic Pacifico's hole until they both spew thick loads. Brandon Moore tries to satisfy his cravings on his own, using a giant dildo on himself and self-fisting until his pink center is visible, and then gets a hole work out at the hand of David Benjamin, who erupts in creamy white cum. Get yourself some 'ARM CANDY' and watch these studs stretch their holes to the limit!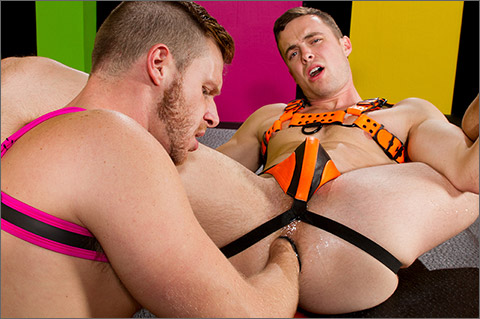 SCENE 1: Brian Bonds fists Brandon Moore
Surrounded by candy colors–pink, green, orange, yellow–Brian Bonds is ready to dip his fist into Brandon Moore's glazed hole! With back and forth strokes, Brian alternates hands to stretch out Brandon's tight sphincter. Brandon, in his orange gear, raises his perfect round ass in the air to give Brian the ultimate deep access to his chute. Slick, clear lube adds a shine to Brandon's firm, round butt, and Brian's bulge swells inside his pink-striped jockstrap. Unable to contain his boner any longer, Brian grasps his thick candy stick with his left hand and strokes himself, keeping his right hand occupied with stretching Brandon's rear end. Brandon rolls over onto his back and lifts his legs in the air, giving Brian his first glimpse of the pink passage. Eagerly, Brian gains access inside Brandon's man cave all the way up to his wrist. A slap on the center of Brandon's gaping hole makes lube splash into the air. They bring up the intensity, and Brian reaches a sweet climax. He shoots his thick, creamy load with one hand still probing Brandon's hole.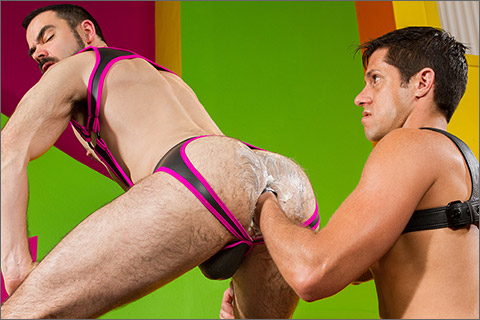 SCENE 2: Dylan Saunders fists Dolan Wolf
Dolan Wolf's hairy ass is slathered with thick, white lube: he's geared up in black and pink rubber, and Dylan Saunders is the master fister in charge of exposing Dolan's rosebud! Dolan's an expert at getting his ass plugged, and Dylan gets his hand in up to the wrist. Dolan pushes outward, and his bright red insides are visible between the gaping pink lips of his man hole. Rising up onto his feet, Dolan squats above Dylan and uses his weight to get Dylan's fist even deeper inside his man cave. The red, wrinkled rosebud finally blooms in the center of Dolan's hairy man ass.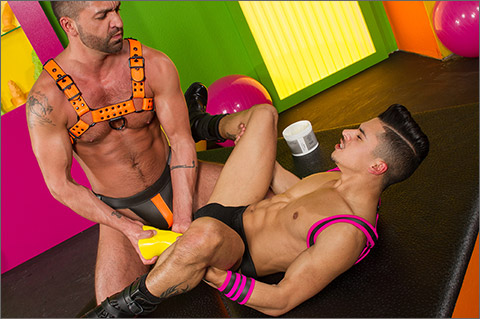 SCENE 3: Dominic Pacifico dildo-fucks Armond Rizzo
Armond Rizzo's eyes are already rolling back into his head–he's in his bottoming zone, and Dominic Pacifico is plugging Armond's hole with a toy. Not just any toy: neon green, flanged and flared, with textures that are giving his bowels a serious stretching! Dominic slaps the base of the toy, daring Armond to take it all the way to the base. Armond accepts the challenge: when Dominic puts the toy in Armond's face, Armond contributes spit for lube. Finally, a glimpse of Armond's pink man cave is visible through his puckered hole. Dominic switches to another toy: smooth, bright yellow, and massive! It stretches Armond's hole to a new extreme, and Armond can't help grabbing his bulge inside his jockstrap. Grasping himself behind his knees, he pulls his legs as far back as they'll go, and when Dominic pulls out the massive yellow dick, Armond's hole blooms outward in a massive red mound with the smooth pink sphincter at the center!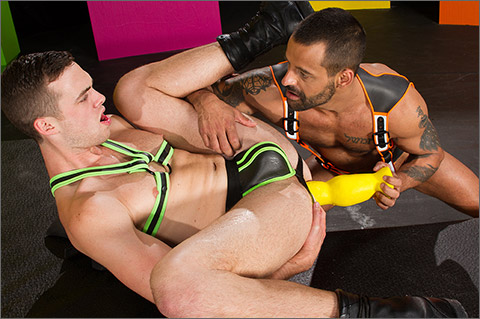 SCENE 4: David Benjamin dildo-fucks & fists Brandon Moore
Brandon Moore is an eager fisting pig. He gets himself worked up by first stretching his hole with a giant yellow latex dildo, then fisting himself with his left hand. Slick with lube, he drills his hand as deep inside himself as he can, then withdraws and practically swallows his fist, licking at the strands of lube. His gaping hole reveals his pink insides. He stretches the puckered walls of his ass and pushes out his bright red sphincter. But there's only so much Brandon can do on his own, and David Benjamin shows up to take Brandon's experience to the next level. With an encouraging smack on the ass, David grabs the yellow monster dildo and fucks Brandon's hole with it until it nearly reaches the base. Prying Brandon's ass apart, David licks Brandon's exposed boy hole, then dives in with his fist. Brandon's ass swallows it all the way up to David's thick wrist, and the veins in David's muscular arm bulge with exertion. Removing his electric orange jock pouch, David starts jerking off while his other arm is still buried in Brandon. When he reaches the edge, David strokes his cock with both hands and erupts in a creamy blast of white cum–and Brandon goes back to fisting himself!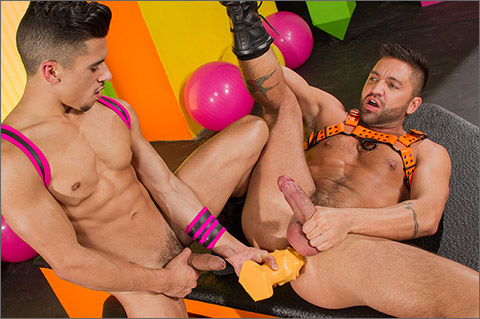 SCENE 5: Armond Rizzo dildo-fucks Dominic Pacifico
Dominic Pacifico is ready to get his hole worked over, and Armond Rizzo selects a knobby, orange toy for the task. Dominic pants heavily as he urges Armond to go deeper. Armond fingers Dominc's hole with one, two, then three fingers, slowly opening up his ass to take that big toy. Armond is so turned on, his jockstrap literally can't contain his package: he shreds the straining fabric, revealing his engorged, uncut cock. With renewed vigor, Armond selects an enormous, freaky green dildo and uses it to stretch open Dominic's ass. Armond's cock slaps against the bottom of Dominic's black boots. Slapping his ass and pulling his cheeks open, Dominic wants more and more! Rolling on his back, Dominic pulls out his huge cock and jerks until he explodes with creamy, white cum! Kneeling over Dominic's face, Armond unleashes thick ropes of cum directly into Dominic's mouth and onto his face.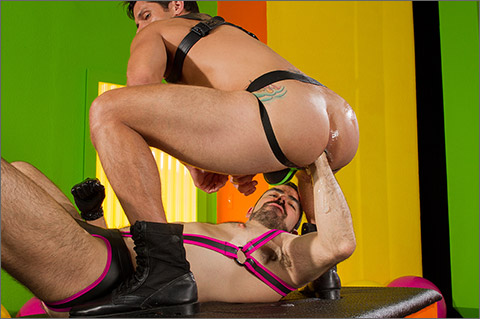 SCENE 6: Dolan Wolf fists Dylan Saunders
Taking a bright-yellow monster dildo, Dolan Wolf uses buckets of sticky lube to slide it into Dylan Saunders' hole. Black boots in the air, Dylan grits his teeth and moans as Dolan smacks the center of his sphincter. The toy does the trick, and soon Dylan is taking Dolan's hand in up to the wrist. Thick lube coats Dylan's ass like a glaze, and Dolan sample's the taste of Dylan's sweet hole with his tongue. Grabbing Dylan's puckered ass cheeks, Dolan pulls them apart to reveal the red gape in the center.

WATCH IT NOW / MORE INFO AT:
HOT HOUSE CLUB INFERNO DUNGEON
Hot House Club Inferno Dungeon Members can see this film anytime online.
With extensive additional photography from every scene.