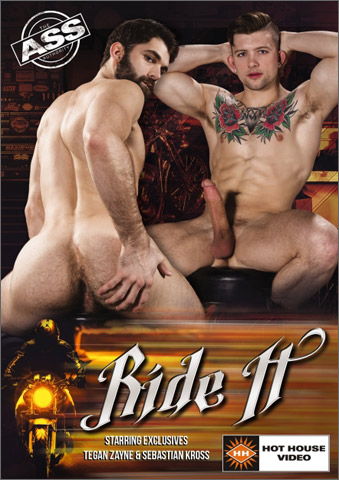 Studio: Hot House Entertainment
Directed by: Nick Foxx
Year of Production / Release: 2016
Country of Production: U.S.A.

CAST:
Brayden Allen
Chris Bines
Colton Grey
Sebastian Kross
Brendan Phillips
Armond Rizzo
Tegan Zayne
INFORMATION FROM HOT HOUSE:
Set up shop and get to work with the hot and horny men of 'RIDE IT'. Director Nick Foxx takes eight revved-up men on a ride of extreme sexual abandon. Sexy bottom Armond Rizzo gets caught slacking-off while on the job. Boss man Chris Bines disciplines his employee with a ride on his fat hog. Sebastian Kross takes a break from work and gets a rubdown from Brendan Phillips that turns into a sweaty fuck-fest. Colton Grey and Brayden Allen are closing up the shop when they decide to use their workspace as their open personal bedroom to flip-fuck in. Tegan Zayne needs his bike repaired, so he makes a deal with Austin Wolf to pay off his debt with his talented hole. Get to work and stroke your hog with the irresistible hunks of 'RIDE IT' who will have you cumming all day long.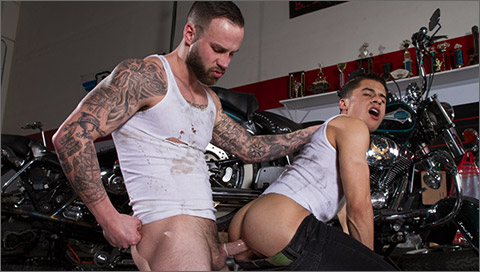 SCENE 1: Chris Bines fucks Armond Rizzo
Armond Rizzo is sitting in the bike shop while on the clock scrolling through a hook-up app. When his boss, Chris Bines, catches Armond slacking on the job and trolling for dick, he demands he suck his meaty cock as punishment. Totally down with this punishment, Armond says, 'I'm ok with that' and gets to gagging on Chris' hefty member. Chris reaches back and sticks his fingers in Armond's hole saying, 'this hole is next'. Once Armond is finished slurping on the boss's meat, he bends over and exposes his hole for Chris to drive his tongue into. With Armond bent over, Chris reaches into his toolbox and whips out steel beads to cram in Armond's hairless hole. Shifting things into overdrive, Chris lubes up his fat hog and power-pumps it into Armond's eager ass. With the action in high gear, they switch to an intense sit-fuck making Armond's cock bounce side to side as he rides Chris' tool until he explodes all over the floor. Chris jerks his cock until he blows his load onto Armond's used hole. When they're done, Chris pulls up his pants and says, 'get back to work,' leaving Armond with a swift smack on the ass.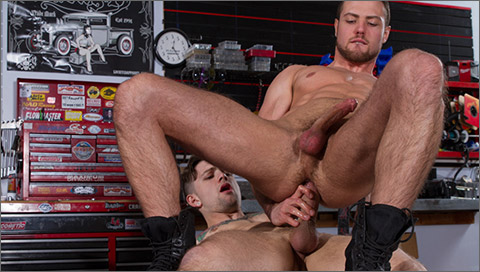 SCENE 2: Sebastian Kross fucks Brendan Phillips
Handsome stud Sebastian Kross is in the shop cleaning up parts, while Brendan Phillips cleans his motorcycle. Sebastian asks 'do you think we have time for a break?' to which Brendan smiles and offers Sebastian a back rub. Sebastian accepts and the rubdown quickly turns into Brendan down on his knees gulping on Sebastian's girthy cock. Sebastian returns the favor with a tongue drilling rim job with Brendan bent over a workbench. Sebastian digs into his toolbox and finds a rubber bolt to work into Brendan's eager ass. The energy shifts into high gear when Brendan lies on his back and takes a drilling from every inch of Sebastian's hefty cock. They switch to an intense sit fuck where Sebastian pounds up into Brendan's ass. Brendan unmounts and lays back again and jerks his load out on his abs with a mouthful of Sebastian's tool. Sebastian strokes his meat stick until he unloads in Brendan's mouth.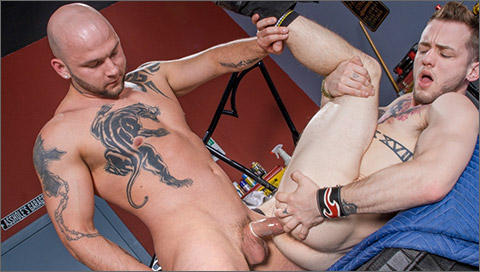 SCENE 3: Brayden Allen fucks Colton Grey
Stud mechanic Brayden Allen is finishing work for the day, and all co-worker Colton Grey wants to do is close up shop, head home and get out of his work clothes. Brayden has other plans for Colton. He makes a move, undresses Colton right in the middle of the shop and gets to slurping on Colton's fat cock. Brayden's so into delivering the hottest blow job ever that his eyes tear up from taking Colton's cock deep into his throat. Brayden wants to experience Colton in every way, so he bends over and exposes his hairless hole. Colton immediately drives his hungry tongue deep into Brayden's welcoming hole, and then drives his manhood at full speed into Brayden. After getting pounded doggy-style, Brayden wants a taste of ass and throws Colton's legs back and smash's his face between Colton's cheeks. With Colton's tight hole lubed with spit, Brayden dives in with his cock, stretching Colton wide open. After getting drilled missionary by Brayden, Colton stands and shoots his load, covering Brayden's face while Brayden erupts, coating the head of his cock with cum.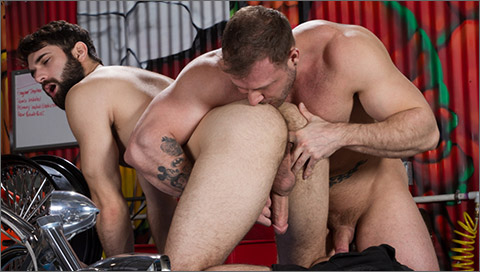 SCENE 4: Austin Wolf fucks Tegan Zayne
Beefy Austin Wolf is working at the chop shop when bearded stud Tegan Zayne walks in to inquire about an estimate to get his motorcycle fixed. Tegan's short on cash, so he strikes a deal with Austin who mischievously suggests that they can 'work something out.' It's not long before Tegan realizes it's going to cost him his ass, and that's fine by him. Clothes begin to peel away, and Tegan starts to lick his way from Austin's pits down to his cock. Then, Tegan gladly chokes on Austin's fat hog, until it's time for Austin to digs into Tegan's hairy bubble ass with his tongue. Once Tegan's hole is dripping in spit, Austin glides his fat hot-rod into Tegan's back door. Pounding Tegan doggie-style then missionary with total abandon, Tegan asks Austin, 'Is this ass good enough for my bike repairs?' Eager to be drenched in Austin's cum, Tegan offers up his body as Austin strokes, landing his load onto Tegan's abs. Finishing him off, Austin fingers Tegan's hole until his cock explodes with jizz, sending spurts of cum through the air.

WATCH IT NOW / MORE INFO AT:
HOT HOUSE & HOT HOUSE BACKROOM
Hot House Backroom Members can see this film anytime online.
With extensive additional photography from every scene.