Studio: Treasure Island Media
Directed by: Liam Cole
Country of Production: U.S.A. / Great Britain
Year of Production / Release: 2013

CAST:
Archer Adams
Jack Allen
Diego Alvarez
Antonio Biaggi
Tony Bishop
Rafael Carreras
Peto Coast
Steven Daigle
Eddie
Randy Harden
Marcus Isaacs
Kannon
Jacob Lee
Brad McGuire
Derek Parker
Sean Parker
Dimitri Santiago
Sean Storm

THIS PREVIEW CONTAINS ADULT SEXUAL CONTENT


INFORMATION FROM TREASURE ISLAND MEDIA:
I have made plenty of sex tapes where the star of the movie is sperm. CUM WHORE is devoted to men who live to take loads. They are driven by their obsession for the seed of other men and will do just about anything to satisfy their need.
   CUM WHORE features both new faces and some veteran cum dump sluts back in front of the Treasure Island cameras. Archer Adams, Marcus Isaacs, Jacob Lee, Sean Parker, the return of one of the biggest cum whores we know Sean Storm, and a captivating bareback debut from the always-controversial Steven Daigle.
   I admit to being dubious when the reality TV porn rodeo cowboy contacted us to see if we were interested in doing something. Skepticism quickly faded the second he arrived in New York and sent me a text message declaring himself a nasty pig and that he was up for any and all fluids I could get for him. Convinced of his authenticity I gathered up the most notorious powerhouse breeding tops in my arsenal.
   So what happens when a closet cum whore like Steven Daigle meets up with 3 of his raw top idols Antonio Biaggi, Peto Coast, and Brad Mcguire?
   Truly exposed for the very first time. Pure cum lust heaven.
For years Sean Storm and I have been talking about doing something together. The timing was finally right to get Storm's legendary hole to New York City. He was eager to relive fucking Treasure Island style. Over several days I brought in all sorts of men to use his ass. The scenes here include a primal 1-on-1 with TIM Exclusive Jack Allen and a balls to the wall classic TIM gangbang.
   The surprises don't stop there in CUM WHORE. Derek Parker makes a rare appearance topping Sean Parker (no relation). Porn veteran 10-inch uncut monster dick Rafael Carreras breeds sleeping boy Archer Adams. TONY BISHOP finally gets his toxic dick in bare on video, making good use of newbie Jacob Lee's hairy ass. TIM fan favorite Eddie demonstrates why I call him 3-shot Eddie. Plus a cattle call of my favorite NYC top men Diego Alvarez, Randy Harden, Kannon, Dimitri Santiago and so much more…
   THEY WERE BORN TO TAKE YOUR LOAD!!!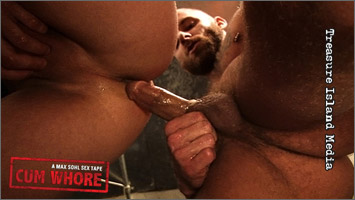 SCENE 1: Derek Parker and Sean Parker
I told Sean Parker that Derek Parker was in town and we were looking for someone to take his load. No familial relation, but these two fuck like a pair of in-bred brothers in the Tennessee backcountry. Sean is mostly a top but he couldn't resist bending over and spreading his pearly white cheeks for the cocky tattooed man's handsome schlong. Something about Derek's rock hard cock near his hole turns the young stud into a fervent cum-slut.
   We sent the boys down to the basement and let the cameras run while they did what 2 buddies do when they are alone. Derek is in no mood to mince words he hasn't shot in several days and just wants a hole to get off in. He ram bams and thank you mams Sean's tender butt until he is squirting his seed. This scene is exactly how it happened: Two horny men, no small talk, pants around the ankles, drop a load, say thanks and split.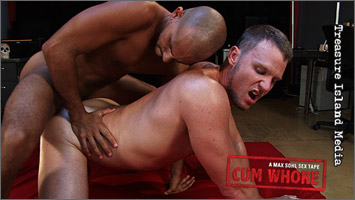 SCENE 2: Antonio Biaggo fucks Steven Daigle
I think Steven Daigle got just a wee bit scared when I proposed we start off his Treasure Island sexcapade with him getting fucked by the mega-hung Antonio Biaggi. Fuck, I would be afraid of that huge cock. It's the kind of fear that makes sex exciting – wanting it and being nervous about it at the same time.
   It doesn't take long for Daigle to kneel before the Biaggi altar, voraciously worshipping his tool and nuts. Antonio is a demanding top. When there is a hole in the room he is going to use it. Steven is quickly riding high on the infamous dick, enthralled by those massive balls slapping on his taint and begging for his protein.
   Filmed on one of the hottest dog days of summer, Antonio had Daigle's ass up for so long, they left an outline of sweat in the shape of Steven's body that we still haven't been able to clean off the mattress… If you are going to go bareback this is the way to do it.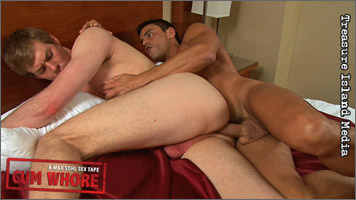 SCENE 3: Rafael Carreras fucks Archer Adams
It might not be a good idea to take a nap naked if horn dog Rafael Carreras is near by. Pretty twink boy Archer Adams learns this lesson the hard way when his sweet dreams are interrupted by Rafael's huge uncut meat knocking at his back door. Adams has a perfect white bubble butt, which only seems to fuel Rafael's desire to fuck it. The top examines the boy's ass up close causing his dick to get harder and harder. When he can't control himself any longer he finally slips it in.
   Archer can barely struggle against being pinned down and pounded under Carreras' brute strength – – – submitting to the immense Latin dick. Rafael's cock goes shaft deep until his balls are slapping against the young boy's wide-open crack. He has no plans on pulling out of that sweet hole driving his man juice deep into the boy's belly. Archer is left pushing out a thick, creamy load onto the cock that gave it to him.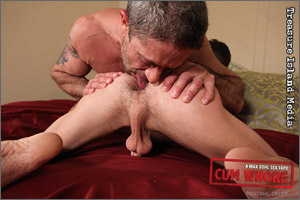 SCENE 4: Jack Allen fucks Sean Storm
Wiser and more mature but still a big ole' pig, original cum whore Sean Storm makes his long overdue return to Treasure Island Media for the first time since 2005's Cumsloppy Buttholes. I was ready to give him a good welcome back.
   Still hungry for a bung full of spooge, he gets fucked and seeded by TIM Exclusive Jack Allen. After a little ass-licking and a little cock-sucking gets the pair warmed up, Jack drives his veiny manshaft hard 'n' deep into Sean's butt. Jack lords it over little-guy Sean and fucks him but good, finally squirting a fresh, sticky load of DNA into Sean's sperm deposit box. No early withdrawals!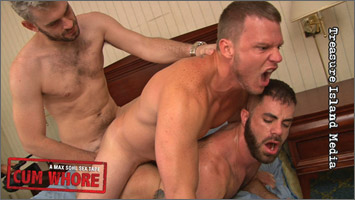 SCENE 5: Peto Coast fucks Steven Daigle & Marcus Isaacs; Steven Daigle fucks Marcus Isaacs
Marcus Isaacs joins forces with Steven Daigle to try to satisfy brutal Dutch top Peto Coast. I told Marcus and Steven they would be fucking each other and then surprised them by asking Peto to join in. I told Peto he could fuck whoever he wanted and both holes were his for the taking. He makes sure each of the boys get to experience his full court press assault ass fucking.
   Before we knew it we had a man-fuck sandwich on our hands with Steven in the middle, pounding Marcus while he took Peto's uncut meat right up the gut at the same time. Peto alternates between impaling Isaacs and pummeling Daigle until he blows a fat one. Steven and Marcus keep flip fucking until they've saturated each other in a sea of man milk.
   Our cameras had a hard time keeping up with these 3 studs as they changed positions, get plugged, suck, eat ass, and at the end everyone's ball juice is spilled. The big question is who is getting whose load here? Safe to say both bottoms walked away happy.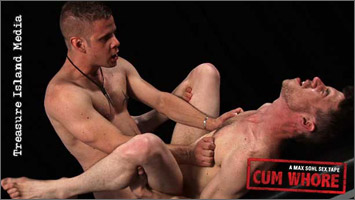 SCENE 6: Tony Bishop fucks Jacob Lee
Originally shot for my upcoming audition series this scene was too good to hold onto any longer. This is new meat Jacob Lee's first fuck scene. Submissive and keen to please he is intoxicated at the hands of dom Sir Tony's Bishop's fat monster dick.
   Tony Bishop is not your daddy's twink anymore. His all grown-up muscular body, sweet biohazard chest stamp, and tattooed cock turned Jacob into the sub-slut he's always dreamed of being. Every whimper and "yes sir" eggs Tony on. Tossed up on a fuck bench, fed, fish-hooked, and fucked, Jacob gets exactly what he came for.
   And that was just when I decided to give him some more.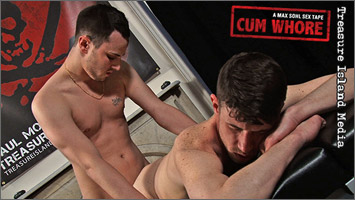 SCENE 7: 3-Shot Eddie fucks Jacob Lee
Jacob Lee barely had caught his breath when super fan favorite Eddie walked in the room. Eddie is my on again, off again on call top man. He always wants to stick his dick in a hole and make sure it is well scum filled. There is nothing he likes more than a spermy chute – whether it is by breeding it himself or by using someone else's cum for lube.
   Knowing that Jacob had just been freshly creamed, Eddie couldn't wait to get his boy cock in the wet sticky mess. "Your hole's so fucking cummy." Three loads later, and Eddie was still rock hard as he walked out the door earning his nickname 3-shot Eddie.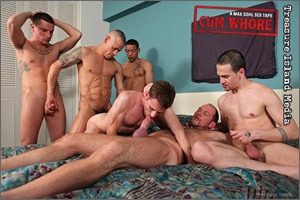 SCENE 8: Diego Alvarez, Sean Parker, Randy Harden, Kannon and Dimitri Santiago fuck Sean Storm
Sean Storm told me he wanted a good old-fashioned TIM gangbang so I got in some of my best men to abuse his butt. If there is one thing that Sean excels at it is giving it up to a roomful of jizz-drippin' studs, but this one may have been more than he bargained for.
   Randy Harden starts off leading the group breeding, as his throbbing member quickly disappears down the rabbit-hole that is Sean's ass, leaving only a sliver of his cock-ring visible to the naked eye.
   A few snorts of poppers later, and Storm's hole is swallowing the first of multiple loads from both Diego Alvarez and Sean Parker. Diego is merciless in his fucking and can't seem to get enough of his dick in the man. Sean Parker is going to have every bottom who sees this cum dumping (including us) begging him to breed their holes. Kannon and Dimitri Santiago are happy to get their rock hard dicks into the cummy puddle and deposit their baby batter.
   After everyone has squirted a load (or two), Sean Storm leaves the big apple with a smile and an ass full of sperm.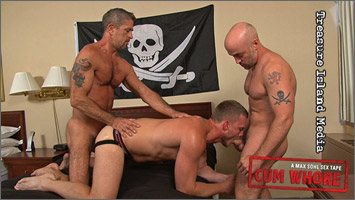 SCENE 9: Brad McGuire and Jack Allen breed Steven Daigle
Third on Steven Daigle's trifecta of must-have tops was Brad McGuire. I asked Jack Allen to come along to make sure Steven's hole was thoroughly wrecked. Daigle is like a kid in a candy store, enthusiastic to surrender his ass to the commanding top men. Brad and Jack are just as happy to open it up. There is lots of kissing, dick sucking, ass eating and both power tops fuck the living daylights out of Steven's hole. He barely gets a chance to breathe as the men go from ass to mouth and back again in this scorching spit roasting session. Dripping in sweat the bottom is finally begging to be bred by Jack's thick cut cock and Brad's engorged uncut piece of man meat.
   Panting and drenched in cum, the only words Steven could muster at the end of this fuck spectacular were, "I've never been fucked like that in my life."
   Welcome to Treasure Island Media Steven Daigle.
BONUS SCENES: Deleted Fucking
Lots of times scenes have some great fucking that end up on the cutting room floor. This special bonus deleted fucking reel includes sections of Biaggi and Daigle, the Using Sean Storm gangbang and the Peto, Marcus and Daigle scenes that were left out of the final edits. Hope you enjoy seeing all the extra additional man pounding. I've also included a cumshot compilation of all the breeding and TIM previews on the DVD.
5 hungry holes, 13 top men, 18 loads CUM WHORE is a hot man squirting adventure that will inspire you to shoot loads of your own sticky white stuff.
   – Max Sohl

GO TO: TREASURE ISLAND MEDIA
AVAILABLE FROM: RAD VIDEO