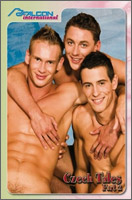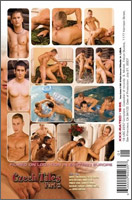 Studio: Falcon International
Directed by: Rolf Hammerschmidt
Year of Production / Release: 2008
Country of Production: Czech Republic

CAST:
Enzo Bloom
Nicolas Santos [Roland Brinski]
Thomas Barton [Martin Dejdar]
Ben Eastboy
Boris Sacharov
Tibor Cernan [Tobias Vares]
Mike Gate
FROM FALCON STUDIOS:
Boris Sacharov is a man on a mission. Picking up where we left off in Czech Tales, Part 1, Boris is still consumed with finding his true love and our heartsick hero gradually learns that the search for the elusive Jakub is presenting him with more of a challenge to than he expects. But more importantly, Boris realizes that with whatever distractions that fall his way, they will never deter him from his quest.
SCENE 1:
Professions of love. Still unsuccesful with his search, Boris cools his heels at the city fountain unaware that something menacing is lurking behind. Tibor Cernan has spotted our blond hero and the animalistic urge to devour him takes over. He sneaks up behind the unwitting Boris and clubs him unconscious, carrying him to a secret hideaway where he subjects him to his unbridled lust. Boris is held captive by this goon with the big club and big dick. And with his intimidating sneers and threatening fists, Tibor forces Boris to suck his cock. He then focuses on his victim's ass, fingering and rimming the hole, priming it for a full-blown assault. Boris is scared, confused, then delirious with unexpected pleasure, succumbing to his tormentor's brutal treatment. He is on all fours as Tibor fingerfucks him, slapping his asscheeks – both men knowing full well what is about to happen. The chest-thumping brute piledrives his thick hard cock up Boris' tight hole and pumps awa y, sli ding in and
SCENE 2:
Wood party. Out on a secluded hillside, John Cruise and Jirka Gregor are happily in communion with one another. Jirka nibbles on John's tasty tits, then goes for the goods, gobbling up his partner's hooded cock and hairy balls. John writhes in pleasure, moaning with all the attention his crotch is getting. He then returns the favor, going down on his buddy. Like an energized bunny John agressively works on satisfying his companion, his mouth hungrily swallowing the entire shaft over and over again. He plants loving kisses all over Jirka's chest and face, then bends over and offers his ass for a deep and energetic plunging. John rides Jirka's cock, bouncing up and down, awash in a sea of oohs and aahs, until both men climax with an explosive burst of mancum.
SCENE 3:
Something Spicy: In a secluded mountain retreat, Tibor has yet another victim in his web. As John and Jirka watch from outside, the muscled brute has the naive Nicolas Santos at his mercy. Both men are enraptured with each other's body, stroking, kissing and sucking cock. Tibor is a master at getting what he wants and he wants Nicolas on his knees, his head bobbing up and down in his lap, enjoying his tasty meat. He encourages his young sidekick to pleasure him more, then rewards him with kisses. Tibor gets down to business and starts to feed on Nicolas' dick, exciting his partner even moreso and prepping him for the fierce fucking both of them have been aching for.
SCENE 4:
Are you horny? Boris hooks up with Enzo once again and they quickly lose themselves in each other's passionate embrace. Screw Jakub. Let's screw Enzo; he's here. But Enzo is up for some games. He blindfolds Boris and carefully leads him to an indoor pool where Ben Eastboy, Paolo Sdo and Mike Gate are ready to party hardy. Ben and Mike pair off, while Boris and Paolo sandwich Enzo inbetween to fuck and suck. It's a lusty and rugged free-for all as the men vigorously carry on. The unusually nimble Mike contorts himself with ankles behind his head, presenting his unended elastic hole for his buddies to drill and the quartet of horny studs are up to the task. Then it's a quick dip in the pool before they all relax in the lounge with Enzo fellating Paolo, Boris servicing Ben and Mike doing himself. Each man succeeds in climaxing, shooting their loads all over themselves and each other.
SCENE 5:
Boris and Enzo find themselves alone again and it finally hits our hero that maybe Jakub isn't worth the chase. He loses himself in Enzo, thanking him for being such a wonderful distraction. Boris falls onto his knees and worships the thick cock with countless hungry laps, sucking and nibbling until Enzo's discharges his wad. They quietly seal the deal with a kiss and slowly walk away.

GO TO: FALCON STUDIOS