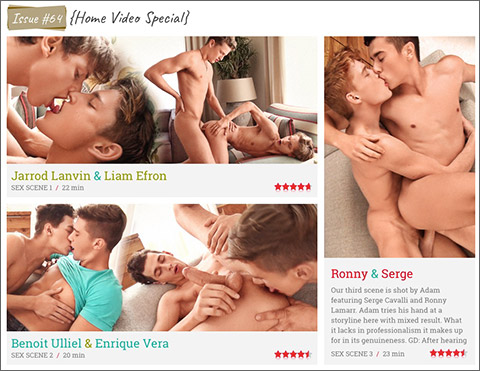 Studio: BelAmi / Freshmen
Year of Production / Release: 2017
Country of Production: Czech Republic

CAST:
Serge Cavalli
Liam Efron
Ronny Lamarr
Jarrod Lanvin
Benoit Ulliel
Enrique Vera
INFORMATION FROM BEL AMI:
SEX SCENE 1: Jarrod Lanvin & Liam Efron
This week introduces our Home Video Special. As you will be seeing more of these, I feel it's useful to define "Home Videos". In our case, it is usually model-generated content shot in real-time over the course of 20 to 60 minutes. Our thoughts our that what they lack in polish they will make up for in spontaneity and freshness. Plus, they act as a nice training ground for new cameramen. The first of these is shot by Kevin. Fortunately for him, Jarrod and Liam prove the ideal subjects for his experiment.
SEX SCENE 2: Benoit Ulliel & Enrique Vera
During our second scene, Adam realizes it is not easy to find and convince models to shoot with him. This is due to home videos being shot on a reduced budget since so many wind up in the trash bin. Since this is Benoit's second scene here on Freshmen, we are interested in your thoughts on his performance.
SEX SCENE 3: Serge Cavalli & Ronny Lamarr
Our third scene is shot by Adam featuring Serge Cavalli and Ronny Lamarr. Adam tries his hand at a storyline here with mixed result. What it lacks in professionalism it makes up for in its genuineness. GD: After hearing Dehanoia's response, I sent this for re-edit. He wrote: "The fucking is very enjoyable if you don't fall asleep during the introduction". Before you get too critical, remember this is a belated Christmas gift. Normally there would be an image set in this section.

WATCH IT / DOWNLOAD IT NOW AT:
BEL AMI'S FRESHMEN
Downloadable Presentations, with extensive Photo Galleries
One of the Highest Quality Mega sites.