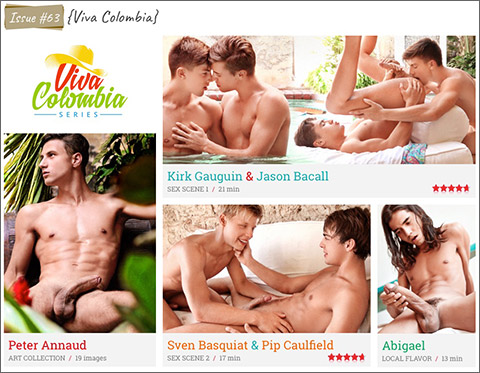 Studio: BelAmi / Freshmen
Year of Production / Release: 2017
Country of Production: Czech Republic

CAST:
Peter Annaud
Jason Bacall
Sven Basquiat
Pip Caulfield
Kirk Gauguin
Abigael Sanchez
INFORMATION FROM BEL AMI:
SEX SCENE 1: Kirk Gauguin & Jason Bacall
Your pleas have been heard and we give you more Kirk in action. The scene involves Jason seducing Kirk in a tropical court yard which you will be seeing more of. You may observe, as I did, that Kirk was rather easy to seduce.
SEX SCENE 2: Sven Basquiat & Pip Caulfield
This is Kevin's first scene from Colombia! Luke had arrived in Columbia very ill so stayed in bed the first few days leaving Kevin to take over his role. We hope you like it as much as we do.
ART COLLECTION: PETER ANNAUD
We're aware that some of you were offended to see Peter jerking off in the plane toilet, with one of you vowing to never use that toilet again. We hope this Benno Thoma photoshoot will cleans his sin.
LOCAL FLAVOR: Abigael Sanchez
Abigael Sanchez, was, for obvious reasons, originally going to be called Jesus. Opinions of him are polarized between the "love him" and "leave him" factions. To clarify, our "Local Flavor" section consists of 12 castings, and from that we selected four boys for hardcore scenes. Due to our limited time, we didn't follow our normal rigorous casting process. The boys were selected mostly based on our schedule and their availability. As Columbia is four times large than the UK, we had little time to travel and get acquainted with the boys. So, we must take the material as it comes. GD:How do I feel? I believe he has substantial appeal precisely because he looks so different.

WATCH IT / DOWNLOAD IT NOW AT:
BEL AMI'S FRESHMEN
Downloadable Presentations, with extensive Photo Galleries
One of the Highest Quality Mega sites.