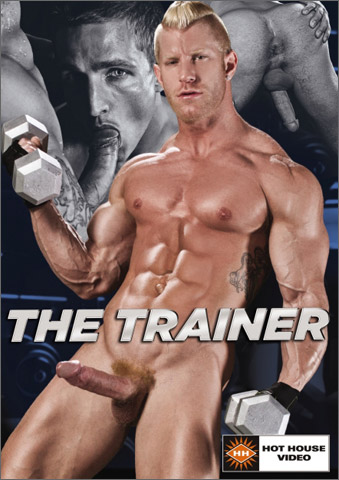 Studio: Hot House Entertainment
Directed by: Nick Foxx
Year of Production / Release: 2016
Country of Production: U.S.A.

CAST:
Rex Cameron
Jimmy Durano
Jonah Fontana
Sebastian Kross
Landon Mycles
Jacob Taylor
Johnny V
Sean Zevran
INFORMATION FROM HOT HOUSE: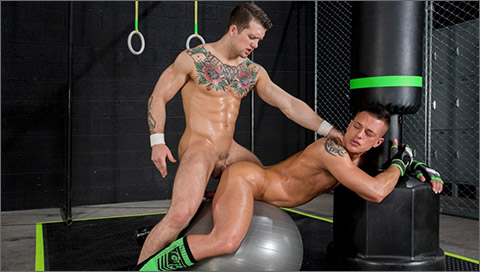 SCENE 1: Sebastian Kross fucks Rex Cameron
Fitness trainer Sebastian Kross enters the gym with his client, Rex Cameron. Rex works up a sweat as Sebastian puts him through his paces, and at the end of the workout, Sebastian whips out his cock as a reward! Rex sucks eagerly, and Sebastian goes down on Rex to return the favor. Stripping off their workout gear, the two ripped studs service each other in the middle of the empty gym. Sebastian's colorful tattoo punctuates his massive chest, and Rex's bubble butt spreads open to reveal his hot pink hole. Sebastian can't resist going in for a rim job, lubing up Rex's ass with plenty of spit. Taking it to the next level, Sebastian thrusts his thick cock inside Rex's ass and commences an energetic, athletic pounding. For some variety, Sebastian reclines on his back and Rex sits down on Sebastian's cock. Sebastian's nuts swing through the air as he thrusts up from below. Turning around to reverse cowboy position, Rex beats out a thick load while riding Sebastian's dick. With his balls drained, Rex crouches on the floor and opens his mouth to receive a gushing facial from Sebastian's rock hard member.

SCENE 2: Jimmy Durano fucks Landon Mycles
It's leg day, and personal trainer Jimmy Durano starts by stretching out his client, Landon Mycles. As Jimmy massages Landon's thick, beefy legs, the big bulge in Jimmy's spandex swells. After their intense workout, Landon and Jimmy can't resist decompressing by making out with each other. Landon strips off Jimmy's shirt, revealing Jimmy's incredible, sculpted physique. Jimmy removes Landon's shirt, showing off Landon's incredible pecs. Freeing Jimmy's cock from its spandex, Landon goes down and gives Jimmy deep, intense oral. Sweat and spit drip from their bodies as they rub themselves together. Spreading his ass, Landon invites Jimmy to dive in tongue first, and Jimmy eagerly buries his face in Landon's hole. The rim job has Landon horned up and ready to get pounded, and Jimmy slides in his huge, uncut cock. The intense, doggy style pounding makes Landon moan and writhe. Flipping over, Landon jerks his cock while Jimmy pounds away in missionary position. Their washboard abs ripple as they slam their perfect bodies together. With Jimmy still inside him, Landon blows his load all over his stomach. Pulling out, Jimmy blasts off thick ropes of cum that splatter across Landon's chest.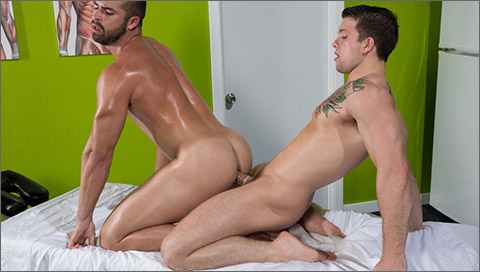 SCENE 3: Sebastian Kross fucks Jonah Fontana
After a great workout, trainer Sebastian Kross stretches out his client, Jonah Fontana, focusing on his tight glutes and hamstrings. Their cocks bulge inside their gym shorts. Running his hand along Jonah's ass, Sebastian works to relieve all of the tightness and stress in Jonah's bulging muscles. In preparation for a massage, Jonah removes his workout gear and lays out on the bodywork table. Sebastian oils up Jonah's shoulders and works the knots out of Jonah's back. As he works his way down Jonah's body, Sebastian removes his shirt. When Sebastian starts working Jonah's bubble butt, Jonah reaches a hand out and touches Sebastian's bulging cock. Sebastian puts his cock right in Jonah's face, and Jonah knows just what to do. He takes Sebastian's girthy cock into his mouth and bathes it with spit. Sebastian fingers Jonah's hole, spreading Jonah's cheeks and exposing the tight entrance. Climbing up on the table, he rubs his cock in Jonah's crack, then slides in deep. Jonah moans and grits his teeth as he feels Sebastian's cock stretching him wide. Rising to his knees, Jonah takes Sebastian's cock doggy style. For even deeper penetration, Jonah rolls on his back and throws a leg over Sebastian's shoulder. Reaching their climax together, Sebastian and Jonah simultaneously blow their loads, leaving a sticky, cummy mess on Jonah's hard abs.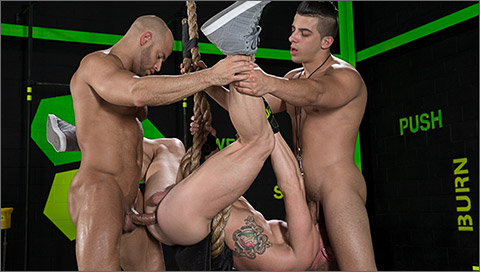 SCENE 4: Sean Zevran & Jacob Taylor fuck Johnny V
Sean Zevran and Johnny V endure a rigorous joint training session coached by Jacob Taylor. Afterwards, Johnny cools down by stripping off his shirt and pouring the contents of his water bottle down his shredded torso. The three ripped muscle studs can't keep their hands off each other, and they start to make out while groping each other's ripped bodies. Getting down on his knees, Johnny alternates between sucking off Jacob and Sean's cocks. Bending over a platform, Johnny puts his ass in the air for rimming. First Sean, then Jacob take turns at eating the blond stud's perfect bubble butt. The spit roasting begins with Jacob fucking Johnny's ass as Johnny sucks Sean's huge meat. Trading places, Sean takes his turn on Johnny's ass while Jacob gets his dick worshiped. From every angle, these three muscle studs show off their bulging muscles. Using battle ropes, the trio create a makeshift sling for Johnny to get his ass pummeled. Sean takes the reigns, giving Johnny an incredible pounding. The deep anal penetration gets Johnny V off, and he sprays his torso with thick ropes of cum. Pulling out, Sean works his cock until he oozes forth a massive load that he deposits right on Johnny's cock and balls. The sight makes Jacob blow his load, arching across Johnny's pecs. Rising from the sling, Johnny stands and the three muscle gods press their faces together to share a three-way kiss.

WATCH IT NOW / MORE INFO AT:
HOT HOUSE ENTERTAINMENT
Hot House Backroom Members can see this film anytime online.
With extensive additional photography from every scene.