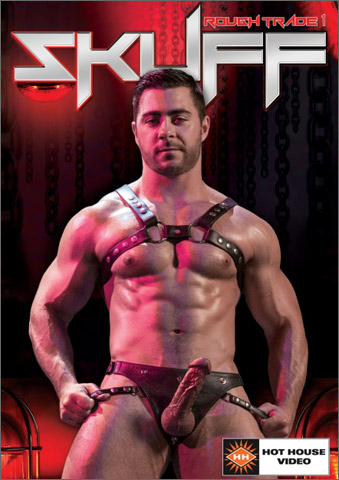 Studio: Hot House Entertainment
Directed by: Nick Foxx
Year of Production / Release: 2016
Country of Production: U.S.A.

CAST:
Griffin Barrows
Derek Bolt
Micah Brandt
Jimmy Durano
Jordan
Sebastian Kross
Brendan Phillips
Austin Wolf
INFORMATION FROM HOT HOUSE:
Get down and dirty with the perverted leather men of SKUFF: ROUGH TRADE. These horny, hardcore fuckers are ready to go all the way with each other, boldly pushing their limits until they shoot hot, huge loads from their rock hard cocks. Nick Foxx revisits the themes of dungeon, fetish, master/slave, bondage and uninhibited sex the SKUFF series has delivered since its inception. Leather dom Austin Wolf takes command of his sub, Micah Brandt, with deep oral, a slippery rim job, and intense fucking that pushes Micah to shoot two loads. Brendan Phillips is tied up and blindfolded submitting himself entirely to Jordan's whims and his powerful fucking. Leathered up Sebastian Kross and Griffin Barrows take cock worship and deep throat fetish to an entirely new level before Sebastian has his way with Griffin's power bottom. When Jimmy Durano releases his pup, Derek Bolt, from his cage, all bets are off. Jimmy gives Derek the ultimate sexual treat, Jimmy's huge prize-winning cock, and Derek enjoys every inch in every hole. Brace yourself for intense play and deep pleasure with the men of SKUFF: ROUGH TRADE.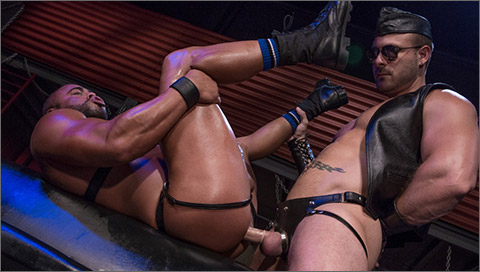 SCENE 1: Austin Wolf fucks Micah Brandt
Micah Brandt is bound, gagged, and plugged. His dom, Austin Wolf, walks over and plays with Micah's ass, eliciting intense moaning from the submissive bottom. Both men are dressed in kinky black leather. Austin takes the butt plug out, then pushes it back in, using extra spit for lube. Removing Micah's ball gag, Austin shoves his cock down Micah's throat. Thick strands of spit coat Austin's cock as Micah gags and chokes on Austin's huge meat. Flipping on to his back, Micah jerks his cock while receiving an intense face fucking from Austin. Putting Micah's legs up in the air, Austin goes down and rims Micah's delicious ass. Jerking his cock, Micah moans and gasps with intense pleasure as Austin eats his hole. With Micah's butt eager and willing, Austin slips his cock inside and starts fucking. Micah is overwhelmed by the sensation of Austin's dick filling up his hole. Gaining in intensity, Austin delivers a searing pounding to Micah's prostate that makes Micah ooze cum over his stomach. But they're not done yet – Austin keeps going, and Micah keeps jerking his hard cock. Sweat totally covers their bodies as they move to a seated position with Austin on his back and Micah riding Austin's thick rod. As Austin's cock penetrates deep into Micah's ass, Micah jerks his cock until he blows another load, dripping his cum across Austin's chest. Sliding off Austin's cock, Micah jerks Austin's cock until Austin blows a huge, gushing load, which Micah catches in his mouth. Grabbing Micah's leather harness, Austin pulls him close for a final, sweaty, cummy kiss.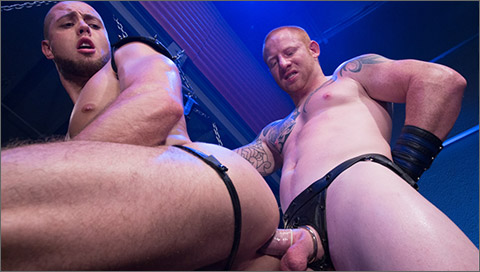 SCENE 2: Jordan fucks Brendan Phillips
Tattooed, ginger-haired Jordan teases Brendan Phillips with a black leather riding crop. Brendan is tied up and blindfolded, totally vulnerable to Jordan's whims. Exposing Brendan's ass, framed perfectly by a black leather jock, Jordan lets loose with the crop, leaving pink marks across Brendan's left cheek. Unzipping the pouch of his leather jockstrap, Jordan reveals his massive, throbbing cock, and Jordan gets down on his knees to deliver oral service. Thrusting into Brendan's face, Jordan's low-hanging balls swing back and forth in the air. Brendan uses his sword-swallowing skills to deep throat Jordan's meat, impaling his throat with the shaft, then using his tongue to spread thick saliva across Jordan's cock. Bending Brendan over, Jordan dives tongue-first into Brendan's hole. As sweat drips down their bodies, Jordan spits on Brendan's ass and lubes it up. Standing up, Jordan uses the tip of his cock to tease Brendan's hole, then slides in with dominant, assertive thrusts. Jordan's hand grabs the back of Brendan's jockstrap, guiding the muscular stud even deeper onto Jordan's cock. Brendan's perfect ass bounces with the impact of Jordan's deep pounding. They relocate to a heavy duty sling, and Jordan gives Brendan the ride of his life. Stroking his cock, Brendan gasps in awe of Jordan's powerful fucking. Reaching the point of no return, Jordan pulls out and jerks off a juicy load that splashes across Brendan's ass. As Jordan watches, Brendan strokes out his own thick, white cum.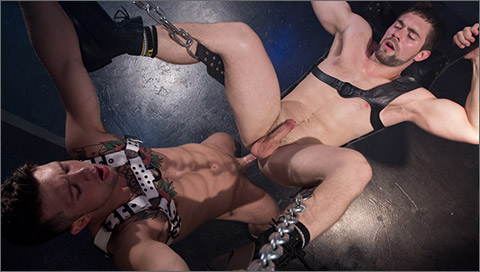 SCENE 3: Sebastian Kross fucks Griffin Barrows
Crackling leather stretches against the muscled bodies of Sebastian Kross and Griffin Barrows. Naked but for his Rough Trade black three-point harness, Griffin sinks to his knees and swallows every inch of Sebastian's huge cock. Griffin's deep throating fetish takes center stage as strings of saliva drip to the floor as Sebastian facefucks Griffin's wet, eager mouth. Griffin reclines on a fuck bench and leans his head back, opening his mouth to receive Sebastian's member. Grabbing Griffin's harness, Sebastian rams his lengthy dick all the way down Griffin's throat, his balls slapping against Griffin's face with each vigorous pump. After nearly 10 minutes of taking Sebastian's thick and long cock down his throat, Griffin's so turned on that he turns around and offers up his butt. Sebastian parts Griffin's ass cheeks and dives in tongue first. He spits on Griffin's hole, then uses his tongue to drive his saliva down Griffin's fuck chute. Spit drips from Griffin's hole down his smooth nut sack as Sebastian plays with the sensitive head of Griffin's swollen, throbbing cock. With Griffin's hole lubed and ready to get fucked, Sebastian lays down flat on the bench. Griffin lowers himself down and uses his beefy legs to ride Sebastian's rod. As Sebastian picks up speed, his huge, low-hanging nuts swing back and forth through the air with wet slaps. Griffin's hole stretches wide as Sebastian's cock drives deeper inside. Sweat drips from both their bodies as they move to a sling. Ramming his meat into Griffin, Sebastian produces primal moans from the insatiable bottom. As Sebastian pummels Griffin's prostate, Griffin reaches an incredible climax, blasting his torso with giant gobs of cum. Sebastian shoots his load on Griffin's ass, then scoops it up and feeds it to him, capping it off with passionate kissing.

SCENE 4: Jimmy Durano trains and fucks Derek Bolt
Muscle hunk Derek Bolt kneels eagerly in a steel cage sporting a leather collar and jockstrap. Brazilian stud Jimmy Durano approaches his sub and asks 'have you been a good boy?' Derek replies 'yes, boss' and Jimmy unlocks the cage and attaches a metal leash to Derek's collar. Led out on hands and knees like a dog, Derek resists his 'boss' until Jimmy brings Derek to his knees and feeds him his uncut cock as a treat. Derek takes a proper mouth fucking from his boss as streams of saliva trickle down Jimmy's nutsack. Boss man Jimmy wants a taste of his boy so he makes him assume the position and dives face first deep into Derek's smooth crack. Spit dribbles from Derek's hole as Jimmy works his tongue around the eager center. Derek begs for his boss' cock and Jimmy enters his ass with a swift thrust deep inside with his humongous meat. Jimmy fucks his boy doggie style first then leads him into a sling for a better angle at Derek's manhole. With shouts of 'Yes, Boss!', Derek takes every thrust with stride until he jerks out his load all over his jock. Ready to bust, Jimmy pulls his cock out and explodes a thick load adding it to the creamy mess all over Derek's soaked jock.

WATCH IT NOW / MORE INFO AT:
HOT HOUSE ENTERTAINMENT
Hot House Backroom Members can see this film anytime online.
With extensive additional photography from every scene.