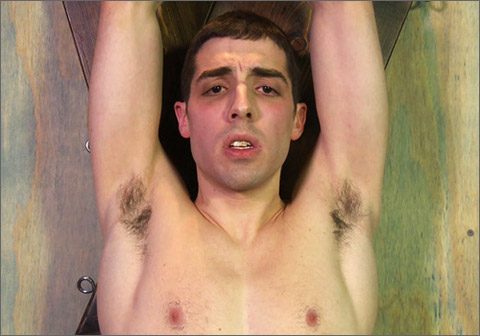 Studio: Roped Studs / Kenneth Benjamin Media
Directed by: Kenneth Benjamin
Year of Production / Release: 2015
Country of Production: U.S.A.

CAST:
Glen (Mike Edge)
INFORMATION FROM KENNETH BENJAMIN / ROPED STUDS:
Age: 21
Height: 5? 11? (1.8 m)
Weight: 144 lbs (65.3 kg)
Waist: 29? (74 cm)
Chest: 38? (97 cm)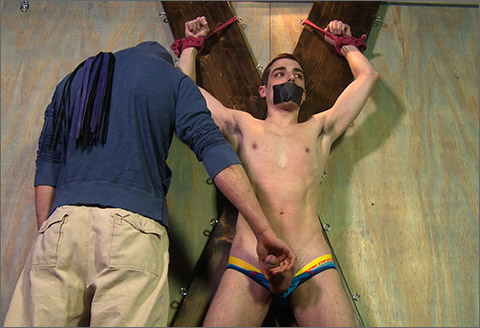 PART 1:
Glen is one gorgeous boy. At first glace, he seems pretty enough, young and lean, with a handsome, if geekish face. But take a closer look. Even in his tight briefs, you can see the outlines of a huge cock, and under that T-shirt is a surprisingly muscular body. Rope man J.J. notices those muscles immediately as he gropes the boy's body, roped to the upright cross. Sure enough, when J.J. rips that shirt open, he reveals a tight, muscular torso – the perfect body for the whip. J.J. flogs his new muscle boy, then pops that cock out – and it's bigger than he ever hoped.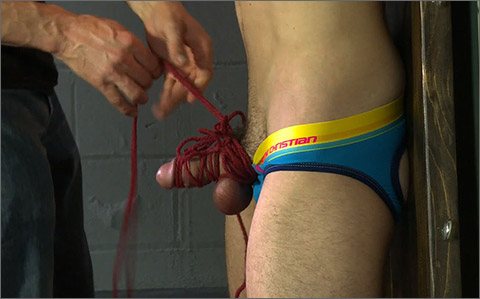 PART 2:
Rope man J.J. loves keeping his slender muscle twink bound and helpless against the X-cross. He can't keep his hands off the boy's huge cock. The only thing better than stroking that cock is flogging the boy's lean, young body. Rope man Anthony feels the same way – except the only thing he likes better than whipping the boy is roping his fat cock and torturing it. Luckily for us, both rope men get to have their way at the same time – J.J. whipping him and Anthony torturing his cock with rope.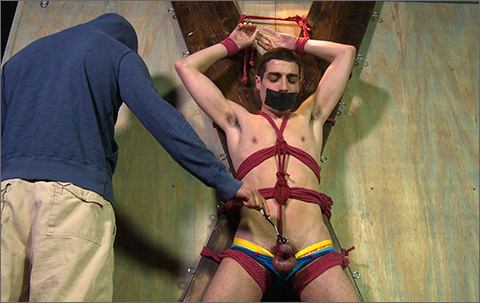 PART 3:
This gorgeous boy is really, really roped! Every key part of his body – wrists, neck, chest, abs, cock, thighs, knees, ankles – is tightly bound to the X-cross with beautiful, red hemp. His cock and balls are virtually encased in rope and tied to the rope harness holding his lean stomach and surprisingly muscular chest to the wood. Then rope man J.J. whips out his razor-sharp pinwheel. Nothing makes one more aware of how helpless he is than having a pain-device drawn over his bound, naked body. There is nothing Glen can do but scream through his tape gag and take the pain – even when the spikes pierce the tip of his cock and his swollen ball sack.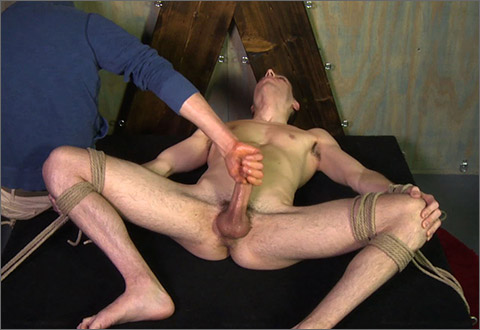 PART 4:
We aren't sure what we like about Glen more: His muscle-twink body or his huge cock. What the fuck, we might as well enjoy both! There is something particularly sexy about a boy who is not technically naked – still wearing his briefs but with his cock pulled out over the waistband. Rope man J.J. couldn't agree more; he can't keep his hands off Glen's gorgeous cock. Even better, every time J.J. touches it, it gets rock hard! Glen sure looks amazing bound against the X-cross by layers of red hemp, arms over head, that fat cock hanging free for anyone to play with. Actually, he looks just as good tied on his back, completely naked, legs pulled apart revealing a tight, puckering boy hole. And there's that big cock hard again. What a stud!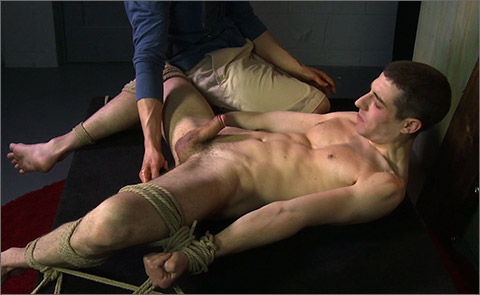 PART 5:
Muscle boy Glen is roped on his back on the bondage table, legs spread, wrists roped to his thighs, his tight, puckering sphincter exposed and vulnerable. Rope man J.J. works Glen's cock slowly getting is hard. Suddenly J.J. sticks a fat finger in Glen's butt hole, sending the boy's dick to full mast instantly. Glen moans and flexes, humiliated, ashamed that this man is getting him hard against his will, treating him like nothing but a piece of meat. But Glen's humiliation has just begun. Soon the finger is replaced by a hard-rubber dildo. Then J.J. jerks off Glen's throbbing cock, covering the kid's heaving abs with cum.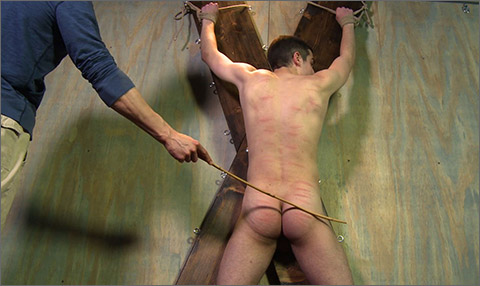 PART 6:
If there is anything sexier than a 21-year-old nerd with muscles, we sure don't know what it is. Actually, the only thing sexier is roping that muscle nerd to an X-cross in some tight briefs, then cutting off those briefs so we can beat his ass. Glen puts on a wonderful show for us, flexing and moaning, unable to free himself from the tight hemp rope binding his wrists and ankles to the wood as rope man J.J. beats his lean young body and hot little ass with a cane.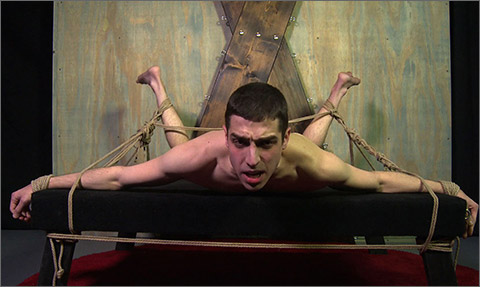 PART 7:
We can't get enough of our hot little muscle nerd. Now we have him roped to our mini bondage table on his stomach, feet up in the air, arms spread, ass twitching, struggling against the tight hemp rope binding his lower legs and wrists. Rope man J.J. can't wait to get his hands on Glen's vulnerable feet, alternately tickling them and smacking them – while also flogging his muscular back and firm ass. Glen never knows what is going to happen next – an appreciative caress, a painful smack or unbearable tickling.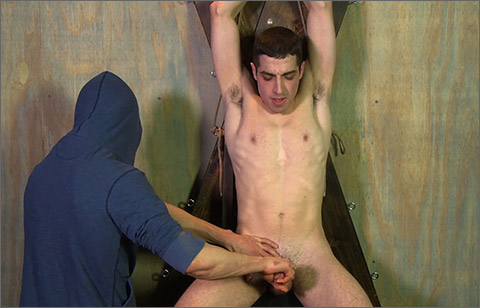 PART 8:
Pretty nerd Glen is impaled on the "boy seat" by a cold, steel ball, his arms roped high over his head, his ankles roped to the bondage chair that acts as a platform for the ass-fucking device. What a perfect specimen of boy, perfectly roped and displayed. Of course, rope man J.J. isn't satisfied with just looking at such a pretty boy. He zaps the vulnerable boy with the violent wand, then gets to work on that huge cock, stroking it until it erupts with cum. Despite – or maybe because – of the steel ball shoved up his ass, Glen pumps out a massive load of splooge. What a cock this kid has.

WATCH OR DOWNLOAD IT NOW AT:
ROPED STUDS
On-Line Presentation, Members can Download.
Extensive photography of most scenes and models.