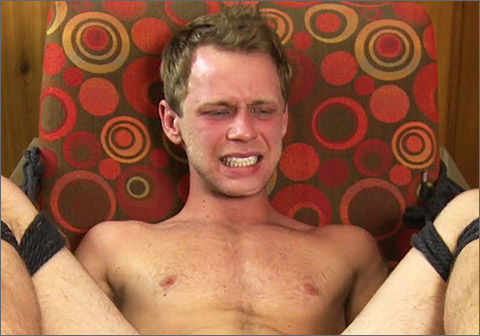 Studio: Roped Studs / Kenneth Benjamin Media
Directed by: Kenneth Benjamin
Year of Production / Release: 2014
Country of Production: U.S.A.

CAST:
Perry
INFORMATION FROM KENNETH BENJAMIN / ROPED STUDS:
Age: 22
Height: 5′ 9″ (1.7 m)
Weight: 168 lbs (76.2 kg)
Waist: 29″ (74 cm)
Chest: 40″ (102 cm)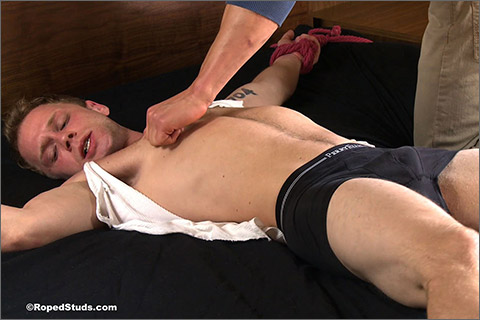 PART 1:
Southern stud Perry is spread-eagled on his master's king-sized bed, looking oh so sexy in a tight muscle shirt and Perry Ellis briefs. Perry does not like being helpless and exposed. "Let me out!" he bellows, pulling and twisting against the expertly tied ropes holding him to the four corners of the bed. "Don't you fuckin' touch me," he yells when his master arrives, ripping open his shirt, revealing a beautiful torso with dusting of beautiful, boyish hair. His punishment for being such a smart ass is a good whipping on his pecs and abs. But Perry continues to fight – even as his master pulls out his cock and lubes it up good. Abusing this stud is going to be fun.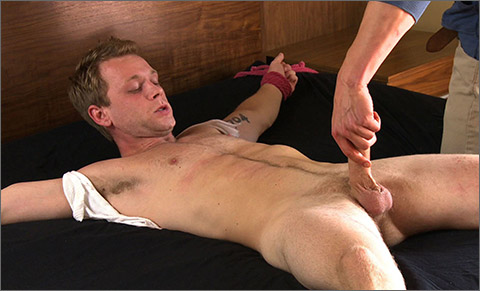 PART 2:
Perry remains spread-eagled on his master J.J.'s bed, naked but for the tiny remnants of a t-shirt long since ripped from his body. J.J. loves his boy's golden hair and bright blue eye. He works Perry's smooth cock – getting it nice and hard – and whips him with a hand whip at the same time, making Perry gasp with pain even as his dick hardens. Perry finds being roped at his wrists and ankles incredibly frustrating. Imagine how he feels when J.J. also restrains his thighs, waist and chest in an elaborate web of rope that makes it almost impossible to move.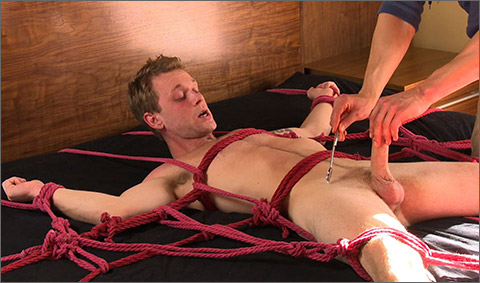 PART 3:
Beautiful blonde Perry remains trapped in a web of rope on his master's bed, displayed like the prized piece of meat he is, the warm afternoon sun pouring in through the windows, highlighting the dusting of fine, boyish hair on his shapely legs. His master, rope man J.J., especially likes the way the ropes around his waist emphasize his leanness. Master J.J. rewards his prize with a nice, long hand job, keeping Perry hard against his will. He pricks his boy's cock with the pin-wheel, making him moan and scream. Then J.J. attack's Perry's nipples with the same device and clamps his wounded nipples and cock with hard-plastic clips, letting Perry squirm and squeal in his ropes for hours, long after the sun has set.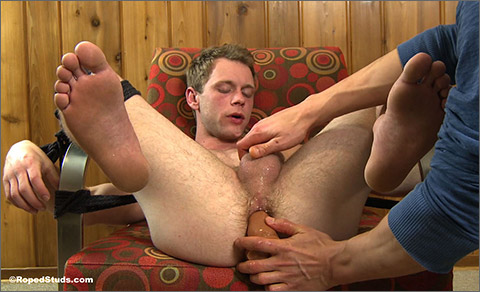 PART 4:
Straight stud Perry is roped uncomfortably in an easy chair, his knees spread wide and tied to the chair's steel arms, exposing his pink, puckering asshole. He is naked and helpless – the perfect target for anyone who wants a piece. "Stop! Fuck!" he screams as rope man J.J. fingers his puckering hole with a lubed-up finger, then two – then plunges them both in deep. J.J. finger-fucks the boy and strokes his cock, getting him ready for something much bigger. Minutes later, Perry is being rhythmically fucked by a life-like, 9-inch dildo as his own cock gets rock hard, stroked by J.J's expert hands. All he can do is lie there and take it.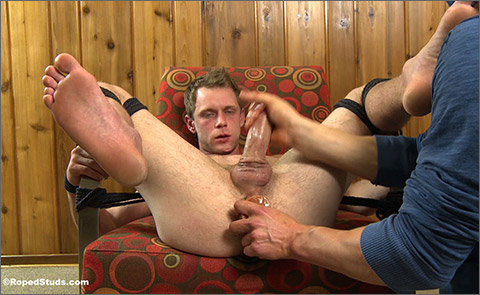 PART 5:
Perry is fucked. Roped to a chair, he has a 9-inch dildo shoved up his ass and held in place, like a giant butt plug, with more rope. He is bound to the chair in a way that not only provides easy access to his ass but also exposes the soles of his feet. Rope man J.J. loves feet, especially pretty straight-boy feet. He whips Perry's soles with his nasty ball flogger, then tickles them with his feather duster. After a while, J.J. pulls the dildo out of Perry's puckering pink hole, but Perry's break from being fucked is very brief. Soon J.J. is fucking that tight little hole again with the same massive dildo while also working the stud's cock. Perry doesn't disappoint, spewing a huge load while being fucked. He might be straight, but his cock sure doesn't think so.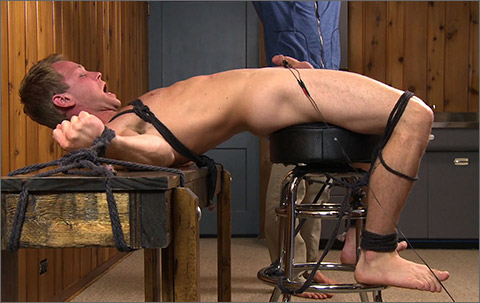 PART 6:
Our rope men J.J. and Anthony have out done themselves this time: Young stud Perry is spread out suggestively, his arms and chest roped to a low bench, like he is crucified, his ass and legs roped to a bar stool, forcing his back to arch painfully. Perry is nearly hysterical with fear: Besides being roped and helpless, he also has a strange device wired to his cock and balls that can deliver painful shocks of electricity on command. He screams hysterically when the first surge of current enters his genitals, making him buck and flex. It's rope-bondage-meets-electro-torture genius. And if that weren't bad enough, J.J. also flogs him.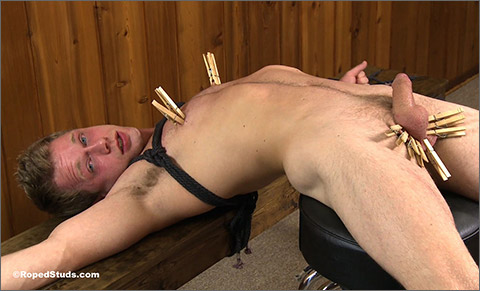 PART 7:
With his ass on the bar stool, Perry is bent backward and stretched out along the lower bondage bench, his wrists, legs and chest roped firmly. We love making him arch his back and suck in his lean abs – and what better way to do that than by shocking his cock and balls, throwing him into spasms of pain. Poor Perry shrieks in pain as rope man J.J. shocks him with the electric wand and the electrodes attached to his cock and balls – sometimes simultaneously. When J.J. has his fill shocking his boy, he gets his fat cock nice and hard – and then attacks his ball sack and nipples with clothespins. Our little peach-fuzz muscle stud has never looked better.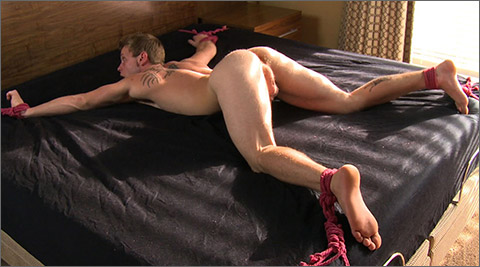 PART 8:
We finally get Perry in bed where he belongs, spread-eagled on his stomach, ankles and wrists roped to the corners of a king-sized mattress, with just enough slack to let him twist and flex that hot little body. We love watching this boy struggle and fight and wonder if he knows how incredibly sexy he is when he resists us. We love even more the look on his face when rope man J.J. strokes his beautiful ass with the flogger – before laying into him hard. J.J. can't get enough of that ass – or that sexy, smooth body. He alternates between whipping the boy – first with the flogger, then with a split-head spanker – and caressing his beautiful ass and body. Perry looks even better when he's quietly sobbing. Poor boy.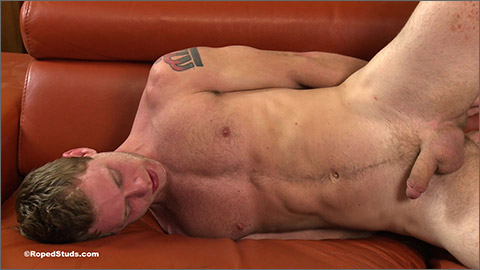 PART 9:
Sometimes there is nothing better than a good, old-fashioned hogtie. Young Perry, completely naked, has steel handcuffs on his wrists and leg irons on his ankles. We join them together with a pad lock, dump him on our leather sofa and stand back for the show. We love watching this muscle twink flex and struggle. In his frustration, Perry falls off the sofa onto the floor. The ever-inventive rope man J.J. ropes Perry's cock and balls, climbs up onto the sofa arm and yanks, making Perry arch his back beautifully. "Stop, stop, fuck!" the poor boy screams as his balls are painfully stretched. We'll let you guess how J.J. responds.

WATCH OR DOWNLOAD IT NOW AT:
ROPED STUDS
On-Line Presentation, Members can Download.
Extensive photography of most scenes and models.