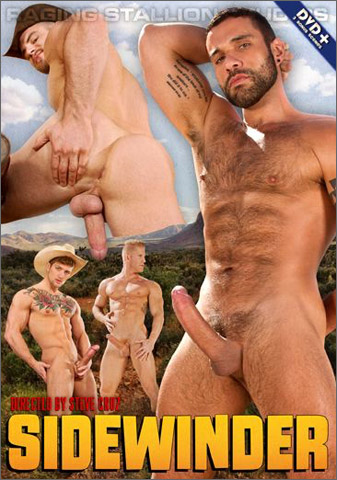 Studio: Raging Stallion
Directed by: Steve Cruz
Year of Production / Release: 2015
Country of Production: U.S.A.

CAST:
Letterio Amadeo
Armando De Armas
Sebastian Kross
Nick Sterling
Johnny V
Sean Zevran


INFORMATION FROM RAGING STALLION:
Like a 'SIDEWINDER' – a rattlesnake hypnotically moving through the sands of the desert looking for prey – these "snakes" are waiting to strike and claim their prize: a fiery fuck under the hot sun. With his cinematic eye and expert sexual direction, Hall of Famer Steve Cruz leads these six hung cowboys through the desert to an oasis of climax in 'Sidewinder.' The blazing sand gets even hotter when Sean Zevran, who's looking for rattlers, gets ahold of the thick, uncut 10-inch 'Sidewinder' in Letterio Amadeo's pants. Nick Sterling's car breaks down in the middle of the scorching heat. Armando De Armas comes to Nick's rescue, and Nick is happy to pay him for his assistance by taking Armando's snake deep inside his sultry hole. Letterio Amadeo jacks his massive uncut serpent to tempt Johnny V into an outdoor shower, where Letterio seizes Johnny's ripped body and slides into his hot ass. To avoid the heat Sebastian Kross and Sean Zevran race back to their retreat, but the action inside sets the temperatures skyrocketing when Sebastian delivers his hefty snake deep into Sean. Head out to the desert and find a pack of big, meaty 'Sidewinders' that satisfy.

SCENE 1: Letterio Amadeo fucks Sean Zevran
Letterio Amadeo flirts with Sean Zevran as they take a roasted walk thru the desert. When Sean says he's looking for snakes, Letterio wonders if the one in his jeans will fit the bill. He kisses Sean and suggests that they fuck. Sean whips Letterio's massive uncut cock out of his jeans and takes it deep into his throat and nibbles on Letterio's foreskin. Letterio's cock is a thick, 10-inch, 'Sidewinder' of flesh with acres of foreskin. Covered in a furry blanket of hair, Letterio grips and pinches his pierced nipples while Sean sucks Letterio in deep, choking gulps. Letterio decides it's time to warm up Sean's hole to prep him for the pounding he's about to endure, so he spreads Sean's ass apart and plants his winding tongue deep into his crack. Letterio vigorously strokes Sean's meat, then shoves his massive curved cock inside of Sean. Pounding him doggie style, Sean takes every inch of Letterio's dick. Things get wet and messy when they stand up and rub out each others heated loads.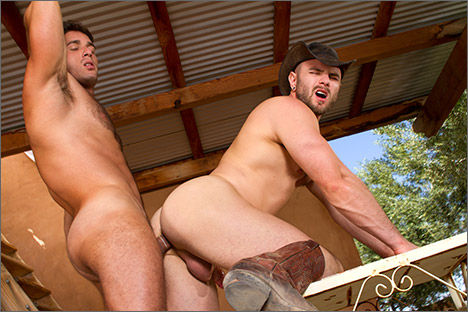 SCENE 2: Armando De Armas fucks Nick Sterling
When your car breaks down in the scorching heat of the desert, you're willing to do just about anything you can to get rescued. Hot and bothered Nick Sterling realizes that he's going to submit his juicy round ass to Armando De Armas' fat uncut cock as payment for saving him. Nick is thrilled by the exchange and begins to settle his debt by deep throating Armando's cock. He spits on the massive serpent and lets it glide down his throat until Armando is balls deep. Armando steadies himself by leaning forward and grabbing two handfuls of Nick's bubble butt. Nick lends a hand to spread his cheeks for Armando's tongue that soon delivers a steamy rim job. After getting his cock and balls sucked by Armando in return, Nick lowers his throbbing hole on Armando's cock with a huge sigh. Nick rides. Armando pumps. The desert heat has them both working up a sweat and busting out their loads all over each other.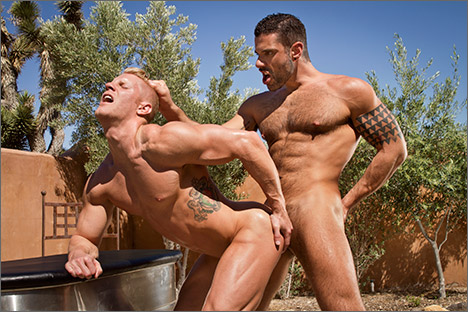 SCENE 3: Letterio Amadeo fucks Johnny V
Letterio Amadeo is sweaty and worked up from stacking firewood all day and desperately needs a shower. Knowing that Johnny V will be watching, he steps into the outdoor shower and strokes his cock enticing Johnny to join him for some steamy fun. Letterio is tall and big chested, with dark hair and colorful tatts that cover his right thigh and butt cheek. As the water cascades over his hairy chest, he works up a huge boner, and makes eye contact with his admirer. Johnny is quickly drawn to the bold site of Letterio stroking his cock and steps into the shower and lowers onto his knees, sucking Letterio's fat 10-incher. Letterio reciprocates with sweeping strokes of his tongue that go from Johnny's hole to the tip of his pulsating cock and back again. Letterio fucks Johnny in the sunshine, missionary style, with the light glistening off of Johnny's washboard abs. Digging deep with hard bursts, Letterio snakes his way further into Johnny's stretched hole, until his sizzling load shoots across Johnny's face. Johnny gets back on his feet and gives Letterio a second hot shower… of cum!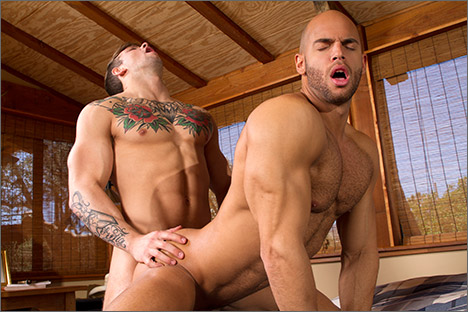 SCENE 4: Sebastian Kross fucks Sean Zevran
To escape the heat and have some time to themselves, sexy Sean Zevran and Sebastian Kross race back up to the house. The studs hightail it to the bedroom and rip their clothes off. Sean flops onto the bed and Sebastian lunges for his cock, which is already hard and pointed at the ceiling. They take turns blowing each other with breaks in between that are filled with kisses that allow each stud to savor the taste of his own cock on the other's lips. The two then explore each other's holes and perfectly ripped bodies with their tongues. Sebastian feeds his cock to Sean and eats Sean's willing hole at the same time. Feeding off the intensity, Sebastian pile-drives his rigid shaft deep into Sean's hungry ass, then Sean turns into a take-charge bottom. Sean exercises every muscle in his smooth physique to charm Sebastian's snake, moving his hips in every direction imaginable. Sebastian pounds the load right out of Sean's cock and onto his gleaming abs leaving Sebastian to launch his cum across Sean's face and mouth.

WATCH THE SCENES AT:
RAGING STALLION'S MEMBERS SITE
Members at RAGING STALLION'S MEMBERS SITE can watch these scenes and download extensive Photo Content from this production.