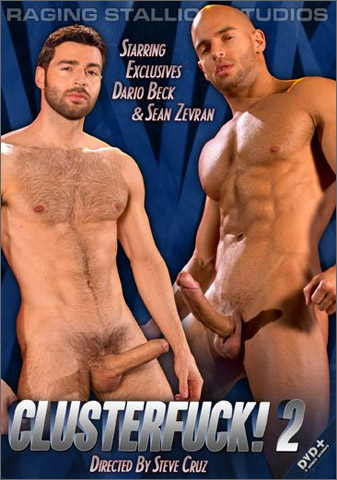 Studio: Raging Stallion
Directed by: Steve Cruz
Year of Production / Release: 2015
Country of Production: U.S.A.

CAST:
Boomer Banks
Dario Beck
Hunter Marx
Billy Santoro
Rocco Steele
Sean Zevran
INFORMATION FROM RAGING STALLION:
When steamy group sex is on the verge of spinning out of control and there's no telling what may happen next, you've got a Clusterfuck! Hall-of-Fame director Steve Cruz crafts this wild sex fest by assembling the right ingredients – a super-charged, ultra-sexual group of the sexiest men around – and mixing them together in the perfect combination to create some of the hottest man-on-man-on-man-on-man sex ever witnessed in Clusterfuck! 2. Sean Zevran's charisma and animal magnetism attracts Dario Beck into wanting every one of his holes filled. Boomer Banks, Billy Santoro, Rocco Steele, and Hunter Marx engage in an electric Clusterfuck! orgy. They're completely overcome with carnal desires and constantly changing positions to fulfill their hungers. Continuing the fiery exchange alone, muscled Billy gets plowed hard by furry Hunter. The huge-cocked and inked-up Boomer and Rocco also getting some one-on-one time with Rocco conquering Boomers hole with his massive tool. Get ready for kissing, cock jousting, sucking, fucking and rimming until there's nothing left to do but cum in all directions. Clusterfuck! 2 is start to finish testosterone-filled, unbridled man action, so let loose and get ready to be satisfied.

SCENE 1: Sean Zevran fucks Dario Beck
A kiss is not just a kiss when Sean Zevran's tongue is in your mouth and his hard cock is poking your navel. Most of Sean's heavily muscled body is covered by a 5 o'clock shadow of bristly hair. Dario Beck is furrier. All over. Dario responds by stooping to swallow Sean's cock, with some skilled hand and lip work. Vigorous thrusting on Sean's part helps Dario to get all the way to the base of Sean's huge slab. A quick position change puts Dario on his knees with Sean spreading his cheeks and tonguing his hole until his swollen tool is ready to take its prize. Sean takes Dario's ass in a single, swift smooth plunge, then commences a rapid-fire probing of Dario. Enhancing his own pleasure by spreading his legs and pulling his knees back, Dario gives Sean full access. Falling back onto the floor, Dario's face catches the full brunt of Sean's firestorm of jizz while his own cock floods cum down his abs.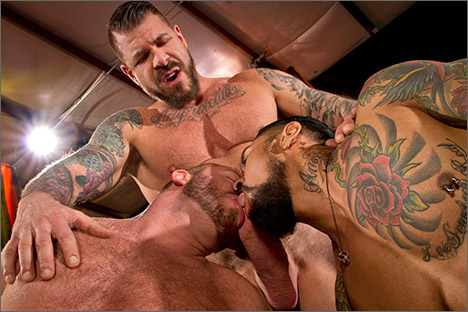 SCENE 2 – CLUSTERFUCK ORGY: Boomer Banks, Billy Santoro, Rocco Steele & Hunter Marx
This is a Clusterfuck orgy with four hot studs going at it. Rocco Steele is the only one not wearing a crusty, faded jock strap. Boomer Banks, Hunter Marx and Billy Santoro complete the quartet. They cluster together with hands on each other's cocks and thighs interlocked. Rocco is the focal point. He rides Billy's face while Hunter and Boomer join lips to make a tube for him to fuck before taking turns sucking him. When they recombine, Billy sits on Hunter's face, getting the same thrill he just gave Rocco. Anything goes, as all cocks seek out the wettest spaces to fill. They separate into couples. Hunter gets his hole snaked with Rocco's fingers and tongue. Boomer delivers the same oral and digital treatment to Billy. Then raging cocks take aim and penetrate. The testosterone is overpowering. Boomer finds himself on his back wanting a cock pummeling his hole, and Hunter steps up, with Rocco on deck. As they reach the point of no return, Boomer wants all their cum, so everyone lines up and showers him, then they hunker down and eat up every drop.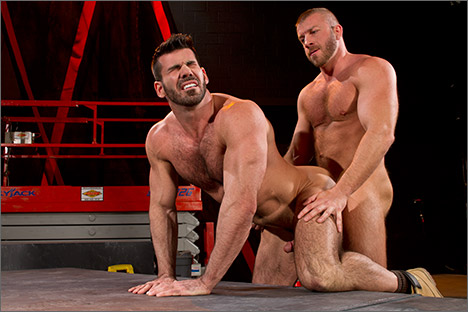 SCENE 3: Hunter Marx fucks Billy Santoro
Fur and muscle collide when Billy Santoro and Hunter Marx hook up in the warehouse. Their jock straps are so worn and crusty, you can almost smell 'em. Their abs are ridged, their nipples are hard, and rock-hard cocks emerge from the pouches of their jocks. Look close: Hunter has a finger or two in Billy's hole. Those fingers make way for Hunter's tongue, causing Billy to dip and sway and hold onto a step to stabilize himself. Now is a steady rocking pattern, he orders, "tongue fuck me; get it wet; lick my balls." By then, Hunter has such a steely erection that if he doesn't stick it in Billy's hole it's going to burst. Billy wants to get fucked as hard and fast as Hunter is able, and he puts his muscular glutes to work to help. They're so into it they work up a powerful sweat. Billy's nuts pull up so tight in their sac, it won't be long before he shoots. They lock tongues and grab their cocks. Hunter pipes his hot load straight into Billy's mouth and licks it out again while Billy's sprays across his abs.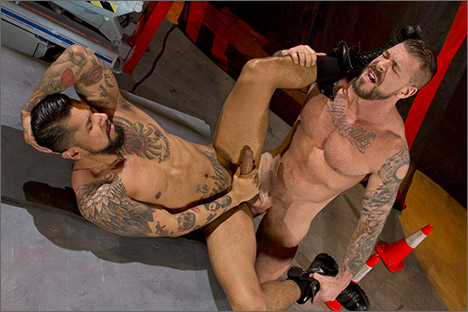 SCENE 4: Rocco Steele fucks Boomer Banks
Boomer Banks and Rocco Steele, both heavily and colorfully inked, line up head-to-tail — a good position to suck a guy's cock or eat his ass. There's a lot of cock here. This duo has so much meat between their legs, it leaves you wondering who's going to bottom. But it's undeniable that Rocco is an ass pro, and he's doing such a good job on Boomer hole that Boomer can't even focus on sucking. Rocco knows his way around an ass: he spits, sniffs, probes and teases with tongue and fingers, sometimes using multiple fingers to stretch that hole wider. Boomer gets Rocco's cock real wet and works it with his mouth and hand, but he's fully aware what he wants. He flips around and slowly impales himself on Rocco's massive wide tool, inch by fat inch, while sticky juices drip from his hole down the shaft of Rocco's cock. Grunts and moans of satisfaction echo from man to man. Rocco increases his speed and intensity, and they take turns stroking Boomer's cock until they both explode in white hot loads that Rocco swallows and snowballs.

WATCH THE SCENES AT:
RAGING STALLION'S MEMBERS SITE
Members at RAGING STALLION'S MEMBERS SITE can watch these scenes and download extensive Photo Content from this production.