Studio: Titan Media
Directed by: Brian Mills
Year of Production / Release: 2012
Country of Production: U.S.A.

CAST:
Brian Davilla
Stany Falcone
Leo Forte
Jesse Jackman
Brad Kalvo
Adam Russo
ADDITIONAL COMMENTS:
Members at Titan can watch this online anytime.
FROM TITAN MEDIA WEB SITE:
Pecs punched. Balls slapped. Big cocks soaked with spit. Cum flying in the air. It's time to get Down and Dirty with TitanMen exclusive Jesse Jackman and a group of no-nonsense alpha males who know exactly what they want—and waste no time getting it. Realtor Adam Russo gets turned on by client Jesse Jackman, who towers over him in a sweat- soaked grunt fest filled with animalistic action. Beefy Brad Kalvo gets an assist down the ladder from bearded Stany Falcone—the two exchanging sucks before Stany bends over. On a balcony with a breathtaking view, Leo Forte unleashes an unforgettable suck of hung Brain Davilla, before offering his ass—and shooting a massive load.

THIS PREVIEW CONTAINS ADULT SEXUAL CONTENT

SCENE 1: Jesse Jackman fucks Adam Russo
Realtor Adam Russo shows muscular Jesse Jackman around a former porn studio. But Adam wants his own large property, too: "Looks like you could have done porn yourself," he compliments. The two are soon locked in a kiss, Adam unleashing the beast from Jesse's bulging jockstrap. He gulps it up, Jesse's ass muscles clenching as he gets serviced. He soon lifts Adam up on the table and feasts on the stud's boner, deep-throating it as Adam whispers "All the way down!" The sucker slaps Adam's boner and balls as the two flash wicked smiles at each other, Adam spitting down on his cock and Jesse's face. Jesse eats and fingers his bud, then fucks him doggie style as the bottom's boner bounces. Jesse grunts as he rams faster, turning Adam over for more. The bottom's eyes roll up in his head as he gets it, his pecs shaking and his balls grazing Jesse's tight stomach as the top thrusts deeper. The two slap and grab each other's pecs, the grunts getting louder as their bodies glisten with sweat before they release their loads.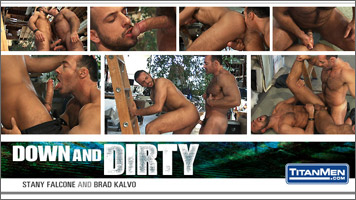 SCENE 2: Brad Kalvo fucks Stany Falcone
As he inches down a ladder, beefy Brad Kalvo is met with a welcoming hand by Stany Falcone. "You like that, huh?" asks Brad, the two kissing and shedding their shirts to reveal their hairy muscle chests. Brad pins Stany against the ladder, licking his body and pit. He sucks the bearded beauty, whose bicep is bursting with a massive vein that pops off the screen. Stany's uncut rod points to the ceiling, his balls tightening to his body as he gets slurped. He grabs Brad's head and fucks his face, then returns the favor by burying his lips to Brad's bushy crotch. Brad turns his bud around, eating him against the ladder while stroking his cock underneath. Brad works his tongue in deep, burying his scruffy chin inside. He then fucks him before turning the bottom over, a great aerial shot capturing his steel shaft going deep in Stany's tight hole. The bottom squirts as he gets fucked, then rubs Brad's nipple as another load gets dumped on his stomach.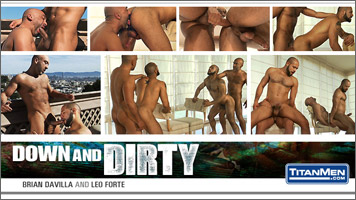 SCENE 3: Brian Davilla fucks Leo Forte
On a balcony overlooking San Francisco, shaved-headed Leo Forte and Brian Davilla kiss. Leo whips out Brian's massive meat, unleashing a sensual suck that is a beauty to behold. The bearded sucker barely comes up for air, his lips locked around Brian's thick shaft. Massive spit gobs connect his mouth and the cock, a stream of spit sliding down Brian's balls and shaft. "Fuck yeah," whispers Brian as he gets worshipped, soon sucking Leo back. Leo offers his ass as they head inside a mirrored room, Brian eating it up as Leo shows off his boner. Brian's dangling meat works its way inside Leo's hole as the bottom stays stiff. Brian wraps his arm around Leo, then fucks him harder as the bottom's cock bounces. Leo sits on the top, who watches the moaning bottom bounce on him in the mirror. Leo lets out a gusher, cum flying in front of his face. While watching Brian stoke, the bottom impressively lets out another load before the top follows suit.

MORE INFO, PREVIEW OR WATCH RIGHT NOW: TITAN MEDIA
GO TO: TITAN MEDIA STORE