Studio: Titan Media
Directed by: Jasun Mark
Year of Production / Release: 2013
Country of Production: U.S.A.

CAST:
George Ce
Adam Champ
Jesse Jackman
Justin King
Johnny Parker
Nick Prescott

THIS PREVIEW CONTAINS ADULT SEXUAL CONTENT


FROM TITAN MEDIA WEB SITE:
What temptations wait behind the doors in your dreams? Fantasy and reality collide when Wide Awake TitanMen exclusives George Ce, Jesse Jackman and Nick Prescott lead us down a surreal and sensual trip—where their minds aren't the only things getting fucked.
   Surrounded by lush greenery and reflective water, Jesse Jackman is a vision in nature—his massive frame soon bent over for fellow hairy hunk Johnny Parker.
   With his arresting eyes drawing us in, toned Nick Prescott works up his bulge before tattooed top Justin King takes control of his ass.
   Bathed in inviting brown tones, sharp-dressed Adam Champ attracts voyeur George Ce—whose monster cock stays rock hard as he rides the object of his lust.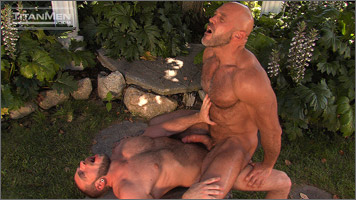 SCENE 1: Johnny Parker fucks Jesse Jackman
Bathed in shades of green, voyeur George Ce peers into his first door. We see a reflection of Jesse Jackman in the water—his massive frame beckoning us closer with his hairy muscle pecs and big, dangling dick. He smiles, and we realize he isn't alone: furry muscle stud Johnny Parker approaches, his boner popping in the air. The two look intently into each other's eyes, their cocks meeting as their furry bods touch. They kiss, Johnny licking down Jesse's body before engulfing his cock. Jesse moans as he gets serviced, soon returning the favor as his talented tongue teases the underside of Johnny's shaft. Jesse then sits down on his bud and rides, his hairy ass slamming against Johnny's furry sac. The top rubs Jesse's body, the bottom's cock rubbing against Johnny's stomach as he grinds down deep. Jesse then gets it doggie style and on his back, the two soon squirting before Jesse stares into our eyes with a smile.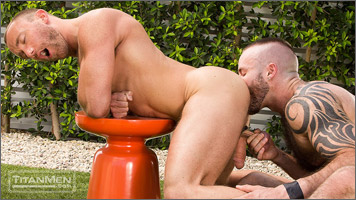 SCENE 2: Justin King fucks Nick Prescott
Behind door No. 2, handsome Nick Prescott stands in front of a bright, modern backdrop wearing nothing but his trunks—his big bulge aching to burst out. He rubs his hairy, toned bod and smiles—his piercing eyes drawing us in. The camera pulls back to find the tattooed frame of Justin King on its knees, his chest hair escaping from his tank as he works up Nick's bulge. Justin sucks the stud deep, Nick gripping his own balls and forcing them on Justin's tongue before dick-whipping his face. Nick takes out Justin's uncut throbber and takes it to the root, spit falling to the floor. On all fours, Nick offers his ass for eating—Justin gripping the jock's balls as he tongues his hole. Justin fucks him from behind, Nick's bubble butt rippling with each deep thrust as his muscle back arches beautifully. Nick gets on his back for more, pulling his balls and jacking as he gets fucked—his abs tightening before he's covered in cum.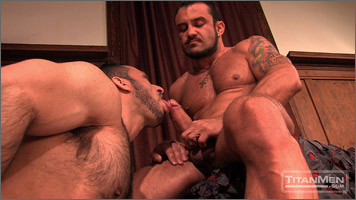 SCENE 3: Adam Champ fucks George Ce
As he opens the final door, George Ce finds sharp-dressed Adam Champ. He moves in for a kiss, their scruffy chins rubbing. George drops down and takes out Adam's uncut cock, working the thick rod up like a pro—Adam's clothes slowly coming off to reveal his massive hairy muscles. George then sits back as Adam slurps on his monster, opening wide and getting close to the base—drawing an exclamation from George, whose abs and balls are both super-tight. Adam turns George around and munches on his smooth hole before fucking him, George jacking as he's rammed. George sits down on Adam, the bottom's beast of a boner bobbing up and down as he rides in an unforgettable sequence. Adam reaches around to rub George's body and stroke his cock, then gets him on his back. George strokes his boner as he gets fucked, soon squirting before Adam dumps his load on the bottom's smooth sac—jacking their cocks together before kissing.

MORE INFO, PREVIEW OR WATCH RIGHT NOW:
TITAN MEDIA
Scenes Premier online prior to DVD release and are available to view anytime in the Members Area.
Members can watch scenes from almost all Titan Media releases anytime online.
TO PURCHASE THIS, GO TO: TITAN MEDIA STORE