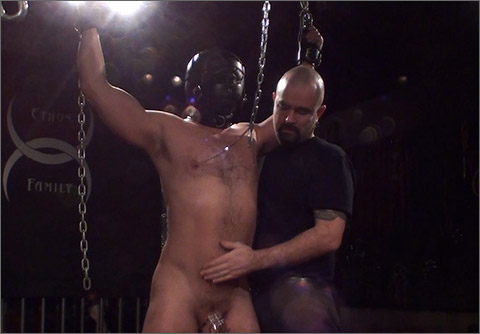 Studio: Iron LockUp
Directed by:
Year of Production / Release: 2016
Country of Production: U.S.A.

CAST:
Mr. Kristofer
Sir Pan
The Boy
INFORMATION FROM IRON LOCKUP: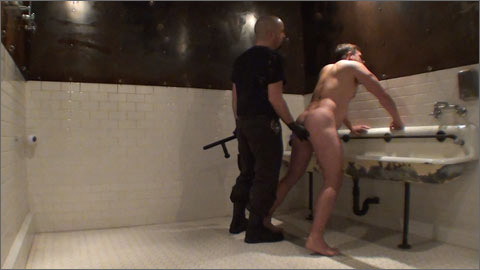 SCENE 1
Mr. Kristofer is taken into the wet room, strip searched and cavity searched. Sir catalogues his measurements, including cock size and ass. Sir then brings out his nightstick and begins to milk the prisoner's prostate with it.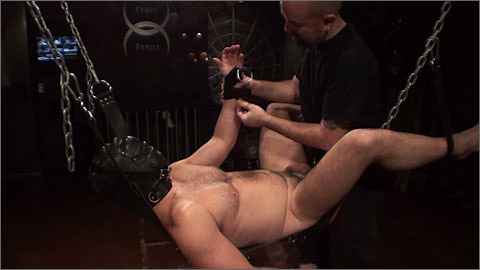 SCENE 2
Mr. Kristofer, strapped into a sensory deprivation hood, is escorted to the bondage sling where Sir teases the head of his cock. The boy comes in and sucks Sir hard as Mr. Kristofer waits to take Sir's raging hard on. When the boy's duty is done Sir returns his full attention to the prisoner and prepared to give it to him hard.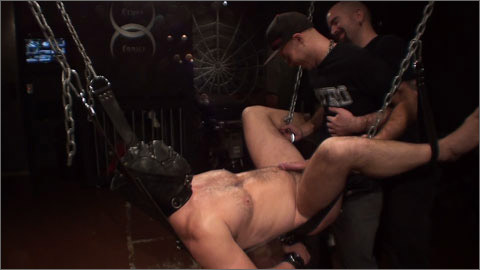 SCENE 3
Sir begins to fuck Mr. Kristofer hard, slapping his balls as he goes. The Boy comes in for a turn, making the prisoner moan loudly despite the hood. When Mr. Kristofer appears to be enjoying it too much Sir starts beating his balls with his night stick but that doesn't stop the prisoner from blowing a massive load a moment later. Of course a blown load doesn't mean stop especially in the cock teasing department.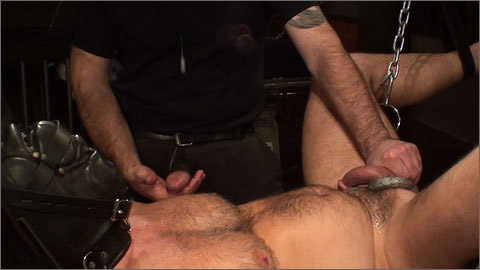 SCENE 4
Getting off doesn't mean that Mr. Kristofer is done. The Boy hasn't finished fucking and Sir Pan hasn't gotten off yet! Mr. Kristofer's moans of pleasure turn to agony as his asshole and nipples get worked even harder. Then Sir Pan blows a huge load all over the Mr Kristofer and almost hits the camera.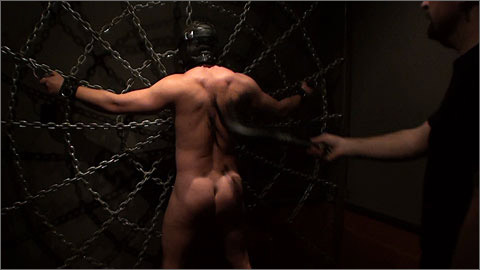 SCENE 5
Sir flogs Mr. Kristofer for a while and decides it's time for him to go into chastity but Sir finds the prisoner too hard to get into the cock cage. Sir tries to get Mr. Kristofer's erection to go down by attacking him with a rubber whip. After about 5 minutes of cruelty the penis is just soft enough to get him locked up.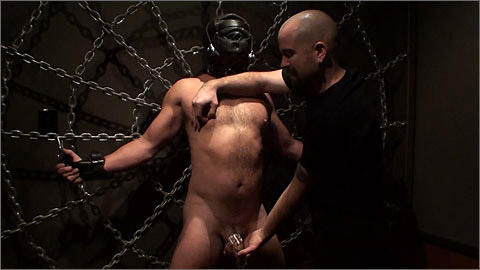 SCENE 6
Fully locked into chastity Mr. Kristofer waits for Sir's next round of punishment. Knowing that the prisoner's nipples are wired into his cock Sir teases Mr. Kristofer hard, making the cock cage unbearable. Sir's imfamous cruelty doesn't stop there, he goes after the prisoner with a nerve stimulator and is doesn't hold back, shocking Mr. Kristofer's cock's head and balls as well.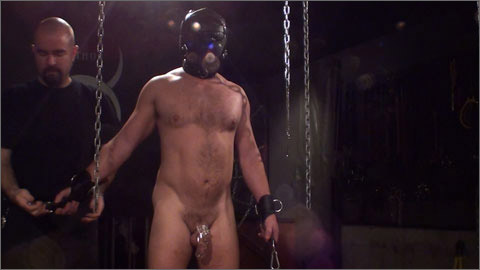 SCENE 7
Mr. Kristofer, naked except for the sensory deprivation hood and restrictive cock cage gets chained up, nipples clamped as Sir starts to play with him. First Sir shocks him with the nerve stimulator and then he is subjected to tugging on his now sensitive nipples. Sir finishes by attacking his balls, leaving Mr. Kristofer to choose between the pain in his balls and the pain in his nipples.

MORE INFO / WATCH IT NOW AT: IRON LOCKUP

Hot or Not? Let us know.
[Total:

1

Average:

5

]