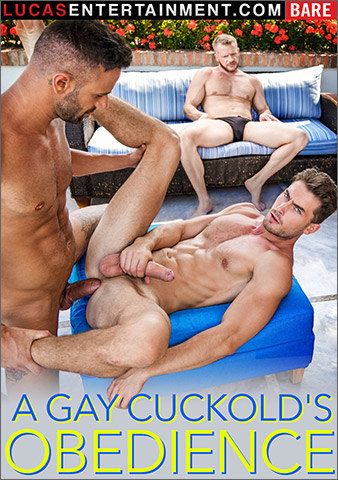 Studio: Lucas Entertainment
Directed by: Michael Lucas
Year of Production / Release: 2023
Country of Production: U.S.A.

CAST:
Brian Bonds
Alex Cabrera
Gustavo Cruz
Ricky Hard
Jordan Jameson
Derek Kage
Allen King
Dom King
Harold Lopez
Craig Marks
Babylon Prince
Pol Prince
INFORMATION FROM LUCAS ENTERTAINMENT:
When two men decide to open their relationship but only one participant gets all the oral and anal action, A GAY CUCKOLD'S OBEDIENCE is paramount when the bedroom door shuts! Harold Lopez slams Ricky Hard while Derek Kage watches the action. Allen King gives Dom King his boy pussy while Alex Cabrera obediently watches. Craig Marks and Gustavo Cruz get it on while Brian Bonds embraces the cuckold role. And Babylon Prince decides to stop watching like a cuck and joins in with Pol Prince and Jordan Jameson when they're fucking!

SCENE 1: Harold Lopez, Ricky Hard, Derek Kage | Gay Cuckold Fantasy
Derek Kage couldn't have hoped to keep Ricky Hard all to himself forever. Sure, their relationship started out strong, as they usually do between gay men. But then Ricky's eye started to wander and he wanted to open the relationship. Derek was curious about opening up too, but he wanted to explore it from a different angle. He wanted to be a gay cuckold — while Ricky got fucked in front of him by a hot and macho bull, Derek wanted to be denied sexual release. That's where Harold Lopez comes in. He is invited into the relationship to fulfill Rick Hard's needs as a sexy bottom. And while Harold Lopez pounds Ricky Hard's boy pussy, Derek Kage watched on, just like a gay cuckold should!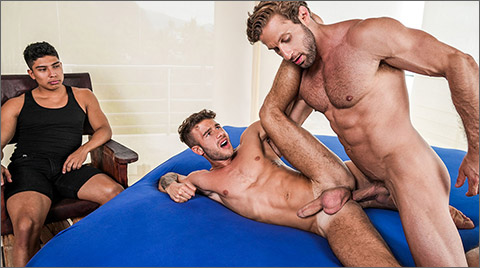 SCENE 2: Dom King, Allen King, Alex Cabrera | Gay Cuckold Action
Dom King fucked and used the boy pussy of Alex Cabrera plenty. But a guy like Dom King needs to see who else is out there. That doesn't mean he wants to break up with Alex. But it does mean Dom King wants him to try out the role of a gay cuckold while he watches his macho top lover fuck another bottom in front of him. Allen King has been all over Dom King for a long time now, and finally he has his chance to submit to Dom King, suck his cock, and get his ass slammed and plowed. And while all of this is going on, Alex Cabrera watches on as a gay cuckold!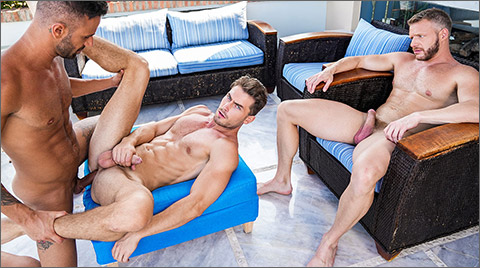 SCENE 3: Craig Marks, Gustavo Cruz, Brian Bonds | Gay Cuckold Sex
Gustavo Cruz is a handsome man with a huge, fat uncut cock between his legs. And there are plenty of men who want to service it. But Gustavo has a man all to himself, Brian Bonds, and Brian is an expert at taking his lover's dick deep and hard. But Brian Bonds also has a kinky edge too and likes to act as a gay cuckold. He likes finding really hot guys for his lover to fuck in front of him. Brian Bonds finds the arrestingly handsome Craig Marks and explains the situation. Craig is automatically turned on, and before you know it, Craig is with both of the guys in their apartment. There Craig Marks sucks and rides Gustavo Crus while Brian Bonds watches as a gay cuckold!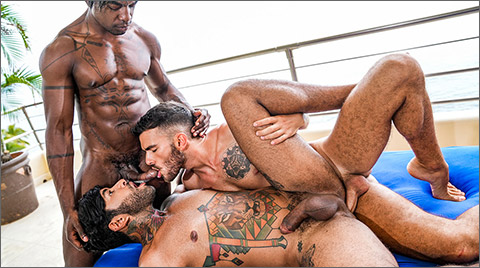 SCENE 4: Babylon Prince, Pol Prince, Jordan Jameson | Gay Cuckold Fucking
It is hard for Pol Prince to keep it in his pants, an his boyfriend Babylon Prince has come to accept this. He actually sometimes enjoys the whole gay cuckold situation he finds himself in. You see, Babylon Prince is one hell of a hunk , and it would take nothing at all for him to step out on Pol Prince. But he instead enjoys the erotic fantasy. Babylon watches on while Pol Prince gets some action with Jordan Jameson before joining in and taking turns fucking the needy hole of Pol Prince!

SEE THIS NOW / MORE INFO:
LUCAS ENTERTAINMENT
Scenes Premier online prior to DVD release and are available to view anytime in the Members Area.
Members can watch scenes from all Lucas Entertainment releases anytime online.

VIDEO ON-DEMAND: Lucas Entertainment @ AEBN SMUTJUNKIES THEATER
DVDs & ON-DEMAND: Lucas Entertainment @ TLA VIDEO