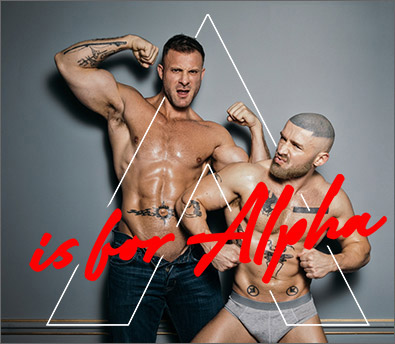 Studio: CockyBoys
Directed by: Jake Jaxson
Year of Production / Release: 2019
Country of Production: U.S.A.

CAST:
Brock Banks
Brent Everett
Greg McKeon
Francois Sagat
Manuel Skye
Mateo Vice
Austin Wolf
Marcus Young
INFORMATION FROM COCKYBOYS: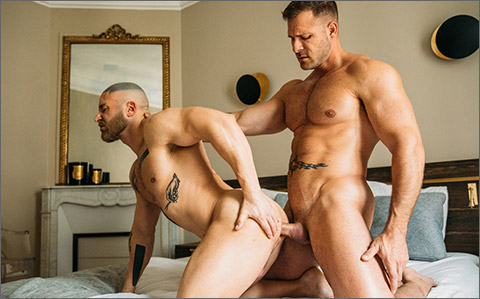 PART 1: AUSTIN WOLF FUCKS FRANCOIS SAGAT
After years of an online friendship and a little flirting, Austin Wolf & François Sagat finally get together in this condom-free scene filmed in Paris! The guys launch our new series "A Is For Alpha" in which we explore what it means to be an alpha. You're in for some big surprises as Austin & François first open up about themselves and about each other, and it all leads to an unforgettable pairing of pent-up attraction.
   The guys take their times making out and exploring their muscular bodies before Austin sensuously sucks François' thick uncut cock & fingers him as François desires. It isn't long before Austin lifts and carries him to the bed where François swallows and chokes on his cock. He keeps on it and Austin makes sure of it while reaching over and playing with his muscular bubble butt.
   Eventually Austin turns François around to eat out his ass and finger him before he gets him into position and slides into him. Austin fucks him hard from behind and slowly dominates him, easily getting François to sit on his cock and ride him and take his deep thrusts. Françoisturbs and faces Austin as he rides him so he can play with the nipples on his flexing chest.
   Austin soon picks him up again and lies François on his back with his ass in the air and pounds him relentlessly until he makes the French muscle god shoot a thick load over his chest. Austin soon pulls out and shoots over François' hole and fucks it into him. After he fingers it in deep, a spent Austin lies next to François and they're both satisfied in every way after a six year wait.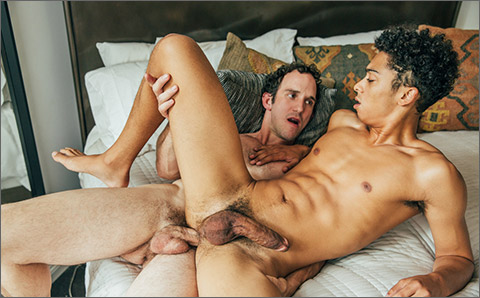 PART 2: GREG MCKEON FUCKS MARCUS YOUNG
In the second episode of "A Is For Alpha" Greg McKeon represents the "daddy" side of being an Alpha. It's a role he loves, not just for dominating a willing "boy" like Marcus Young, but the please of "teaching" a younger man how to be a better lover. And in this condom-free sweet Marcus Young is a very apt pupil. Marcus' passion is being dominated & fucked and he shows it right away lying down with his ass offered up to Greg. Greg buries his face in his bubble butt and relishes rimming him with a couple of slaps, spurring Marcus to declare, "It's all yours."
   After giving him a thorough rimjob and a little sucking Greg quietly orders a very eager-to-please Marcus to suck him. Greg shows Marcus how to take his face-fucking while he reaches over to finger and rim his butt even more. And for good measure Greg shows Marcus in the mirror what it all looks like. This also excites Greg to fuck Marcus' throat more in a 69 until he's ready take him al the way. He lifts him up and sits Marcus on his cock to ride him.
   Greg thrusts into Marcus and dominates his ass, then turns him sideways and on his back. He pins down Marcus and pounds him harder, all over the bed before turning him on his stomach. Greg drills Marcus relentlessly on the bed and over the end then pulls just out in time to shoot a massive hands-free load over his butt & back. He slides his throbbing cock in to finish cumming inside Marcus and fuck it in deep. Finally he flips Marcus on his back and helps him shoot his load before kissing him with passionate affection. No words are spoken but Greg's kisses say "good boy"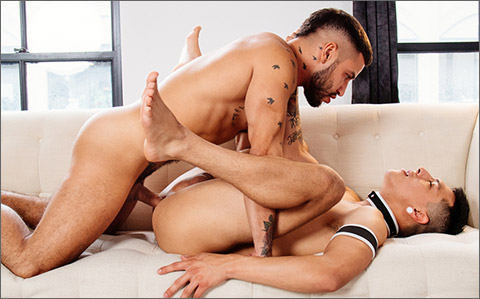 PART 3: BROCK BANKS FUCKS MATEO VICE
In this episode of condom-free series "A Is For Alpha" Brock Banks explores a unique alpha experience: being a "master" to Mateo Vice as he indulges his newfound interest in pup play fetish! Mateo explains what pup play means to him and after puts on his mask and collar, Brock steps right into his role. He trains & praises Mateo with a "good boy!" and with a little discipline Brock starts to reward Mateo by rimming the ass presented to him.
   Now that Mateo has been a "good boy", Brock rewards him with a "treat". He lets Mateo sniff his bulging crotch and then takes out his hard & veiny, thick uncut cock. Once he gets an obedient bark, Brock feeds his cock to Mateo who sucks him with an enthusiasm that grows with vocal approval. So eager to please Mateo hops on the sofa when Brock asks and gets a deep ass rimming and manhandling, making him bark for more.
   Brock finally eases his cock into Mateo but soon gives the morning pup the full, concentrated pounding he craves. Brock gets more into his role and along the way allows Mateo to really work his hole on his cock. When Brock takes over again passion overcomes him as he fucks Mateo closer and pulls off his mask to make out with him. Soon Brock flips Mateo on his back to suck him authoritatively and then get Mateo to go back to giving him head.
   Brock wants to fuck again and after kissing Mateo deeply, he gets him to ride his cock. In short order Mateo works his ass on his master's cock, just as Brock likes it. Eventually Brock gives him a break but when he's ready to fuck he gets Mateo put his mask on so can see his pup again. He pounds Mateo on his back until he shoots a big load. Brock scoops up some for more lube and in no time cums inside Mateo. He licks up his own jizz after Mateo pushes some out. And as one more treat Brock gets Mateo's mask off to share a deep, cummy kiss in their happily fulfilled afterglow.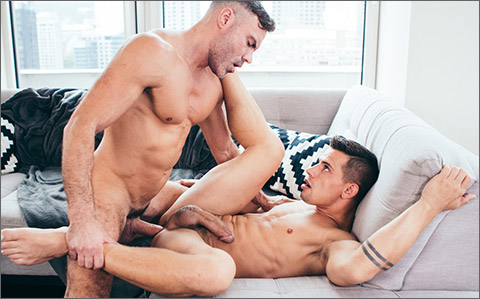 PART 4: MANUEL SKYE FUCKS BRENT EVERETT
In the finale of A Is For Alpha superstar Brent Everett makes his CockyBoys debut opposite Manuel Skye in his long-awaited return! Alpha Manuel exerts control from the get-go, sitting across from Brent while stroking their cocks and engaging in sex talk. As Manuel instructs him, Brent poses, strips, and puts on a teasing show which increasingly excites Manuel. After Brent plays with his ass, Manuel comes up behind Brent and hungrily eats his ass.
   Soon Manuel slides in his cock to fuck him and Brent responds by working his butt on Manuel's cock. Shortly Manuel turns Brent around to make out & manhandle Brent, stroke their cocks together, and get him to suck his cock. Manuel continues to exert physical & vocal as he finally sucks Brent deep and flips him backwards to rim his smooth hole. Manuel soon goes into full power top mode thrusting deep into Brent before picking him up and fucking him in mid-air.
   Manuel shows off his strength, keeping Brent aloft even as bounces up and down on his cock. He then lifts him higher and effortlessly sucks his cock.sucking. Brent returns the favor, sucking Manuel when sits down. And soon he gets up and sits on Manuel's face to ride his tongue. Brent slides down onto Manuel's waiting cock and rides him, taking every deep thrust.
   In the middle of this Brent stands up twice and Manuel's own precum drips out! He slurps it up and feeds to Brent before returning to eating his ass and sucking his cock. After all this Brent turns around and rides him again until Manuel puts him on his back again to suck and pound him deep until he pulls out and shoots a massive load all over his crotch and hole. He fucks it into Brent and drives a huge cum geyser out of him. Manual slurps up his own load and shares a loaded kiss with Brent and sweet, satisfied smiles.

WATCH IT NOW AT: COCKYBOYS
On-Line Only Presentation, Members Can Download.
Extensive Galleries and Screen Captures for most Presentations.
Highest Quality film productions.