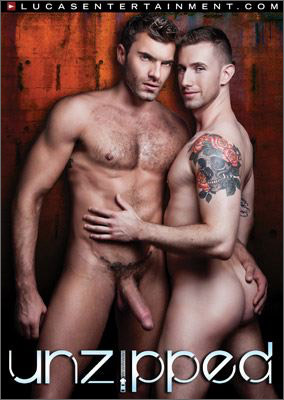 Studio: Lucas Entertainment
Directed by: Adam Killian, Chris Crisco, Laura Macrow
Year of Production / Release: 2013
Country of Production: U.S.A.

CAST:
D.O.
Damir
Troy Daniels
Trenton Ducati
Darius Ferdynand
Vito Gallo
Issac Jones
Paddy O'Brian
Miles Racer
Jay Roberts


INFORMATION FROM LUCAS ENTERTAINMENT:
The guys at Lucas Entertainment are "Unzipped," undressed, rock hard, and ready to have some of the hottest and sweatiest sex caught on film! The famous D.O. returns to take a pounding from Trenton Ducati. Vito Gallo gives Troy Daniels such a working over he shoots two loads of cum. Jay Roberts services Damir's cock to completion. Miles Racer"s eagerly assumes the position for Issac Jones' throbbing uncut meat. And Paddy O'Brian delivers a pounding to Darius Ferdynand that the bottom will never forget! Don't be the only one left out: get "Unzipped" and have fun with the Lucas Men!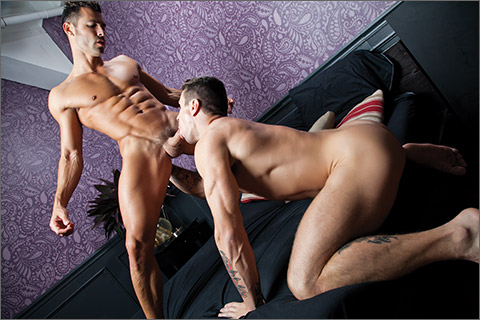 SCENE 1: Trenton Ducati fucks D.O.
Trenton Ducati ducks out of work to meet his hookup, D.O., on the East Side of Manhattan. They meet outside in a construction area, check each other out, and decide to head back to Trenton's apartment to have some fun. As soon as they're through the door D.O. and Trenton take their shirts off and start feeling up their muscular chests — Trenton is hardier in his build, whereas D.O. is leaner. They make out for a while before Trenton slides down D.O.'s body and runs his mouth over the Latin hunk's cock through his white briefs. Trenton pulls the uncut piece of meat out and swallows it up; D.O. then bends over and Trenton plays with his hole after they swap some more head. D.O. uses his mouth to make sure Trenton is rock-hard before he rolls on a condom and lubes up, and D.O.'s ass is high up in the air and begging for a fucking. When Trenton slides in, D.O. moans and groans — it's a wonder he can take it at all. He's so tight and Trenton's cock is big and fat! Trenton grabs ahold of D.O. and hoists him onto his lap so D.O. can ride his pumping pecker. After awhile D.O. needs a break, so the guys flip positions and D.O. sticks his huge uncut cock deep inside Trenton's ass, showing him he's just as much a top!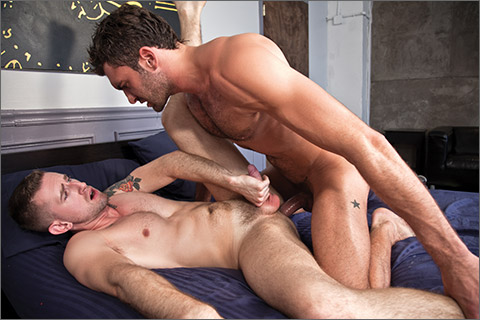 SCENE 2: Vito Gallo fucks Troy Daniels
Troy Daniels doesn't waste his time: if he's going to double his pleasure he's certainly going to double his fun! That's why Vito Gallo is such a perfect match, and when these two hook up there's instant chemistry! Vito doesn't even need to fuck Troy to make him ejaculate: Lucas Entertainment's favorite Italian top gets Troy off by eating out his hole, sucking his uncut cock, and jerking him off with his strong hands. After Troy busts its his turn to get Vito off, so he first starts pleasuring Vito with his mouth before bending over and offering his hole for Vito to fuck! Vito dips every inch he has in and out of Troy's manhole. Judging by the expressions on his face, one would assume Troy can't handle Vito's cock for long, but he just keeps taking it and taking it!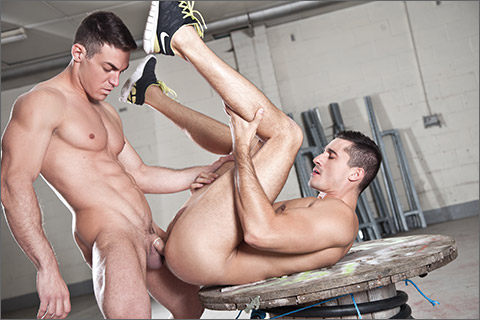 SCENE 3: Damir fucks Jay Roberts
A favorite in gay porn returns to Lucas Entertainment to show off what he never looses: Jay Roberts. This guy doesn't age — he just looks better and better every time he strips off his clothes and gets ready for a pounding! The lucky top is Damir, who is a stud himself: he boasts exotic good looks and is proud of his beautiful body. These two get one look at each other and it's done: they are fucking and don't waste any time getting started! Damir plays with and massages Jay's foreskin between him lips and Jay opens up his throat to swallow Damir whole! Jay wants to impress Damir to the fullest, so he bends his ass over to take a pounding from his top and finishes off on his back!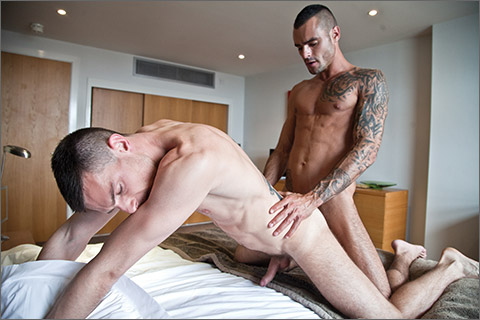 SCENE 4: Issac Jones fucks Miles Racer
Issac Jones' sport of choice is cruising, and Miles Racer is the prize he has his eye on! Issac is one good-looking hunk, and Miles never turns down a sexy guy to have sex with. Issac coaxes Miles away into his bedroom where they strip down and hop into bed. Miles is a submissive bottom and he loves mouthing Issac's fat uncut cock through his white briefs before pulling them down and swallowing the slab of meat whole. Issac grabs Miles head and guides him on the rod before whipping him around and eating out his hole clean! Issac slides his cock into Miles and doesn't just pound him — he destroys his ass! Miles bends over, lays on his back, all so he can feel his ass being filled to completion!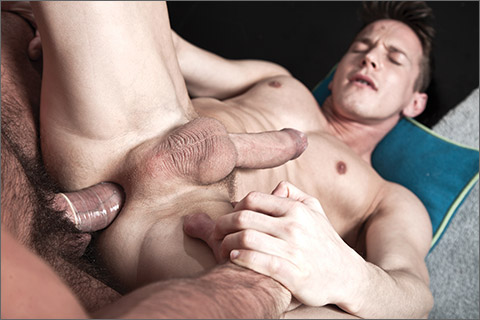 SCENE 5: Paddy O'Brian fucks Darius Ferdynand
Paddy O'Brian likes his guys small, smooth, and lean-bodied — and the prettier they are the better. No wonder Darius Ferdynand catches his eye, a smooth blond bottom that loves pleasure strong and dominant tops. They head back to Paddy's hotel where the guys strip down and get to business: both have beautiful bodies and can't help kissing at the beginning. Darius covers Paddy's ripped torso in slow kisses before choking on the top's thick mushroom head. Paddy is rough with his guys, but Darius is capable of keeping up! Paddy eats out Darius' ass before bending him over, rolling on a condom, and shoving his cock deep inside. Darius proves to Paddy how good of a bottom he is after taking a legendary pounding from Paddy O'Brian!

SEE THIS NOW / MORE INFO:
LUCAS ENTERTAINMENT
Scenes Premier online prior to DVD release and are available to view anytime in the Members Area.
Members can watch scenes from all Lucas Entertainment releases anytime online.

VIDEO ON-DEMAND: Lucas Entertainment @ AEBN SMUTJUNKIES THEATER
DVDs & ON-DEMAND: Lucas Entertainment @ TLA VIDEO