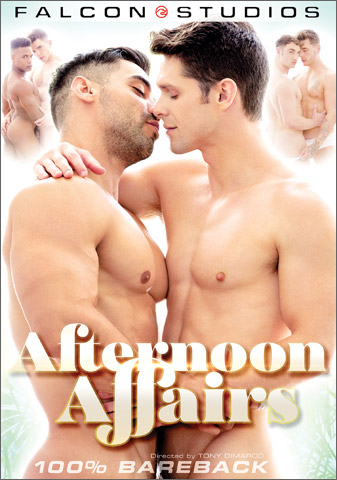 Studio: Falcon Studios
Directed by: Tony Dimarco
Year of Production / Release: 2019
Country of Production: U.S.A.

CAST:
Michael Boston
Devin Franco
Adrian Hart
Skyy Knox
Küper
Cade Maddox
Josh Moore
Dakota Payne
Arad Winwin
FROM FALCON STUDIOS:
Chance bareback encounters come to life in Falcon's 'Afternoon Affairs'. Sexy studs at home, horny and alone meet up with equally stunning hunks who fulfill their desires. Award-winning director Tony Dimarco and his all-star cast of irresistible men deliver fantasies that become reality. A/C repairman Michael Boston comes to Josh Moore's house to repair his unit and ends up taking his thick cock in his smooth hole. Skyy Knox cuts his sunbathing short to take Adrian Hart upstairs for a raw flip-fuck between the sheets. Cade Maddox notices Küper the pool boy out back cleaning up and invites him inside to stretch out his smooth hole with his thick cock. While bathing, Dakota Payne and Adrian Hart get distracted by each other's hard bodies and move their curiosities to the bedroom where they top each other until their balls are drained. When Arad Winwin stops by to trim the hedges, homeowner Devin Franco invites him inside to plow his hole with his thick cock. Next time you're horny and alone at home, get into some 'Afternoon Affairs' with ripped, bareback men just looking to get off.

SCENE 1: Josh Moore fucks Michael Boston
When a naked Josh Moore hears the doorbell ring, he quickly covers up and is met at the door by A/C repairman, Michael Boston. Josh is impressed with the size of Michael's ass in his tight shorts and drops his wrap to show Michael his own giant asset. Michael takes a few sucks of Josh's uncut rod before they move it into the living room where Josh strips Michael naked. Picking up where he left off, Michael gets back on his knees to continue his service, polishing Josh's knob. Josh keeps pushing Michael's limits, seeing just how far down on his cock, making him gag on the thick pole. When Josh wants a taste of Michael's insatiable ass, he bends the stud over on all fours and wedges his tongue deep in between Michael's crack. The taste of Michael's hole has Josh craving more. After having an all-out feast on Michael's hole, Josh sits up on the couch and slides his thick raw cock deep into Michael. Michael braces himself with his hands on the floor while Josh drills his hard meat deep. After taking it doggy-style, Michael lays on the floor to feel the full force of Josh's cock in his hole. Josh keeps pounding Michael's tight hole bareback until its tightness causes Josh to glaze Michael's ass with a thick and creamy load. When it's time for Michael to bust, he gets on top and sits on Josh's face until he blows his load all over Josh's chest. Will the A/C ever get fixed?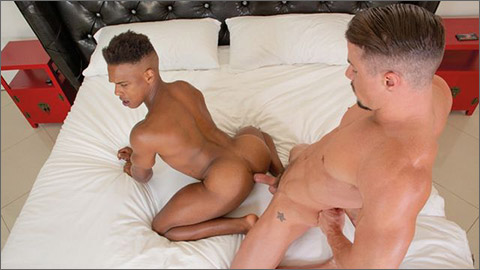 SCENE 2: Adrian Hart & Skyy Knox flip-fuck
Adrian Hart is finishing up a dip in the pool and lays back on a lawn chair to catch some son. When he spots Skyy Knox by the pool, Adrian walks over and drops to his knees to fill his mouth with Skyy's uncut cock. After face-fucking Adrian by the pool, Skyy bends down to get a taste of Adrian's massive member. Taking it all the way to the base, ropes of spit drip from Skyy's mouth as he deepthroats Adrian. For a bit more privacy, Skyy and Adrian head to the bedroom where Skyy throws Adrian on the bed and plants his face right in Adrian's crack. After eating out Adrian's tight hole, Skyy taps his cock on Adrian's ass, then slides his uncut, raw pole into the willing stud. Skyy pounds Adrian bareback relentlessly. Adrian loves the feeling of Skyy's cock in his hole but wants a piece of ass himself. In a turn of events, Adrian takes control and gets Skyy on his back and ready to take his thick cock. Skyy holds his leg in the air and takes the full length of Adrian's raw rod in his hole. He keeps plunging his cock into Skyy until he's ready to be stretched out some more. Skyy sits back and Adrian climbs on top to impale himself onto Skyy's cock once again. Switching it up again, Skyy puts Adrian back on his backside and pile-drives Adrian's hole until Adrian can no longer hold back and erupts with a fountain of cum all over his ripped abs. When it's Skyy's turn, he showers Adrian's hole with his fresh load, then shoves his cock back in to seal the deal.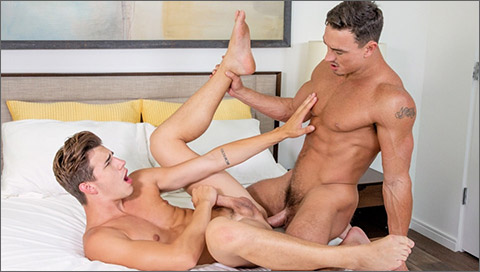 SCENE 3: Cade Maddox fucks Küper
When Cade Maddox comes down the stairs and notices his sexy pool boy, Küper, cleaning up, he steps outside and gets in a lounge chair. Turned on by Küper, Cade starts rubbing his cock that's already bulging thru his speedo. When Küper notices the throbbing meat, Cade signals him inside to the couch. Without hesitation, Küper heads straight for Cade's thick cock with his lips. Cade feeds the willing pool boy his meat, making Küper gag on his thick pole. To show his appreciation, Cade puts the Küper's cock in his mouth while continuing to stroke his dick. Küper gets on all fours on the couch to give Cade total access to his hairless hole. Cade spreads Küper's cheeks and gets to work with his fingers and tongue, opening up the pool boy's ass. When Cade has Küper's hole nice and prepped for what's to come, he picks the stud up and carries him to the bedroom. Once on the bed, Cade takes a few more licks on Küper's hole before sliding his bare cock into the willing stud. On his back with his legs in the air, Küper grabs ahold of his cock and strokes it while Cade works the hole over with his cock. Switching positions, Küper rolls over and takes Cade's meat doggy-style. Cade continues the bareback pounding of the horny stud until Küper gets on top and rides Cade's cock. After Küper's ride, Cade throws Küper back on his backside and thrusts his full weight on top of Küper. While Cade is stretching out his hole, Küper lays back and works his load out of throbbing cock onto his abs. Seeing Küper bust his nut makes Cade let loose and shoot a thick load on Küper's ass. After swirling the load around with his cock, Cade slides back into Küper one last time.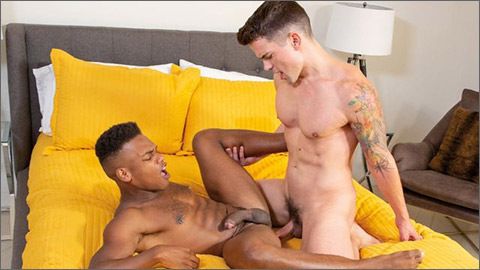 SCENE 4: Dakota Payne & Adrian Hart flip-fuck
Tatted stud Dakota Payne is enjoying a hot bath when Adrian Hart comes in to take a shower. While they clean up, they seduce each other with their hard cocks and chiseled bodies until curiosity overcomes Adrian. He joins Dakota in the bath. Adrian's mouth-watering cock is already at eye level, so Dakota takes the opportunity to put it in his mouth. They take turns exploring each other's cocks and holes with their mouths before drying off and heading to the bedroom. When they get on the bed, Dakota takes a few licks to Adrian's crack, then slides his raw cock into his tight hole. While Dakota keeps his cock firmly planted in his ass, Adrian strokes his cock. Switching positions, Adrian rolls over on his back to take every inch of Dakota's thick raw cock. Dakota can't get enough ass, but he has a flip fuck in mind, wanting Adrian's meat inside him. Dakota lays back, and Adrian slides his throbbing rod deep inside the versatile stud. Adrian returns the powerful bareback pounding that Dakota gave him, pumping the tatted stud's ass deep. Balls deep inside Dakota, Adrian gets sent over the edge and he slathers Dakota's used hole with his thick seed. When Adrian shoves his spent cock back in, he fucks the load out of Dakota, making him shoot thick ropes all over his abs.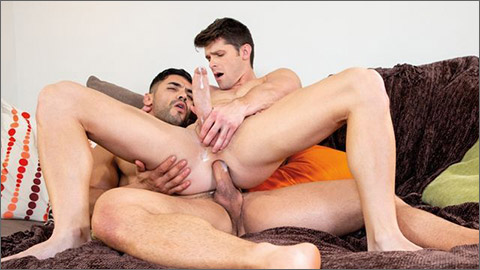 SCENE 5: Arad Winwin fucks Devin Franco
Devin Franco is on the couch inside watching porn and getting hard. With his cock in his hand, Devin notices Arad Winwin outside trimming the hedges. Arad loses his shirt while working under the sweltering sun, and Devin immediately invites Arad inside to join him. Arad steps inside and gets busy sucking the hunky homeowner's thick cock. Arad works his mouth up and down Devin's cock, taking the shaft down his throat until his lips meet Devin's balls. Making his way from his cock down to his hole, Arad pushes Devin's legs back and circles his hole with his tongue. Devin submits and lets the horny yard worker eat him out. When Arad has had his fill of Devin's hole in his mouth, he puts Devin on his knees and feeds him his massive rod. Devin takes every powerful thrust from Arad's cock as it hits the back of his throat. Wanting even more, Devin bends over and Arad slides his cock into Devin's willing ass. Switching positions, Devin gets on his back to take a deep, bareback pounding from Arad. When Devin wants to be in control, he climbs on top of Arad and bounces his bubbly muscle ass on Arad's thick meat. Devin riding his pole sends Arad over the edge, and he shoots his warm cum all over Devin's stretched out hole. With Arad's load covering his hole, Devin rides Arad's dick one last time, while Arad helps Devin out by stroking his rock-hard cock until Devin shoots a thick load all over Arad's sweaty abs. When it's all over, Devin hops off Arad's cock and licks up his own load from Arad's sweaty torso.

WATCH IT NOW AT:
FALCON STUDIOS
Falcon Members can watch scenes from this Release anytime online.
DVD Releases debut online prior to DVD Release.