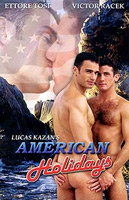 Studio: Lucas Kazan Productions
Directed by: Lucas Kazan
Year of Production / Release: 2001
Country of Production: Italy / U.S.A.

CAST:
Federico Bulsara
Vilem Cage
Tiziano Cortese
Luca Ferri
Gennaro Grimaldi
Erik Lenn
Victor Racek
Ettore Tosi
Matthias Vannelli


SCENE 1: Ettore Tosi, Federico Bulsara, Victor Racek


SCENE 2: Ettore Tosi, Victor Racek, Vilem Cage


SCENE 3: Ettore Tosi, Tiziano Cortese, Gennaro Grimaldi, Luca Ferri, Erik Lenn


SCENE 4: Ettore Tosi, Gennaro Grimaldi, Matthias Vannelli, Luca Ferri


SCENE 5: Ettore Tosi, Victor Racek
FROM LUCAS KAZAN PRODUCTIONS:
They were best friends. They thought they knew each other… and themselves. California, Fall 2000. Ettore catches buddies Victor and Federico going at it in the desert. Unable to shake off those memories of male lust, Ettore is haunted by his truer desires: he's hooked.
   Back home, Ettore confronts his suppressed sexuality and experiments with carpenter Vilem Cage. His thirst for new, bolder adventures becomes unquenchable: Ettore wanders an abandoned castle and spies on two hot couples: Tiziano Cortese and Luca Ferri;
   Gennaro Grimaldi and Erik Lenn. After a brief encounter with hunky Matthias Vannelli (scene 6), Ettore realizes what (whom) he's really longing for. By the time he goes back to the States with his buddy, Ettore is ready to leave his fears behind and to embrace the future.
   "American Holidays" was shot on location in California (Shell Beach, Joshua Tree) and Northern Italy (Valpolicella) in between Fall 2000 and Spring 2001.

GO TO: LUCAS KAZAN PRODUCTIONS
WATCH IT NOW AT: MALEFLIXXX
AVAILABLE FROM: TLA VIDEO