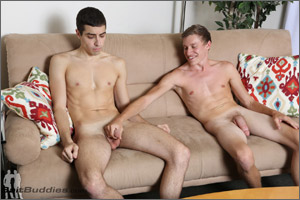 Studio: Bait Buddies
Directed by: Gio Caruso
Year of Production / Release: 2014
Country of Production: U.S.A.

CAST:
Straight: Mike Edge
Bait: Andrew Doncaster


INFORMATION FROM BAIT BUDDIES:
"You callin' me a chick!"
We have two big, thick, juicy and really beautiful cocks in the studio this week. The first 8.5 incher belongs to Andrew, a musician we found in Tampa who loves Jazz and plays the trumpet, piano and guitar. Andrew is our cute, blond, blue eyed, slender bait boy with the "never ending smile", we have to say that he's probably the happiest bait boy in the history of BaitBuddies.com. There were only two times we saw the smile go away, once when he's sucking cock and was physically unable to smile and the other time, when he was getting fucked and his smile turns into a look of ecstasy. The second big 8.5 inch schlong, a little thicker than our bait's, belongs to Mike, an athletic brunette who hails from Atlanta, Georgia. Besides having similar cock sizes, both boys are about the same height and neither has an ounce of body fat – you can see every muscle and their sexy six packs and hard, flat bellies. Both are sitting on the couch, Andrew grinning from ear to ear and Mike, a little nervous and staring straight ahead with eyes frozen on the pussy porn Caruso has playing on the studio monitor – and that's pretty much their expressions throughout the entire scene – one serious and one happy go lucky. The boys are told to strip down for their boner ability test, they show off their stuff, and as we said, it's damn good. This is the cue for Caruso to play out the "girl didn't show" game. The news delivered and at least one of them disappointed, Caruso offers the guys double the money to have sex with each other. "Really… really… really!" says Mike, "I came here to have sex with a girl". Caruso doesn't seem to be getting through to this straight dude until he asks him about girls who have sex with each other in porn – "you think they're all lesbians", Mike thinks and responds "no". And, with a little more convincing from both Caruso and Andrew, who of course is in on it all – but for other reasons than just the money – Mike agrees to give it a go. Andrew, who has been grinning and staring at Mike since he first saw him, reaches over and starts stroking his new buddy's fat cock which gets hard real fast – but Mike's eyes never leave the girlie porn. Andrew then puts Mike's hand on his own monster cock and Mike looks curiously for a moment and starts stroking as his eyes return right back to the porn. It doesn't take long for Andrew to go down on that, we must say very beautiful, cock of Mike's. If Caruso didn't break in to tell Mike, it's now the time for him to return the favor (check out the momentary look of horror on Mike's face), Andrew would've sucked that big ole thing all day. Mike takes it like a champ until he gags, coughs and asks Caruso "is that enough", so Caruso lets him off the hook and moves the boys on to a frot/cock2cock session. This is when Andrew takes the opportunity to pull Mike in for a kiss, Mike pulls back rejecting his first gay kiss, but Andrew doesn't let up and before long they're into a full blown and might we say, pretty long, make out session. Caruso asks "was that OK?", Mike says "it's a little weird, but yes". Caruso then asks "who's getting fucked?"… Mike quickly blurts out "not me!" – of course not, Andrew was determined to have Mike's big, straight boy cock up his hot little butt since he first laid eye's on him. All lubed and condomed up, the boys are ready to go, but there are two close ups to look for here. First, there's a super hot shot of Mike sitting and his big, thick cock standing straight up against his fat free, rock hard belly – second, as Andrew goes to sit down on Mike's cock, a shot of his chubbed up 8.5 incher hanging down to within a just a few inches of his knee! So, Andrew, a self proclaimed bottom boy, easily impales himself on Mike's big boy and humps that thing for all it worth until Caruso tells them to change positions. Caruso now seeing the even bigger grin on Andrew's face, says to Mike "I think he loves your dick" to which Mike replies "most chicks usually do". This is quickly followed by Andrew saying "you callin' me a chick (with that big grin across his face). "I have nothing else to compare it to" says Mike. Andrew flips on his back and Mike goes at him missionary style just like Andrew is some blond hair, blue eyed pussy slut he'd normally be fucking… and Andrew is loving it! You guys already know how this fuck is gonna end, but be sure to watch "After the Shoot" to find out what happens when Andrew has sex in his parents' bed and why Mike puts his cock into a toilet paper roll!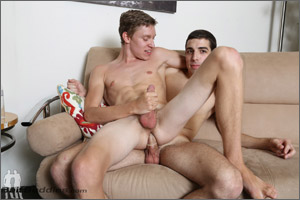 WATCH IT / DOWNLOAD IT NOW AT:
BAIT BUDDIES
On-Line Only Presentation, Members can Download the presentation for later for "off-line" viewing.
Members have access to a vast array of photos from each scene.

Hot or Not? Let us know.
[Total:

1

Average:

4

]
INFORMATION FROM BAIT BUDDIES: "You callin' me a chick!" We have two big, thick, juicy and really beautiful cocks in the studio this week. The first 8.5 incher belongs...","image":{"@type":"ImageObject","url":"https:\/\/films.gayeroticarchives.com\/wp-content\/uploads\/2014\/12\/584538b.jpg","width":200,"height":200},"aggregateRating":{"@type":"AggregateRating","ratingValue":4,"ratingCount":1,"bestRating":5,"worstRating":1},"brand":"","sku":"","":""}