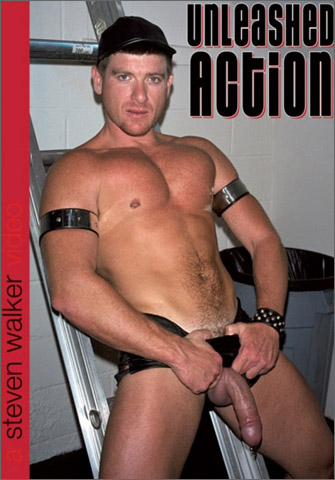 Studio: Projex Video
Directed by: Steven Walker
Country of Production: U.S.A.
Year of Production / Release: 1998
CAST:
Doug Jeffries
Andrew Lennox
Kyle McKenna
David Pierre
INFORMATION FROM CHANNEL 1 / PROJEX VIDEO:
Master Doug Jeffries goes at it with muscle stud Kyle McKenna. He works Kyle's pecs over with a riding crop while commanding his slave not to flinch. Jeffries removes a glove and uses it to turn McKenna a bright shade of red. Kyle is in heaven and his cock is throbbing beneath the cock sleeve he is forced to wear. Master Jeffries then adds weights to the end of the cock sleeve. This pulls Kyle's cock from the head to his balls. All the time begging for more as the Master flogs his chest and legs. This pig bottom gets what he really wants and that's a "Jeff Stryker" dildo shoved up his hole. This gets Doug so worked up that he has to fuck that perfect ass. In the next scene super-bottom David Pierre is caged and waiting for his Master, Australian leather man Andrew Lennox. While he waits he loosens his ass hole with a butt plug. His Master arrives and he wants his 10″ serviced. Through the wires of a chain link fence David stuffs his Master's member into his mouth. Heavy duty nipple clamps and a vice that squeezes the shaft of Davids cock may this one hot scene. Hot wax and whipping are next. It's amazing to see David take that huge cock up his fuck tunnel. This nearly splits him in half.
SCENE 1: Doug Jeffries punishes Kyle McKenna with a bit of flogging, ball weights, nipple clamps
SCENE 2: Doug Jeffries dildo-fucks and then tops Kyle McKenna
SCENE 3: Andrew Lennox punishes David Pierre with Vice Clamps, Wax and assorted other devices
SCENE 4: Andrew Lennox tops David Pierre

MORE INFORMATION OR TO WATCH IT NOW :
CHANNEL 1 / PROJEX VIDEO
Channel 1 members can watch this presentation online.
Re-Mastered and Re-Released to DVD.
   DIRECT LINK TO FILM PAGE: CHANNEL 1 WEBSITE