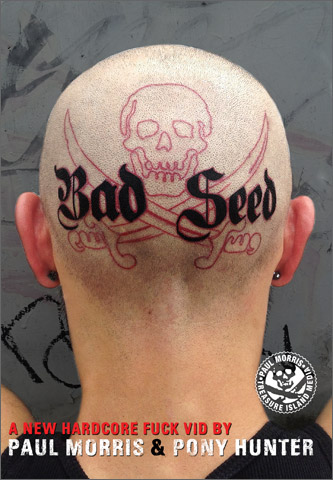 Studio: Treasure Island Media
Directed by: Paul Morris
Country of Production: U.S.A.
Year of Production / Release: 2013

CAST:
Danny Blue
Max Cameron
Blake Daniels
Anton Dixon
DJ
The Fucktard
George Glass
Ed Hunter
Jack Hammer
Preston Johnson
LiGee
Brad McGuire
Niko
Drew Sebastian
Luca Bondi (Fabio Stallone)
Jerry Stearns
Logan Stevens
Jackson Taylor
Ethan Wolfe
INFORMATION FROM TREASURE ISLAND MEDIA:
As you already know, Pony Hunter is the young man I'm training to make porn. He's an avid, oversexed, edgy sexual predator who is the closest I've ever found to my match when it comes to a commitment to explore and document the worlds of male sex.
   BAD SEED is the first full collaboration between Pony and myself. And it reflects the depravity and sexual depths of both of us. I know you're gonna like this one.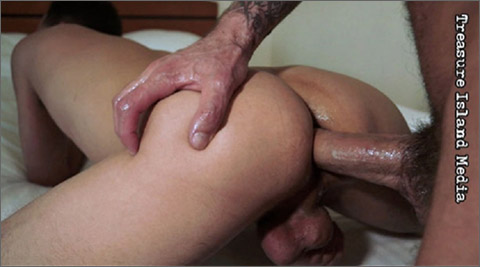 SCENE 1: MAN'S MAN
My first contact with Drew Sebastian was a phone conversation. Someone had sent me his number, saying "I think Drew might be a Treasure Island man." All it took was for me to hear his voice and I knew he was a perfect fit. Listen to him in this audio clip and see if you don't agree (he's talking about some of his first sexual experiences when he was a kid in the Pacific Northwest):
   That's a voice that comes straight from a man's ballsac, from right smack between his legs, from a man who's learned through a lifetime of experience what mansex is all about. That cock and male sex are about worship, right at the root of life.
   Pony's buddy, Jack Hammer, has a day job working for some mega-rich SF dot-com-ers. It's a real stressful job and he needed—really needed—to get royally fucked. So Pony put him and Drew together and let nature take its course.
   Days later, Jack sent me an email. Here's what it said: "Someday I'll die. And what I hope is that in my last moments, with my last breath, I'll think back on the best things in my life. And I'm sure I'll smile when I remember this, probably the best fuck of my life. Definitely the best sex of my life so far. Thank you."
   Drew Sebastian: a MAN'S MAN…He's what we're all about at TIM.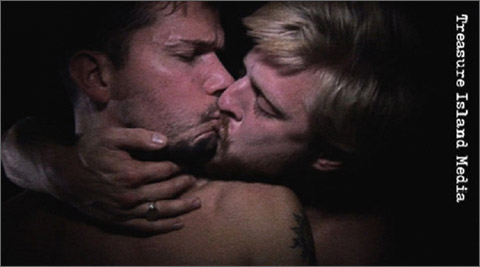 SCENE 2: FRIENDS IN NEED
Pony had been in training for nearly a half-year when a couple of his good buddies, Logan Stevens (he's done some porn before) and Danny Blue (never fucked in front of a camera before) gave him permission to tape them when they got together one night to work things out like men do.
   Minimal lighting, maximum passion. These guys fuck each other, swap sperm and spit, and then keep going until they're totally drained and spent. When Pony showed me the footage, he warned me that they didn't want this released to the public. It was, "Just for Pony's eyes." So I called them both up and managed to convince them that this vision of real man sex was too great to be kept private.
   I can be pretty fucking persuasive when it's important.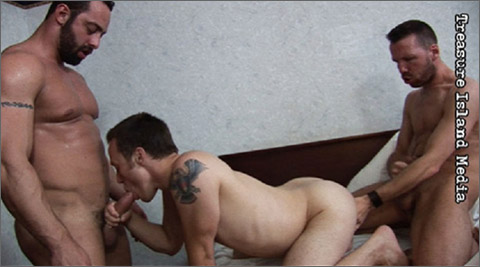 SCENE 3: WEEK BEFORE REHAB
Remember the FUCKTARD? A sexed-up, out-of-control fuck-addict with no stop button. He was the real star (if any TIM vid has a "star") of FUCKTARDS.
   He's back and more fucked-up than ever. Now, it's a fine line between unbridled and self-destructive. The FUCKTARD slid solidly into the latter. And he knew that it was either shape up or end up dead. So he called Pony and told him that he was going to check himself into rehab in a week but wanted more butt-slams of hot sperm before he did. So we gave him the gift of horse-hung Anton Dickson and whale-hung Luca Bondi.
   Half way through the fuck-session, Anton climbs on top of Luca and slides his fat uncut dong inside him. The big magillah melts (it's the big men who make the best bottoms, right?) and they make a human-centipede manfuck machine. Everyone ends up slippery with sweat, spit and semen. And, of course, the FUCKTARD gets two thick loads of nasty jizz up his depraved li'l asshole.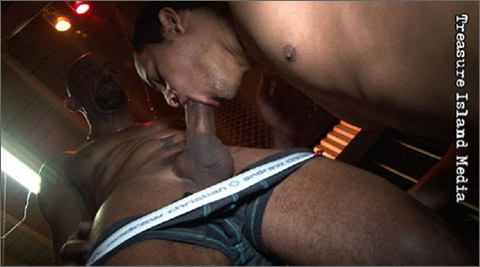 SCENE 4: BOYFUCKER
I like men who are full-grown adult dudes. But every top knows the occasional hunger for boy-flesh, the soft smooth skin of the innocent and not-quite-adult male sub. Recently I took some lurid snaps of this young guy:
   When Ligee saw my photos of Noah Foxx, he flew to SF so he could drive his huge dick in for a deep core-sample of that fine tiny boy-ass. This encounter is brief and all about Ligee's pleasure. He's a man taking a man's due, with no concern for the boy. Near the end you'll see Noah trying his best to stroke out a spurter while he's getting man-rammed by Ligee's 10″ Creole cock. But that was a no-go; His sperm-slick hole was just too reamed out to be able to get his own cock to perform. The sorrows of the deep-fucked boy, eh?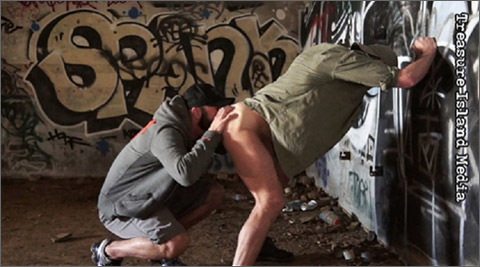 SCENE 5: BAD SEED
Pony asked Drew Sebastian who he wanted to fuck and where. Drew saddled up a couple of his buddies, picked up Pony and drove just North of SF to an old bunker. The place is perched on a cliff over the ocean, so it smelled strongly of salt water, piss, and fucking. You've probably fucked around there yourself, if you're an SF local.
   Turned out Drew had brought along his sidekick, Max Cameron and one of his favorite seed-whores, SEED ADDICT. The dude already had half a dozen loads up his ass and DREW crouched down to lick and suck some warm man seed out of his buddy's hot eager EZ-access hole. His hole all a-twitchin' with cock-hunger, the man-whore squats down and gets a serious lesson from Drew in how to worship a heavy endowment. When he can't wait any longer, he takes a couple deep deep hits from his brown bottle, bends over and spreads his public-property ass as Drew slides in, slow and deep.
   Max wasted no time crawling underneath the fuckers, hungry to taste the man juices that's squirting and leaking and drooling out of the whore's hole. Like a happy pup, slurp slurp slurp, getting a bellyful of jizz from god knows how many dudes. And DREW just keeps up his deep-ramming his spit 'n' jizz slicked-up log balls-deep and sloshing around the whore's guts. When Drew spews his thick alpha-load, the sidekick rubbernecks in, all eager to please, and licks both the fucker and the fuckee clean as a whistle. Then, grinning a sperm-shiny grin, he looks up adoringly at his big buddy Drew. If he had a tail it would've been wagging a mile a minute.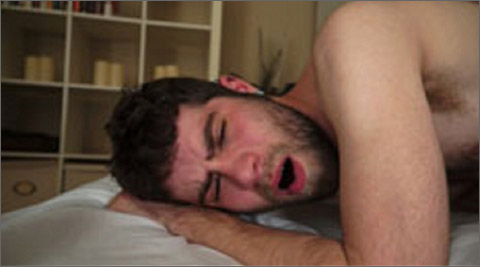 SCENE 6: READY OR NOT
Jay Davis came in out of nowhere to let Pony photograph him. Here are a couple of shots from the photo shoot. As you can see, Jay is one of those 22-year-olds who truly hankers to be more grown-up and mature than he is. There's a definite junior swagger to him.
   Pony went on to shoot a solo with the tyke (he stands 5'4″ and weighs a mere 125 pounds). Afterward, Pony was having a smoke with him and asked him if he'd let himself get rawfucked by a big-dicked stud. The kid thought for a few days about it–he hadn't been fucked but ONCE before in his entire life–and then decided to take the plunge.
   The fact that the kid was broke and needed money for rent may have had something to do with his decision to give up his hole and take sperm for the first time in his life.
   I gave the boy-hole to one of my prime-beef horse-hung favorites, Brad McGuire. Who better to break a boy in and stretch out his nearly virginal hairy li'l manhole? And Brad took to Jay like a starving man takes to a fine piece of prime rib.
   The kid walked funny for days afterward. Truth be told, he'll never be the same. Welcome to the big leagues, boy.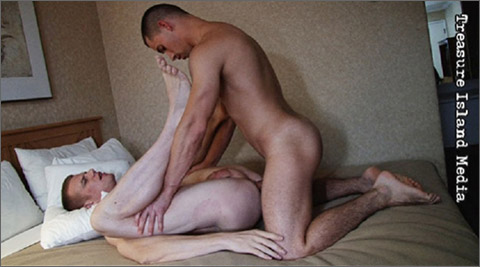 SCENE 7: DIRTY LOAD SHOT DEEP
You probably know about Blake Daniels. He's maybe the best-known raw bottom in San Francisco, and that keeps him very busy indeed. Among other things, he's a local whore, selling his beautiful perfect ass to anyone who has a hankering to use and abuse him. You'll find him on all the man-whore sites, offering up his ass for a couple hundred bucks a pop.
   The life of a whore, though, isn't all cum and roses. They have their tough clients, their rough days. And one Sunday afternoon Blake contacted me after a series of hard-to-take customers (hint: they all insisted on using condoms).
   So Blake needed a true, balls-to-the-wall man-fuck. He said "I'll pay you for it. I'll pay the top. I just need a good old-fashioned raw fuck. And listen, I really need a fucking dirty load up my ass."
   That got me hard: he wanted a toxic heavy-duty sperm-load. No pulling out, no pretense. Just fill the whore up with spurt after spurt of radioactive manhood. So I called Ethan Wolfe and told him the story. Needless to say, he was up for the task. "I'll fill the fucker up," was what Ethan said.
   Ethan bones the whore's ass deep and dumps every drop of his juice in him. When Blake jerks off onto the bed, Ethan scoops it up and adds it to the mix.
   Mission accomplished: a certified, guaranteed toxic dump.

SCENE 8: THREE MEN & A SIDEKICK FUCK A VEGAS WHORE
Wanna watch a true manwhore take a roomful of studs? Here you are.
   Preston Johnson has done a good amount of porn, but his real claim to fame is as a "yeah, I'll do that" whore in Sin City. There's nothing—literally nothing that this whore-hole hasn't taken.
   We teamed up three big ol' buckaroo studs, Drew Sebastian, Jerry Stearns and Niko. Drew brought along his tagalong sidekick, adorable boy-man, Max to give him a chance to sample what a world-class whore can put out.
   The fucking is wild, wanton and wooly. There's plenty of tag-team, massive double-penetration, ass-to-mouth filthy fuck action. And after all the big boys have jizzed to their dicks' delight, Max, the sidekick, gets to climb on top of the whore and pump 'n' dump while the big guys egg him on.
   Incidentally, this is Niko's first appearance in a porn vid. He's been wanting to be in a TIM video for a good while but it never worked out. When Pony told him about this gang bang, the guy literally hopped on a late-night Greyhound bus and slept outside our office until we opened up. He doesn't speak a word of English, but his big dick and solid fuck-talent made him a true blue-ribbon side of beef.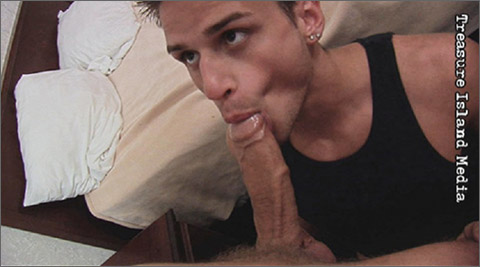 SCENE 9: NICE AND JUICY
Anton Dickson had asked me months earlier if he could have a go at Jackson Taylor's tiny, perfect ass. Anton loves a real man, sure. But he also has a hard-on for the young 'uns, especially if they're empty-headed and blindly obedient.
   Jackson may look like a kid, but he's been taking man seed up his ass for years. In fact, he started when he was four years old and hasn't stopped since then. Once in a while you encounter a born cumdump and that's exactly what Jackson is.
   He serves Anton's cock obediently, slurping and sucking with his mouth and his asshole. This boy would make some older dominant man a perfect life-long slave. Any bids?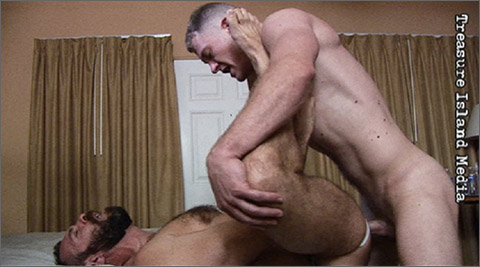 SCENE 10: SERVICEMEN
The Marines get the job done. Ever been in the mood to get fucked but the buddy you're with needs it more? That was the scene here, and DJ–despite a powerful hankering to get ass-ridden–realized George Glass needed it even more. Ever the gentleman, DJ fucks Glass hard 'n' deep, delivering a thick toxic load deep in the bottom's hungry hole.
   Mission accomplished!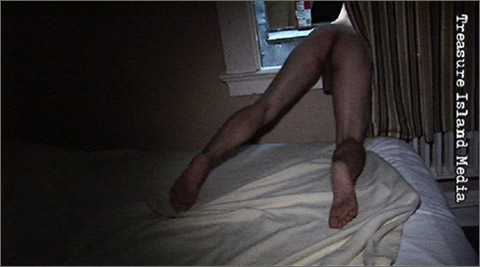 SCENE 11: TOUCH OF EVIL
The following scene is not for everyone.
   Here it is, the FUCKTARD hitting rock bottom. The truth is that even the TIM editors refused to touch the footage for this one, and the whole scene may be too fucked up for a lot of guys out there.
   The 'tard had checked into a sleazy hole-in-the-wall flophouse. You'll hear the crackwhores screaming in the hallway. At one point, he nearly falls out of the third story window, reaching out to grab a needle, showing it off with feigned disgust. By the time Pony showed up, the 'TARD was nine sheets to the wind, having downed three bottles of cheap tequila. God only knows what else he'd done.
   Enter Ed Hunter, a monstrous brute of a dude, a mountain of muscle and animal lust. He tortures and punishes the FUCKTARD, nearly stretching the little guy's tiny butt in two. Then the rape starts.
   Finally, a line is crossed and the FUCKTARD can't take it anymore. He screams for it all to stop and collapses in a puddle of his own vomit. He stumbles around, moaning and crying and puking and tries to get dressed, thinking we'll let him go.
   Think again, FUCKTARD. Think again. You're not leaving this room without a big wad of bull-sperm shot deep into your whore ass.
   Again, this scene is not for everyone.

WATCH THE SCENES BUY THE DVD AT:
TREASURE ISLAND MEMBER'S SITE & STORE
Members at TREASURE ISLAND'S MEMBERS SITE can watch these scenes and download extensive Photo Content from this production and get discounted pricing on all DVD and Print purchases.
ENDLESS STREAMING MEMBERSHIP: TREASURE ISLAND MEDIA @ NAKEDSWORD
DVDs & ON-DEMAND: TREASURE ISLAND MEDIA @ TLA VIDEO