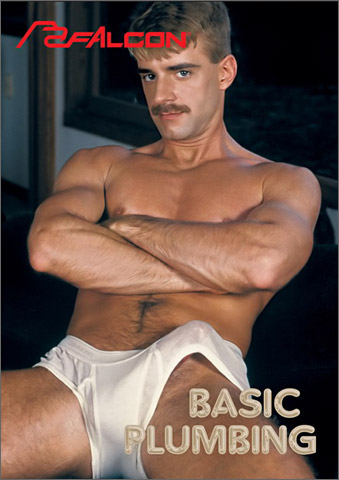 Studio: Falcon Studios
Directed by: Steven Scarborough
Year of Production / Release: 1993
Country of Production: U.S.A.

CAST:
Aaron Austin
Sean Davis
Tony DiAngelo
Cody Foster
Erik Houston
Barry Howard
Chase Hunter
York Powers
Allen Stephensen
FROM FALCON STUDIOS:
Two big-dicked men-'Dick of the Decade' Chase Hunter and 'Long Dong' Sean Davis-star in this story about men who can plug any pipe, fill any hole and make any fountain spurt!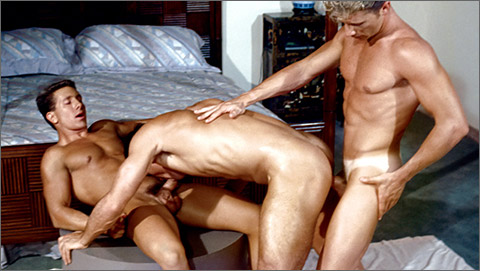 SCENE 1: Sean Davis fucks Aaron Austin and Allen Stephensen with Barry Howard
Total customer satisfaction is the policy for 'Basic Plumbers' Sean Davis and Barry Howard, whose financially strapped firm finds a new money-making gimmick in the stud service. Sean arrives on a routine service call from buffed Aaron Austin and discovers the real nature of the problem: he and partner Allen Stephenson want to be prodded by Sean's long tool. Tall Allen falls to his knees to service Sean as Sean chews on Aaron's fat log. Sean turns Aaron around to munch his bulbous backside as Allen mouths Aaron's cock. Sean then rams Allen as Allen continues to suck Aaron.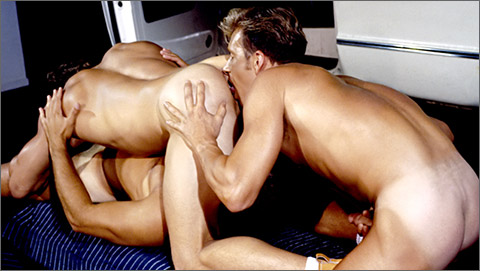 SCENE 2: Sean Davis fucks Cody Foster and Barry Howard
Partner Barry Howard trains new hire Cody Foster in the 'Basic Plumbers' policy in the warehouse by a van. Cody, a compact brick house, has one of the juiciest, roundest butts in the business and it gets quite the workout as Sean Davis returns to join the 69ing duo. Sean stuffs his immense rod into Cody's eminently fuckable behind.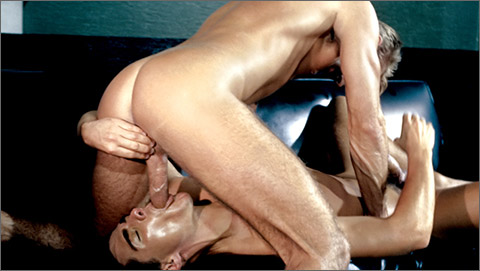 SCENE 3: Chase Hunter fucks Tony Di Angelo
Blond and mustached Chase Hunter's lunch is interrupted by an urgent call from regular Tony DiAngelo. High tailing it over to Tony's club, Chase unclogs a urinal stuffed with the same dildo that was there the week before. Tony, in a moment of genuine, fine acting, ashamedly confesses to causing the problem himself in order to see his lust interest. Barking permission, Chase commands Tony to lick and suck to his delight, which he hungrily does as he rims Chase's firm behind, causing him to spurt his thick honey. They 69 lovingly before Chase rubs his huge boner between Tony's grasping ass cheeks then slowly pushes it in deeply.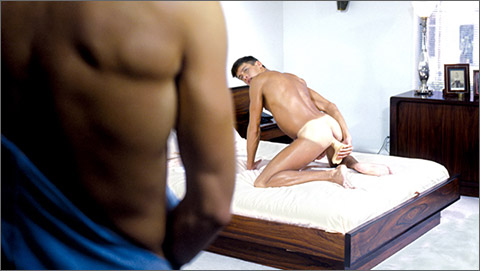 SCENE 4: York Powers and Erik Houston flip-fuck
Tall and rangy Erik Houston is at home playing with himself when his roommate, York Powers, enters to service his needs. Due to their almost twin-like appeal and fantastic, steamy, sweaty, and passionate love-making great oral action ensues as Erik fingers York's smooth behind with three fingers. York's expressions are sincere and real as he moans and his eyes roll backwards in his head. These versatile studs flip and mutually fuck each other with obvious joy and lustful abandon. Finally, we see the new corporate office of 'BASIC PLUMBERS,' complete with overburdened secretary and fabulous decor, a success with their stud service.

WATCH THE SCENES NOW AT:
FALCON STUDIOS
Falcon Members can watch scenes from this Release anytime online.
DVD Releases debut online prior to DVD Release.

WATCH IT AT: AEBN / SMUTJUNKIES THEATER
BUY IT / WATCH IT AT: GAY HOT MOVIES