Studio: COLT Studio / Buckshot Productions
Directed by: Kristofer Weston
Year of Production / Release: 2013
Country of Production: U.S.A.

CAST:
Luke Adams
Dirk Caber
Bob Hager
Ray Han
John Magnum
Tony Orion
Sebastian Rossi
Damien Stone
INFORMATION FROM COLT STUDIO: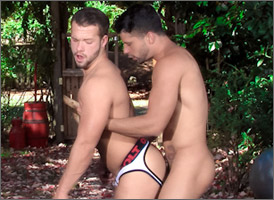 SCENE 1: Luke Adams & Ray Han flip-fuck
Deep in the California Redwoods Forest, handsome stud Luke Adams starts his day with morning stretches in the back yard. Making a scene wearing nothing but his all new COLT Collection Jock Brief, Luke exposes his bare butt as he bends and stretches, drawing the attention of hunky Ray Han who likes what he sees. Luke gives all the right signals as Ray approaches eagerly. Ray's big uncut cock bulges from his COLT Collection Briefs as Luke reaches in and takes a tasty mouthful. A suck and slurp fest ensues as both guys are eager to hit their knees and swallow some cock.
   Once their thick dicks are all juiced up and ready for fucking, Ray bends Luke over a stool and plows that firm round butt, taking full advantage of the easy access Jock Brief. After Luke shows how well he can take a big cock, Ray gets his turn as he takes a seat and goes for a ride on Luke's throbbing rod. Flipping, flopping and fucking the daylights out of each other, Ray drills Luke hard on his back as Luke spills his steamy dick juice. Covered in his own cum, Luke gets on his knees before Ray and takes the full-force brunt of Ray's gushing load.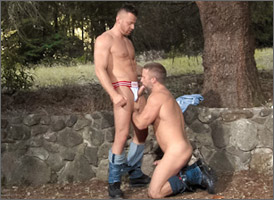 SCENE 2: Dirk Caber & Sebastian Rossi
Lookin' sexy in their new COLT Collection Tees, super studs Dirk Caber and Sebastian Rossi can't keep their hands off each other. With deep kissing and wandering hands Dirk and Sebastian slowly strip each other down to nothing but their smokin' hot COLT Collection Jockstraps, Dirk in a black Signature Jockstrap and Sebastian in a bright, spanking-white Logo Jockstrap.
   Popping out of all over the place, Dirk's thick rod and Sebastian's long uncut monster play very well together as these big boys get each other's impressive cocks nice and wet. With lots of intense contact and rough playfulness, Dirk and Sebastian work each other up to a boiling point. Standing face to face and lip-locked, these sexy beasts moan and stroke and shoot big, man-sized loads together.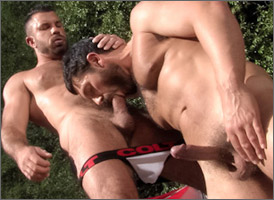 SCENE 3: Bob Hager & Damien Stone flip-fuck
Enjoying the great outdoors COLT Man Bob Hager and studly Damien Stone are two big and burly men who like to let it all hang out. Enjoying the freedom to roam in their new COLT Collection Underwear, these men are drawn together for a hot and steamy COLT Man encounter.
   Bob is bursting at the seams of his tight white BRIEFS as Damien's hot and hairy ass is exposed in his Signature Jockstrap. Helping themselves to what's inside, Damien is on his knees worshipping Bob's always hard and throbbing cock. Bob returns the favor and swallows every inch of Damien's thick tool… All the way down the shaft to his naturally hairy pubes. A deep down hunger for cock has Bob bent over and taking a hard pounding as Damien drills his hot butt from behind. Giving and getting is what it's all about with these two masculine powerhouses. Switching positions, it's Damien's turn to bend over and take Bob's thick pole. Fucking like bears in the woods, Bob plows that hairy butt good and hard, pulling out in the last second to gush a hot load all over Damien's sweaty back. Damien turns around as Bob drops to his knees, stroking up a hot stream of cum Damien shoots his load all over Bob's bearded face and down his furry chest.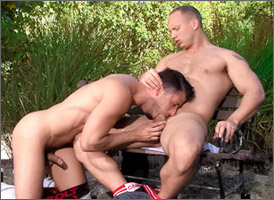 SCENE 4: Ray Han & John Magnum
Hard muscles and thick cocks come together as shirtless hunks John Magnum and Ray Han meet on the hiking trail. Stripping down to their brand new COLT Collection underwear, John in the Black Signature Jock and Ray in Black Super Low Briefs, they help themselves to the bulging meat that's packed inside. On his knees, Ray gives John a deep and satisfying blow job, slurping and sucking that long hard shaft. John gives as good as he gets and when it's his turn he chows down on Ray's oversized uncut monster like a pro. Building up steam John leans back on the park bench, Ray licking his hot hole from below as he strokes out a drenching load all over Ray's chest. Feeling that hot cum on his chest is all it takes to get Ray shooting a nut busting load.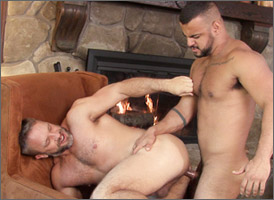 SCENE 5: Tony Orion fucks Dirk Caber
Anticipation makes what we desire all the more satisfying when we finally get what we want. Sitting in opposite chairs and stripped down to their COLT Collection underwear, Muscled Stud Dirk Caber and Latin-Pup Tony Orion tease each other with intense eye contact, showing off for each other and eventually whipping out their rock hard cocks to see who breaks first. Dirk seems to know what Tony wants most and teases him by taking a taste of his own sweet pre-cum. Tony can't resist and is soon on his knees swallowing Dirk's white-gold oozing dick.
   After all that anticipation, these guys really let loose on each other. Sucking and rimming leads to hard-core fucking as Dirk takes a good hard pounding from behind, enjoying Tony's uncut cock drilling his man-hungry muscle-butt. Tony flips onto his back and spreads his legs wide, taking every throbbing inch and slowly milking his cock to completion as Dirk fucks his hot butt-hole. Seeing Tony erupt with a cock in his ass is all the inspiration Dirk needs to fire off a drenching thick load, spilling his seed all over Tony's sweat soaked body.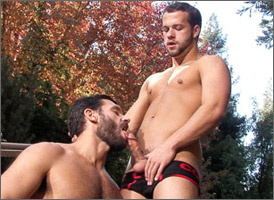 SCENE 6: Bob Hager & Luke Adams
Bob Hager and Luke Adams are just a couple of red-blooded, hung and horny men on the prowl. Bob is wearing his COLT Collection Tee with pride and signaling to the world what he is looking for… other men's men.
   Crossing paths along an outdoor trail their eyes connect and they are immediately drawn together, kissing and groping each other with a familiar ease. Lowering their jeans these men help themselves to each other's bulging packages. Luke, in his COLT Collection Jock Brief, shows off his muscled butt as he squats down in front of Bob to suck and slurp on his big throbbing tool. Enjoying a mutual suck-fest, Bob leans back on the outdoor stairway as Luke Feeds him his thick juicy cock from above. Bob enjoys the view and the taste of cock so much that his load comes gushing, shooting a high and drenching load all over himself. Luke turns around and gives Bob a double dose of white hot cum as he lets loose his load on Bob's heaving chest.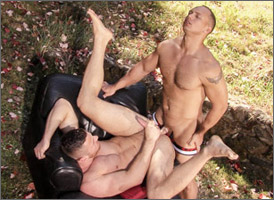 SCENE 7: John Magnum fucks Sebastian Rossi
A shady spot outdoors with a leather lounge chair… What better setting for a couple of hot men to share a steamy encounter? Beefy muscle pup John Magnum and chiseled stud Sebastian Rossi are stripped down to their COLT Collection briefs and locked in a passionate and hungry lip-lock. It isn't long before hot kissing leads to hot sucking as each guy takes a turn on his knees, worshiping at the altar of big, muscular, juicy cock.
   John's hungry mouth works its way toward Sebastian's anxious, tight hole. Lip smacking and tongue probing gets Sebastian's twitching butt-hole ready for a thick piece of man-meat. With Sebastian on his back, Jock gives him his throbbing cock. Legs in the air Sebastian takes it long and hard. Riding it and taking it from behind, Sebastian takes everything a hard pounding top like John can dish out. Stroking his man meat Sebastian releases his gushing white gold as John just keeps on drilling. Pulling out at the last possible second John erupts, shooting his thick wad of cum all over Sebastian's satisfied ass.

MORE INFORMATION / WATCH IT / BUY IT :
COLT STUDIO
COLT Studio members can watch this presentation online anytime.
Extensive Photo Archives are available for download on all Classic Colt and Newer Colt Studio Productions.

Hot or Not? Let us know.
[Total:

2

Average:

3

]