Studio: Falcon Studios
Directed by: John Bruno
Year of Production / Release: 2008
Country of Production: U.S.A.

CAST:
Zeb Atlas
Andy Blue
Tony Capucci
Kirk Cummings
Rod Daily
Lucky Daniels
T.J. Hawke
Aden Jaric
Jordan Jaric
Tristan Jaxx
Adam Killian
Turk Mason
Erik Rhodes
Austin Wylde
FROM THE FALCON WEB SITE:
Who's got the Wedding Day Blues? Tony Capucci and Andrew Blue are scheduled to walk down the aisle, but with this band of merry men, you know their journey is going to be sidetracked. From the horny wedding party to the hot and raunchy staff, everyone gets sucked into the festivities and fireworks.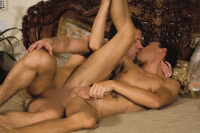 SCENE 1:
Instead of hooking up with his intended date, Tristan Jaxx finds Kirk Cummings naked on a big bed, greased up and sliding a supercock into his ass. Kirk's mischievous smile beckons Tristan over. Entranced, he willingly obliges, pulls out his dick and the two studs begin a frenzied suck-rim-fuck fest. After some wiggling about, they begin to sixty-nine, filling each other's mouths with their thick hard cocks. Then Tristan comes up from behind to stick his pole in the hole. They continue fucking, passionately kiss and fuck some more until they both climax and shoot their wads.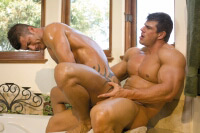 SCENE 2:
Killian is there to interview the wedding guests and finds Zeb Atlas in the shower. They decide to make a more interesting video greeting. The cameraman shoots the muscleman soaping up, the suds sliding off his brawny arms and chest, luscious ass, monstrous pecs and abs. Zeb's killer smile soon gets Killian naked and in the shower, thrilled to be sucking cock. All jacked up, Killian stretches Zeb's asscheeks wide apart so he can rim his hole. Zeb fucks Killian every which way, each thrust making him moan with pleasure. The action is so intense that when Killian shoots his load, he almost falls over. He then begs Zeb to cover him with his spooge and is gladly rewarded – all of the hot action caught on tape.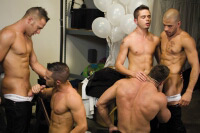 SCENE 3:
For supposedly being the best wedding planners in town, the Jarics find themselves behind schedule. They've still got a lot to do; the bar's not even set up. Where the fuck is the staff? Aden finds Austin Wylde and Turk Mason messing around and joins the fun. Then Jordan comes in and makes it a real party. Meanwhile Erik Rhodes is intent on finding something to slide down his gullet. Instead of finding a drink to nurse on, he settles for both Turk's and Austin's slick pricks. There is so much sucking, rimming and fucking among the five men – the still horny couple and the sex-crazed threesome – that when they finally all climax, the cum flows like crazy.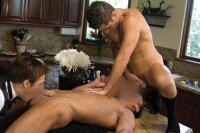 SCENE 4:
Andrew Blue gets an anonymous email with an incriminating image of Tony caught doing the nasty with that sleazy stripper from the week before. Feeling angry and betrayed, he finds solace with the catering staff. TJ Hawke and Lucky Daniels are more than willing to help the despondent bridegroom forget his troubles. Andrew drinks up TJ's cock, and then Lucky's. Each slurp of those hardened dicks takes him farther away from thinking about that two-timing bastard. Who said it's hard finding good help? There's enough cock to suck, asses to rim and holes to fuck to comfort his aching soul. Revenge can be sweet.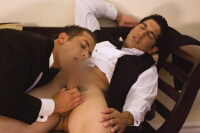 SCENE 5:
The wedding is off. The grooms have split up and poor Tony Capucci buries his grief with champagne. He pours his heart out to Rod Daily and soon learns that when one door closes, another opens. Rod gladly lets his good buddy know that there are a lot of guys who will stand up in lieu of the feckless Andrew, especially him. To his surprise and relief, Tony lets Rod demonstrate just how much he means to him, not only as a friend, but as the desired object of his silent lust. Tony quickly rebounds, running out of his blue funk and into the arms, mouth and asshole of a true soul mate.

WATCH IT NOW AT: FALCON STUDIOS