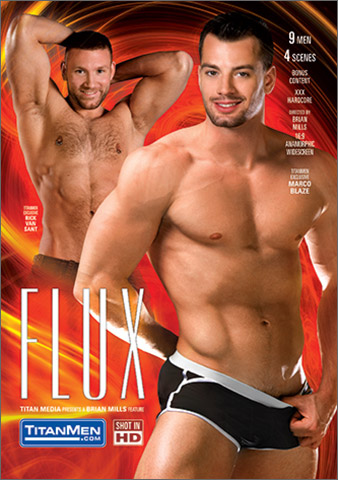 Studio: Titan Media
Directed by: Brian Mills
Year of Production / Release: 2009
Country of Production: U.S.A.

CAST:
Marco Blaze
Andreas Cavalli
Charly Diaz
Drake Jaden
Revel Milan
Tyler Saint
Slade
Xavier St. Jude
Rick Van Sant
SCENE 1: Drake Jaden and Tyler Saint flip-fuck
SCENE 2: Charly Diaz fucks Revel Milan
SCENE 3: Xavier St. Jude and Rick Van Sant flip-fuck, later Xavier St. Jude fist-fucks Rick Van Sant
SCENE 4: Slade and Andreas Cavalli fuck Marco Blaze
FROM TITAN MEDIA WEB SITE:
Can you feel the stream of sensuality? In Flux, the fluid sex flows like a force of nature in this fusion of art and eroticism from the mind of award-winning director Brian Mills. Join nine masculine models—led by TitanMen exclusives Marco Blaze and Rick van Sant—on a hypnotic journey that will seduce your senses. Fucking has never been hotter, so catch the wave and get wet!
Sitting before a dark and mysterious stage, businessman Tyler Saint gets drawn into a steamy one-man show by Drake Jaden—leading to an unforgettable flip-fuck that leaves both men breathless.
   A stormy night sets the romantic stage for dark and handsome muscle couple Charly Diaz and Revel Milan, who lather up in the tub before deepening their commitment.
   A colorful backdrop gets an artistic makeover when hairy hunk Xavier St. Jude and voyeur Rick van Sant transform their outdoor oral play into something even sexier.
The stunning body of performer Marco Blaze tempts Slade onto the stage for a colorful exchange of fluids. Andreas Cavalli joins the fun, and Blaze gets both holes stuffed in a fast and furious tag-team fuck.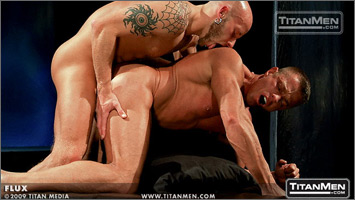 SCENE 1: Drake Jaden and Tyler Saint
Businessman Tyler Saint sits smoking in a chair in front of a dark and mysterious stage. The curtain opens to reveal a muscular silhouette belonging to bearded Drake Jaden. After showing off his muscular back and ass, the shaved-headed hottie turns around to tempt Tyler with his sculpted chest, stomach and defined cum gutters—and a huge bulge aching to get out of his red jockstrap. The tattooed Drake starts a sultry sway and flashes a smile at Saint, who uses a red laser pen to travel up and down the crevice of the performer's amazing chest. Drake shows off his ass again and spreads his cheeks, then turns around with his super-hard cock pulsing. He snaps it up in a stunning side shot, getting Tyler more excited. The businessman starts to rub the huge bulge in his pants, whipping out his own mammoth meat. Drake watches from afar as Tyler strokes and rubs his massive body, his huge dick twitching in excitement. Tyler walks over to his tempter, who drops to his knees to feast on Tyler's cock—which beautifully bounces in Drake's face. Tyler returns the favor, repeatedly deep-throating Drake's steel rod as spit drips down. Drake then sits his hole down on Tyler's tongue and the two stroke out their first wads as Tyler moans, his body quivering.
   After the two kiss, Tyler gets on his back. Drake slides his dick inside Tyler's tight hole and grabs on to the muscle stud's pec as he pounds him fast and deep. Drake strokes Tyler's meat as he fucks him, getting the giant cock even bigger. The two kiss again and Tyler turns over, his meaty cock dangling below as he gets rammed. "Fuck yeah! Gimme that dick!" yells the verbal bottom as Drake slaps his ass and continues his balls-deep fuck. Drake then wants his hungry hole filled—he sits down on Tyler and bounces away, the two holding hands in a romantic shot as Drake's dick stays impressively stiff. Drake gets sweatier and his stomach tightens up even more, and the two fire out their second round of loads before ending the intense pairing with a kiss.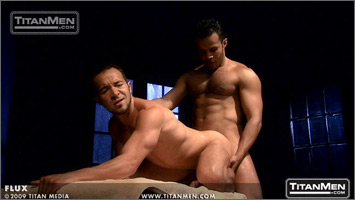 SCENE 2: Charly Diaz and Revel Milan
It's nighttime, and a thunderstorm rumbles outside as smooth, muscular Revel Milan admires his body in a mirror and strokes his cock. The camera moves to reveal an admirer in the background: the hairy, beefy bod of Charly Diaz, standing in a tub and watching Revel. The thunder cracks and the two dark and handsome men kiss, their bristly chins rubbing up against each other. Revel drops down to deep-suck his bud's dark meat, jacking his own big cock in the process. Charly moans and guides Revel's head down on his cock, rubbing the sucker's bod. As the rain pounds on the window, the two kiss as their uncut cocks throb. Revel bends over in the tub to get his ass eaten by the hungry Charly, whose beard rubs up against Revel's cheeks.
   Charly squirts out a load, then takes Revel from behind over a table; hot side shots capture the top's muscle bod in action as he slides in and out. Revel then turns over, getting pounded as Charly rubs the bottom's chest. Revel's cock gets harder as he gets fucked—he pushes his big boner down to show it off before stroking it in a hot sequence. Revel spreads his legs wide and Charly grabs them as he pounds away, soon stroking Revel's meat as he fucks him; the two then cum to end the steamy pairing.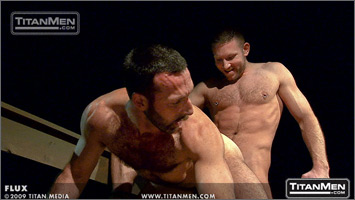 SCENE 3: Rick Van Sant with Xavier St. Jude
Hairy, fair-skinned Xavier St. Jude strokes his dick on a porch in front of the great outdoors, a lush green backdrop filling the screen as chirping birds set the mood. Xavier snaps his beautiful boner up as he rubs his muscular chest and defined stomach. The visual catches the attention of a shirtless Rick van Sant, who watches from behind in the field. Xavier spots the tall voyeur and draws him closer, the two kissing before Xavier falls to his knees to feast on Rick's big dick. What follows is a brilliant blowjob— the attentive Xavier masterfully uses his tongue and mouth, repeatedly planting his hairy lips to Rick's root. Xavier's cock throbs in excitement as he licks Rick's balls and nibbles his foreskin, spit forming on his beard and dripping down Rick's sac. Rick returns the favor, sucking his hairy bud before sitting his hole on Xavier's talented tongue and bristly beard. Rick gyrates his body as he gets rimmed, jacking and moaning as slurp sounds fill the air; the two fire off their first round of loads, with Rick's wad landing on Xavier's neck.
   The two now find themselves on another porch with a colorful, artistic backdrop of flowing curtains and lights recreating the lush green landscape. Rick starts to fuck Xavier from behind, working the bottom's hairy hole into a sweaty mess. Xavier then shows off his skills, sliding back and forth with force onto Rick's big dick as the deep penetration causes both men to moan in pleasure. Xavier gets on his back for more, his hole getting even wetter as Rick shoves his cock inside before the two drench the Xavier's hairy stomach with jizz.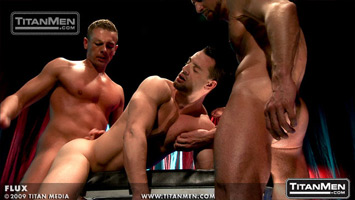 SCENE 4: Marco Blaze with Andreas Cavalli and Slade
As shades of red and green fill the curtains behind him, Marco Blaze rubs his smooth, muscular body on stage—his giant bulge ready to burst out of his trunks. Marco rubs his groin and flashes his buff butt for an admirer watching in the distance. Marco then unleashes his beast, his big meat filling the screen. He sits down and strokes, working over his vein-filled foreskin in a gorgeous shot. The voyeur is soon revealed to be smooth and tan Slade, whose big boner peeks out of his trunks. Slade walks over to the podium, his cock throbbing up and brushing against Marco's meat in a stunning shot: their two uncut slabs touching as they kiss. Slade falls down and opens wide, his lips stretching as he tries to engulf Marco's thick shaft. Slade feasts on Marco's hole over a bench, jacking his own meat as he eats out his bud before whipping and stroking their cocks together. The action excites tall and muscular Andreas Cavalli, who watches as his cock fills his yellow swimsuit.
   Andreas joins his buds, who jack off a round of loads before Marco gets both of his holes stuffed. Slade slides his shaft in behind Marco, whose mouth is busy with Andreas' stiff rod. Slade grabs on to Marcos' shoulder and picks up the pace, pounding him faster and harder as Marco's big meat grazes the edge of the bench. Marco gets his ass slapped and begs for more pounding, working up Slade's body into a glorious glisten. Andreas soon switches positions with Slade and slams Marco's ass even harder, the top getting sweatier by the second. Slade offers his smooth hole for a tongue bath, getting Marco to slurp it up as the three studs balance their big bods on the bench. Marco then gets on his back for more fucking, jacking off as he gets rammed by Slade. The scene ends as the two tops dump their loads on Marco, covering the jock in cum to end the throbbing threesome.
BONUS FEATURES:
A behind-the-scenes look features some fluffing and photoshoot action, with more looks at the cast's huge cocks. Also included are trailers, a cumshot compilation and a look at TitanMen Tools and TitanMen Lube.

MORE INFO, PREVIEW OR WATCH RIGHT NOW: TITAN MEDIA