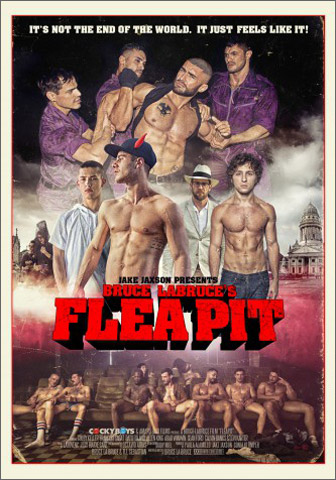 Studio: CockyBoys
Directed by: Bruce LaBruce, Jake Jaxson
Year of Production / Release: 2017-2018
Country of Production: EU

CAST:
Calvin Banks
Valentin Braun
Dato Foland
Sean Ford
Levi Karter
Colby Keller
Allen King
Francois Sagat
Arad Winwin
INFORMATION FROM COCKYBOYS:
GET READY TO BE FUCKWASHED!
This four-part anthology film from legendary gay auteur, Bruce LaBruce, portrays his "take no prisoners" approach to filmmaking. He is constantly pushing past the boundaries imposed on gay culture and queer cinema and these shorts are no different.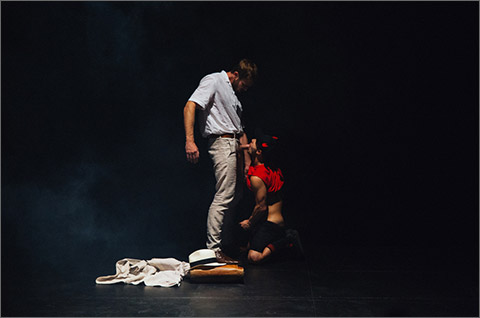 PART 1: DIABLO IN MADRID – A NEW FILM BY BRUCE LABRUCE
Allen King, Colby Keller & Sean Ford
https://cockyboys.com/scenes/Diablo-In-Madrid-Allen-King-Sean-Ford.html?type=vids
From the depths of the underworld demon Allen King crawls out of an open tomb and makes irreverent mischief on the hallowed grounds of a Madrid cemetery. He defiles graves, sexually teases a young mourner almost lured by the temptation, and struts about the cemetery, pitchfork in hand. Allen turns his wicked intentions to Colby Keller, engrossed in his book until the demon sits next to him, plays with his cock, and sparks the professorial gentleman to follow him inside a hidden mausoleum vault. In the smoky darkness Allen easily seduces Colby to his knees to suck him and then sucks Colby so expertly that that he explodes in cum within a minute.
   As he and Colby leave the tomb Allen is unaware of the presence of angel Sean Ford and he moves on, still full of lust and mischief. He mocks a vulnerable man grieving at his husband's grave and who falls prey to Allen's temptation, He is soon sucking him off inside a mausoleum and getting a demon seed facial. Allen finds another mourner to tempt but this time angel Sean intervenes and tries to wrestle him away. The diablo's lust for the angel grows intensely and he tries to kiss him as they wrestle and fight from the cemetery to the city streets and into an occupied apartment.
   Unseen by the tenant they continue to brawl as clothes come off and Allen forces himself on Sean. The angel keeps struggling until Allen's cock is shoved into his mouth and the taste of foreskin breaks down the last wall of resistance. Sean sucks Allen's cock, they kiss passionately and Sean returns to sucking Allen who smiles with demonic glee. Eventually Allen takes off the rest of Sean's clothes to sucks and rim him and his true nature is revealed triumphantly as Allen finally fucks Sean.
   Sean rides Allen's cock with unfettered desire and Allen follows up by fucking him hard from behind with heart-pounding speed. Allen determinedly fucks Sean on his back, relentlessly pounding his hole until the angelic lad shoots over his smooth torso. The demon licks up his sweet cum and then shoots his thick load in Sean's mouth and on his chin….which seasons their final kiss. They soon embark on a journey together..but which of them is more transformed by the experience?

PART 2: BRUCE LABRUCE'S FLEA PIT
Arad WinWin, Dato Foland, Levi Karter & Valentin Braun
Inside an sparsely attended art house cinema screening of "The Raspberry Reich" one lustful gaze from one patron to another sets up a slow motion domino effect of side-eye looks and seat fidgeting. The moans and groans on the screen stir the libidos of the various patrons even more, the looks become more intense and a few of the movie-goers begin to make some bold moves.
   Cocks are pulled out in one area of the theater and a couple guys start jerking off while a couple starts making out in another section. Hands begin to wander and grope, eyes shift around, voyeurs and exhibitionists make their furtive moves, and soon the movie on the screen is of little interest to the theater goers. For the anonymous pair jerking off turns to bold cocksucking in plain view while the couple that was making out are also now sucking cock.
   Pairings are altered, people change seats to find partners for their desires and soon a rising tide of lust engulfs almost everyone with full-on sex. A handful of brazen men get up on the stage to continue fucking and provide a sex show for an audience of four. The uninhibited sex leads to a line-up of jerking off with euphoric cumshots and the audience of four can only slightly squirm in their seats watching a double-exposure sex show, unsatisfied by not participating.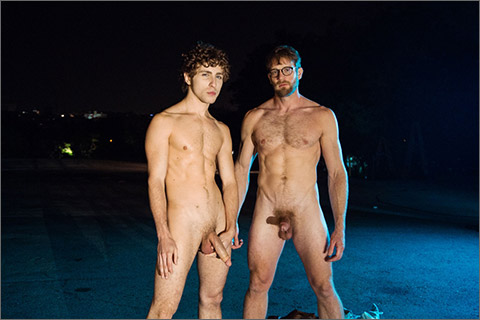 PART 3: BRUCE LABRUCE'S UBER MENSCHEN
Calvin Banks & Colby Keller
A chance encounter on a hot summer day in Madrid alters the lives of two men: Mariano (Colby Keller) a professor (last seen in Diablo In Madrid) on sabbatical and Arturo (Calvin Banks), a taxi driver who takes his fare on a fateful trip. It begins at a busy sidewalk cafe where everyone is lively, except for Mariano who sits alone reading and contemplating his drink. Arturo arrives to take Mariano to the Segovia Viaduct and on the way the chatty driver purposely engages the sullen and distracted professor in conversation.
   Even after Arturo drops off his fare, the seemingly pesky and nosy young man winds up following Mariano to the top of the viaduct as dusk descends. Arturo persists in chatting with Mariano until he finally convinces the professor to join him on a tour of the city. Later that night the tour ends parked at Arturo's favorite place, a remote spot overlooking the city. It's here that the veil of truth is partially lifted and the two men begin to make out. However it's outside the car on top of a blanket in front of the headlights that they let loose.
   Passionate kissing leads to Arturo (Calvin Banks) going down on Mariano (Colby Keller) and sucking him completely. A newly unfettered Mariano returns the favor with equal fervor and takes the reins as he fucks Arturo from behind. It's Arturo though who brings their late night outdoor sex to a sweat-soaked climax as he rides Mariano's cock and spurts over his semi-hairy torso. And, after he dismounts Arturo's face and mouth are there at Mariano's cock as he erupts in a thick volcanic load. A cummy kiss ends their encounter…but what's the next stop for this spontaneous coupling?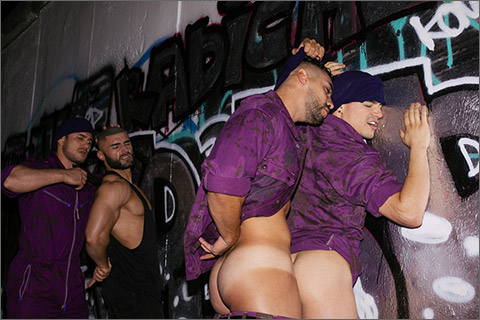 PART 4: BRUCE LABRUCE'S PURPLE ARMY FACTION
Arad WinWin, Dato Foland, Francois Sagat & Levi Karter
In a topsy-turvy alternate reality, the militant Purple Army Faction (PAF) patrols the streets, hunting sexual deviants who need to be caught and converted. Arad Winwin leads Dato Foland and new recruit Levi Karter on a night patrol and nab François Sagat, taking him to their HQ to "reorient" him from straight to gay! Stripped to the waist and tied to a chair François resists but is soon subject to Arad's forceful kisses and manhandling.
   As François gets hard Levi is brought over to prove himself and suck the prisoner but as Levi gets into it, Arad asserts his authority and takes over. On top of a bare mattress, Arad works over François' ass and fucks him with dispassionate energy. It's only when he satisfies himself and gives François a gushing facial that Arad kisses him and gives him pleasure by sucking his cock. Dato gets into the reorientation by stuffing François' mouth with cock and soon it's only the two of them, sensuously kissing and sucking each other off.
   After Dato blasts a load over François' rippling abs, his conversion reaches the final phase: fucking Levi. With the sounds of revolution outside Levi is brought to his knees to suck a confident François who soon takes charge over Levi. François rims his ass and pounds him intensely and with his pumped-up muscle glistening with sweat he ejaculates a torrent of cum that covers almost every inch of Levi's back. Levi shoots while sucking François who gets his third cum soaking. At the end the PAF is now closer to smashing the straight state…with a new comrade.

WATCH IT NOW AT: COCKYBOYS
On-Line Only Presentation, Members Can Download.
Extensive Galleries and Screen Captures for most Presentations.
Highest Quality film productions.