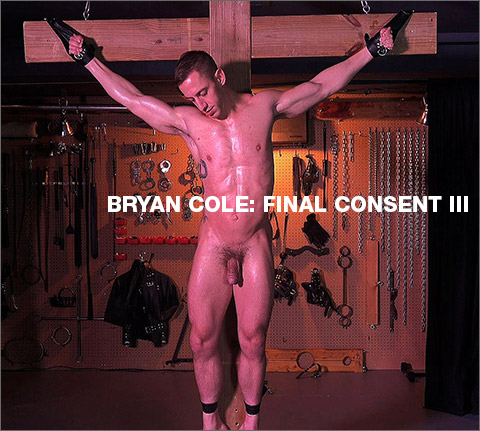 Studio: Dream Boy Bondage / Kenneth Benjamin Media
Directed by: Kenneth Benjamin
Year of Production / Release: 2016
Country of Production: U.S.A.

CAST:
Bryan Cole
with Dom Master: Jared
INFORMATION FROM
KENNETH BENJAMIN / DREAM BOY BONDAGE: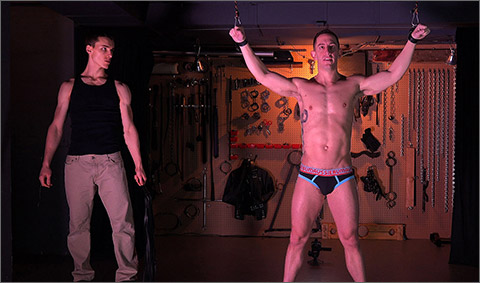 PART 1 – FINAL CONSENT III
Bryan Cole is a 24-year-old semi-pro hockey player. A real athlete, with keen reflexes, a chiseled torso and powerful legs, he got a little too aggressive and smashed into a younger player, breaking his neck. Now he stands convicted of negligent homicide but is given a choice: Serve 20 years hard labor or endure a series of scientifically designed tortures – the "Alternative Punishment Program" – and serve only 20 months. Today, Bryan must give his final consent, but first he must listen to the tortures described in detail – a brutal flogging, a 10-hour crucifixion, a full-body bull-whipping, electro-torture of his cock and balls until he literally passes out, then eight hours on the rack. He will be stripped naked and his entire ordeal will be recorded and streamed online – as a deterrent to other young offenders. Next week: We have just begun.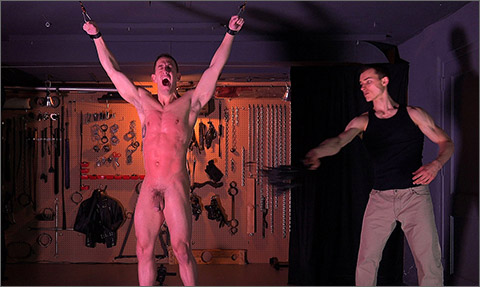 PART 2 – WE HAVE JUST BEGUN
Bryan, wrists bound above his head and legs shackled, stripped to his briefs, has been whipped until the front and back of his torso are bright red, but his flogging has just begun. Jared cuts off the stud's briefs, revealing an impressive cock and balls and a firm ass. "God, this kid is fucking perfect," Jared mutters to himself, before intensifying the whipping, tearing not only into Bryan's chest, abs and back, but also his cock and balls and ass. Then Jared raises the boy up onto his tip toes, making him moan in agony before tearing into his lean, stretched body with even more vigor. Next week: Crucifixion looms.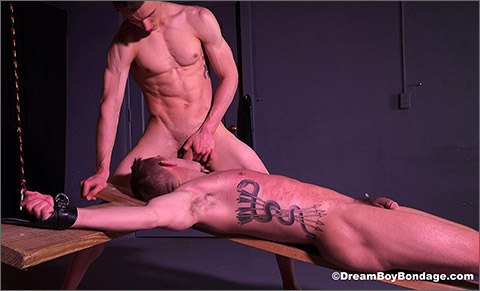 PART 3 – CRUCIFIXION LOOMS
Just moments after being brutally flogged, Bryan, on his knees, stunned, is ordered to crawl onto a cross shoved in front of him. He does so, mechanically, trying to retreat into his mind. Jared straps Bryan's naked body to the wood. Bryan then feels his body being raised, until it abruptly stops. "First you're gonna suck my cock," Jared says, looming over Bryan, his cock out of his pants. "That's not part of my sentence! I won't!" Bryan mumbles. Jared just laughs. A dozen brutal blows from the flogger loosen Bryan's lips. "Get me hard, pretty boy!" Jared demands, stripping naked and shoving his cock deep down Bryan's throat. The stud sucks like a cheap whore. He is back in his mind, trying to forget. He barely notices the cum spurting onto his chest. The fear of the incredible pain he is about to endure has gripped his attention. Next week: Cums while crucified.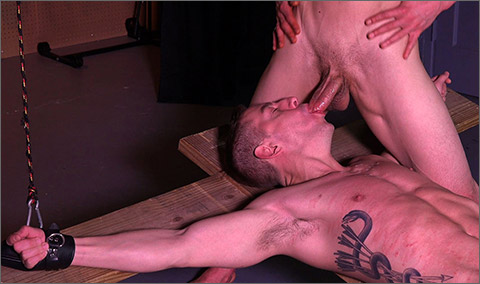 PART 4 – CRUCIFIXION CUM
"Lick it clean!" Jared barks at the young prisoner bound to the cross just below him, cum pooled on his chest. What Jared is doing is illegal – sexually abusing a prisoner sentenced to be tortured as punishment for crimes; not for the lustful pleasures of his tormentor. But Jared doesn't care. In this room, at this time, he is the law. Bryan obeys the command and sucks the cum, sweat and lube off Jared's cock. He knows he'll be whipped if he refuses. Once Jared is satisfied, he steps back and engages the electric winch. In seconds Bryan is crucified, his sculpted body splayed on the wood, his full weight pulling on each arm, muscles bulging, gut sucked in hard. The pain begins immediately. But Jared has a surprise for him: He is jerked off while crucified! Next Week: The cross always wins.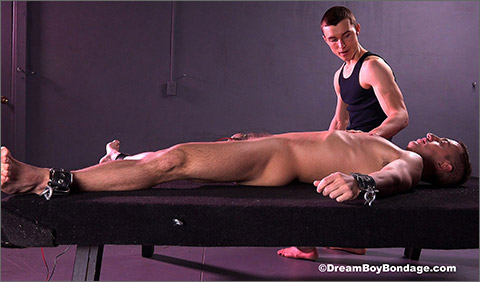 PART 5 – THE CROSS ALWAYS WINS
During his last hour on the cross, Bryan is in a state of near shock, his breathing irregular, his muscular body collapsed in agony. Only his amazing strength and fitness have allowed him to survive the crucifixion intact. Once removed from the wood, he's bolted to the bondage table on his back and allowed a night's rest. In the morning, ice water is poured on his face, forcing him back to reality – and what a reality it is. "Noooo," he mumbles as Jared pushes his cock and balls through a special metal ring plated with 95% pure silver – the most electro-conductive material. Jared attaches electrodes to the ring and plays with the helpless man for a few minutes before turning on the power. Watching Bryan's exhausted, muscular body buckle and arch as current flows into his balls is a thing of pure beauty, even after he faints, buckling still, but no longer screaming. Next week: Single-tail meets electro.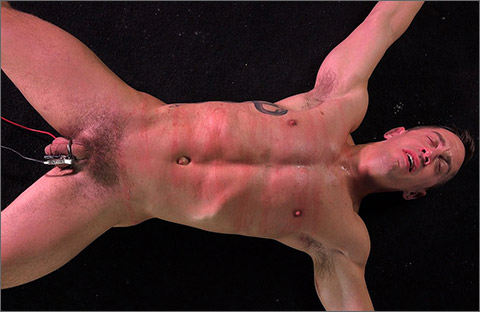 PART 6 – SINGLE-TAIL MEETS ELECTRO
Jared continues to push the envelop with his prisoner, Bryan. The young jock has been sentenced to a series of tortures that include having his balls shocked with electricity and being whipped with the single-tail. The assumption of the court is that these tortures will be done consecutively: electro-torture, followed by a brief break, followed by whipping. But that is before Jared's sadistic mind enters the equation. Nowhere does it explicitly state that the tortures should be sequential. So, after driving Bryan nearly delirious with pain slicing his muscular chest and abs with the single-tail, Jared re-attaches the electrodes to Bryan's cock and balls – and shocks and whips him at the same time!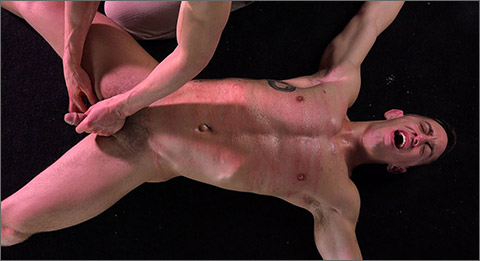 PART 7 – FUCKED
Bryan is out cold, but not for long. Jared wakes him up by spraying a mist of pure rubbing alcohol onto the deep whip-wounds covering the prisoner's chest and abs, shocking him awake and sending him into spasms of pain. Then Jared pulls out his 12-inch, hard-rubber dildo, again. "You can't do that! It's not part of my sentence!" Bryan mumbles. "Sue me," Jared replies, shoving the thing in deep, reminding Bryan that he still has to serve 20 months in the state pen. "A pretty boy like you is gonna be fucked like this every day – and they don't use lube in the pen!" Jared sneers. Bryan bellows each time all 12-inches penetrate him. When Jared is finally done, he orders his prisoner to roll over. "Do it now, or I'll fuck you again!" Jared bellows, grabbing his single-tail. Such a beautiful back and ass were made to be sliced with the single-tail.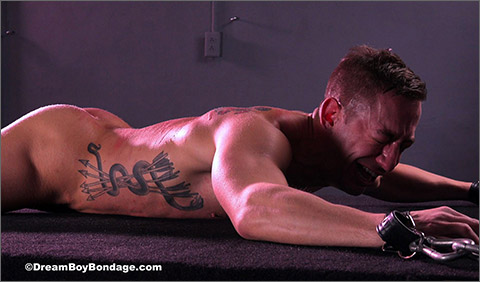 PART 8 – SINGLE-TAIL, FUCKED AGAIN
If you thought Jared's whipping of Bryan's chest and abs was brutal, wait until you see what Jared does to his prisoner's back and ass. Bryan might be solid muscle, a real man's man, but the single-tail whip scarring his flesh turns him into a sobbing boy. A heavy misting of alcohol on the fresh wounds triples the pain. Plus, even though it's totally illegal, Jared brutally fucks Bryan's amazing ass – again! When the whipping and fucking and misting with alcohol is finally over, Bryan's scarred, broken body is transferred to the rack, for more torture. Next week: Stretched to the breaking point.

PART 9 – STRETCHED TO THE BREAKING POINT
Bryan has suffered unbelievable pain and humiliation, his powerful body tortured to its very limits. His back, abs, chest and ass have been sliced with the single tail and bruised with the flogger. His cock and balls have been fried with electricity. He's been forced to suck cock and repeatedly fucked with a massive dildo. He's been broken on the cross. Now his final torture begins: He will be stretched to his body's breaking point and left in extreme agony for eight hours. But first, supremely sadistic Jared wants a little fun. He masturbates the broken stud, who still manages to bust a load despite all the tortures. Then Jared beats Bryan's soles with the crop, sending him into spasms of pain even before he is stretched. Next week: Jared likes big cock.

WATCH OR DOWNLOAD IT NOW AT:
DREAM BOY BONDAGE
On-Line Presentation, Members can Download.
Extensive photography of most scenes and models.