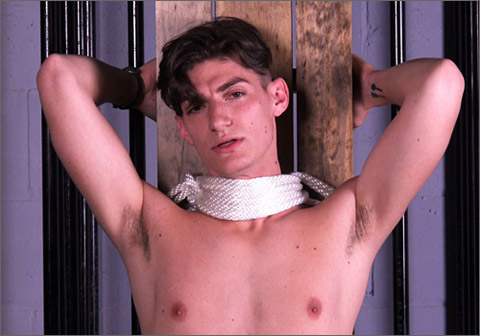 Studio: Roped Studs / Kenneth Benjamin Media
Directed by: Kenneth Benjamin
Year of Production / Release: 2016
Country of Production: U.S.A.

CAST:
Aiden
INFORMATION FROM
KENNETH BENJAMIN / ROPED STUDS:
Age: 18
Height: 5'10" (1.78 m)
Weight: 145 lbs (65.8 kg)
Waist: 29″ (73.7 cm)
Chest: 37″ (94 cm)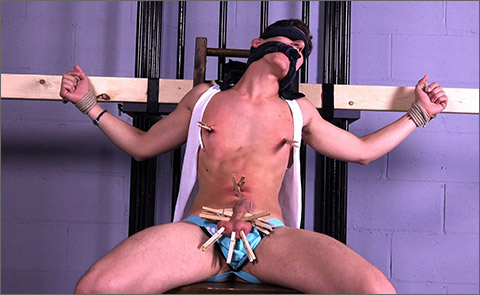 PART 1:
Ropemen Anthony and J.J. are feeling extra creative with their new boy, Aiden, a slender, well-built 22-year-old with a punk haircut, wearing nothing but a sexy jock strap and wife beater. They have him roped to a crossbeam bolted to a chair, a sort of seated crucifixion. His T-shirt has been ripped off and turned into a gag and blindfold. J.J. loves the way the boy's cock hardens under his jock with even the slightest touch. The kid also has gorgeous, sensitive nipples, which becomes clear when J.J. whips and clips them, then does the same to his navel. Now it's time to get a look at that cock. Whoa! It's a fucking python – huge, especially for such a boyish guy. And it stays hard even when covered with biting pins.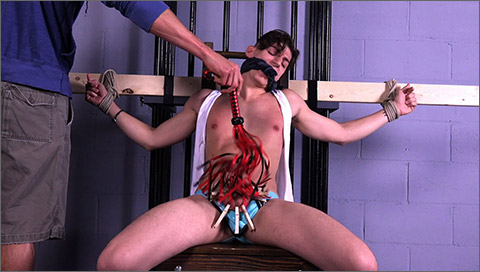 PART 2:
Beautiful young Aiden is "crucified" with rope while seated, blindfolded and gagged, his shirt ripped open, his cock pulled out of his sexy jock, and twenty clothespins clamped to his nipples, navel, cock and balls. He squirms and moans in pain, but the ropes are just too tight. Then Ropeman J.J. gets out his favorite mini-flogger and attacks Aiden's body and cock. And what a cock it is, just a few strokes and the thing doubles in size!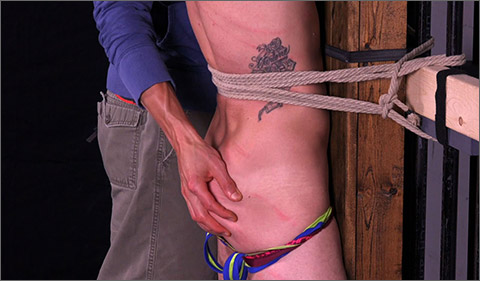 PART 3:
Young beauty Aiden is bound upright against the steel cage, arms roped overhead, and strapped to the upright bondage bench at the waist. The sexy curves of Aiden's backside, with those ass-less undies exposing nearly every detail, are just what Ropeman J.J. gets off on. J.J. can't help himself as he massages every inch of that back and ass, just before he pulls out the wicked black single-tail whip. After striping his prize's back and ass bright red, J.J. steps back to soak in every twist, turn, and moan from his new slave. Watching Aiden's red-striped ass flex off and on is just icing on the cake!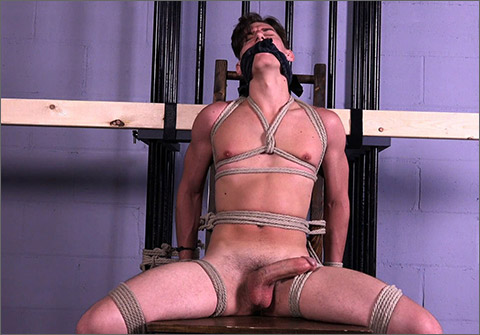 PART 4:
Pretty boy Aiden is roped to a chair with tight hemp, wearing nothing but a tiny jock. Beautiful rope works holds his beautiful body to the ladder-like chair back, his legs bent back and roped to the sides of the chair's seat. He struggles against his bonds and groans through his gag – made out of what's left of his T-shirt. Rope man J.J. pulls out Aiden's gorgeous cock and strokes it. It doubles in size almost immediately. Then rope man Anthony binds the python at its base with red twine, tying it off around Aiden's neck. What a beautiful, helpless, naked, well-bound boy.
   …to be continued

WATCH OR DOWNLOAD IT NOW AT:
ROPED STUDS
On-Line Presentation, Members can Download.
Extensive photography of most scenes and models.