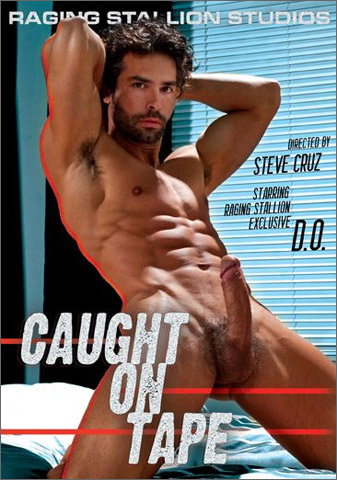 Studio: Raging Stallion
Directed by: Steve Cruz
Year of Production / Release: 2010
Country of Production: U.S.A.

CAST:
Adam Champ
D.O.
Vince Ferelli
Derrick Hanson
Wilfried Knight
Angelo Marconi
Dayton O'Connor
INFORMATION FROM RAGING STALLION:
When men want it they want it now, whenever and wherever they can! Casual sex, public places and outdoor spaces… It's all 'Caught On Tape' in this high energy sex-capade directed by Steve Cruz starring Raging Stallion's 2011 Men of the Year— D.O. and Adam Champ!
SCENE 1: 'Caught On Tape' Wilfried Knight and Vince Ferelli
D.O. is on the balcony of his San Francisco loft playing around with his video camera when he discovers Wilfried Knight and Vince Ferelli on a rooftop getting hot and heavy. Landmarks like The Golden Gate Bridge, Transamerica Building and Coit Tower provide a backdrop for some heavy man-play! Soon they are naked and trading blowjobs while D.O. catches it all on tape! They move inside the stairwell to fuck and what a fuck it is! Hairy Wilfried Knight takes massive body builder Vince Ferelli from behind thrusting his mass up with every fuck blow! From start to finish it's a high impact fuck the way men do, grunting and spitting and thrusting until the last drop of cum explodes from their meaty cocks.
SCENE 2: 'Fitting Room Fuckers' D.O. and Derrick Hanson
Security cameras at the store catch pervert Derrick Hanson on the prowl. Naked and peering from behind the curtain he spots D.O. who is up for anything. Without hesitation D.O. dives into the fitting room and starts to feed on Derrick's rock hard cock! Both guys have rock- hard sculpted bodies and perfect 6-pack abs. D.O. switches up the action and soon Derrick is serving his customer, sucking his huge uncut cock. D.O. takes Derrick from behind pounding away and Derrick is loving it. Derrick hops on top and rides it, his own big dick whipping around with every pump until both men blow! D.O. shoots his load in thick jets across the fitting room and onto the reflective glass!
SCENE 3: 'In Your Area' Adam Champ and Angelo Marconi
Angelo is cruising for sex using the GPS system on his cell phone and an application where men meet up. Hot hairy muscle man Adam Champ is only blocks away! The invitation is simple 'You're hot, wanna fuck?' Adam takes the bait and follows his GPS to the location… an alley in Angelo's neighborhood. Is this what they mean by no strings attached? They go right to it, ripping off their clothes… Angelo sucks Adam while Adam fingers his perfect smooth round ass. What they don't know is the security camera between buildings is recording it all. Adam pounds Angelo with a fury grabbing the back of his head and push him into the wall with every thrust. They fuck with animal intensity until both guys shoot dense thick white loads of cum all over the dank alley.
SCENE 4: 'Pop in, pop off' D.O. and Dayton O'Connor
D.O. returns from one escapade still hungry for more. He considers his video camera. Nah! How about a web cam hookup?! Signing onto his favorite chat room is only frustrating, nothing good there! Luckily his regular piece of ass Dayton O'Connor decides to pop by for a little 'in-out!' Dayton deeps throats D.O.'s perfect thick cock like he's been starved for it. Both men devour each other. D.O. fucks Dayton from behind as he grasps and screams for more. Then Dayton jumps on D.O.'s laps and rides him hard and furious. He's flips Dayton on his back so he can look into his eyes. D.O. plunges deep inside of Dayton until he ejaculates all over himself. Immediately D.O. cums all over him. They fall on top of each other in ecstasy.

WATCH THE SCENES AT:
RAGING STALLION'S MEMBERS SITE
Members at RAGING STALLION'S MEMBERS SITE can watch these scenes and download extensive Photo Content from this production and get discounted pricing on all DVD and Print purchases.