Studio: EuroCreme / Dreamboy
Directed by: Blacky Mendez
Year of Production / Release: 2014
Country of Production: Great Britain

CAST:
Kai Alexander
Marco Duvaul
Theo Ford
Alex Garcia
Drew Kingston
INFORMATION FROM EUROCREME:
New to the City, sexy young Max is struggling to find his feet and find love at the same time. With a chauvinistic manager who prides himself on being able to buy anything and everyone, Maxis caught between keeping up with the big boys and falling for the gorgeous barman the rest of the suited young men see merely as a commodity. Once he hears even the cute barman has been bought, Max starts to spiral out of control, trying to plays the game himself but without knowing the rules, there can only be trouble ahead, but the company is up for a big presentation where they need to please the big boss from Paris who flies in especially. As Max finds solace in numerous big dicked boys, Brad is on a mission to succeed at any cost, will Max be dragged into the non-stop world of the city high-flyers where sex is as easy to get as a pizza, or will he be left behind picking up the pieces? CityBoy features an array of suited young men and horny fuckers all sporting big dicks and hot bubble butts eager to take as much as possible, as long as they get something in return! From sex in toilets, offices and boardrooms, the world of the CityBoy is finally here!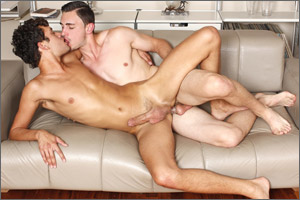 SCENE 1: Alex Garcia fucks Marco DuVaul
City slicker Brad loves to impress his team at the bar, and when cute new barman Jack catches his eye, Brad spots the perfect opportunity to flash the cash and show just how money can buy you anything. The night might be drawing to a close for newbie Max, but for Brad, he lays back in his bachelor pad when a very naked and very sexy Jack walks in. Brad has gotten what he wants and he's going to enjoy every sordid second of his latest purchase. Flicking an olive to the floor, Jack, on all fours, picks it up in his teeth, that smooth open ass too much of a temptation for anyone to pass up, and the real fun begins! Brad's handsome face and suited body get hotter and hornier with every second, and when Brad strips off his shirt to show us his muscled young hairless chest and abs, it's sheer perfection! Fucking the young model-like jack in the middle of his floor and then pushed down onto his dick, getting a taste of what was just pumping inside him, Brad wants more of his ass and fucks him sideways on the sofa, letting us see every inch of them both as they work up a sticky sweat and create a torrent of spunk well worth paying for!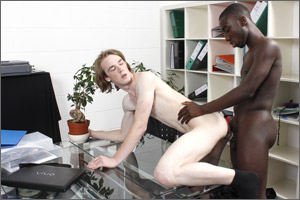 SCENE 2: Drew Kingston fucks Kai Alexander
Back in the office, it's the day after the night before and Brad walks in obviously feeling the effects of his high flying lifestyle. Undeterred, it's 4:30 and time to hit the bar once again! Showing off about his previous conquest, cute long haired Max slowly starts to realise if he wants something, he's gotta pay for it, and after some Dutch courage, he goes about playing with the big boys but without knowing the rules of the game! Losing this round and pissing off cute Jack, Max flees to the office to get his keys disturbing the very handsome cleaner who's just starting. As Drew lets Max into a secret, how he enjoys cleaning naked, Max wants to unleash some of this pent up tension, and as Drew slowly strips for him, showing his smooth dark skin and big black dick slapping on the clear glass desk, it's the perfect tonic! Dropping to his knees, Max swallows the entire length, getting more and more cock hungry as his throat is stretched open. Taking off his own suit, skinny but lean Max, freckled and damn sexy gets his perfect twink bubble butt ravaged by Drew's hungry tongue before rocking the entire desk as he pounds hard, showing it's not just the high flyers that know how to fuck!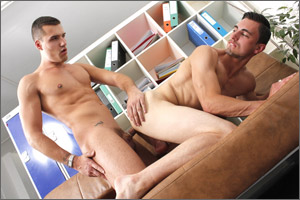 SCENE 3: Theo Ford fucks Alex Garcia
It's the day of the big presentation and everything goes perfectly, impressing the big boy Philippe who's flown in from Paris, the whole team do their job and a big pay-out is on the cards! Looking after number one as always, Brad meets Philippe in the toilets and is instantly distracted as they offer small talk at the urinal. Philippe isn't just the big boy in the company; he's a very big boy in the pants department too! Wrapping a £50 note around Brad's growing dick, his world is complete, giant dicks and large sums of money all at once! Philippe knows what Brad wants and has plenty of both on offer. Paul is pushed to his knees and made to suck his more successful colleague right there in the public toilets! Heading for some more privacy, they head back to Brad's office where Philippe takes exactly what he wants and Brad has no option but to give it up, his hot virgin ass has never been played with before, but that's what he's gotta do! Brand over, Philippe plunges his long thick dick inside over and over, flipping the new bottom over and over as he works himself ever deeper, relishing the power he's got over the handsome Brad as they wipe off their spunk on the nearest thing to hand.. another 50!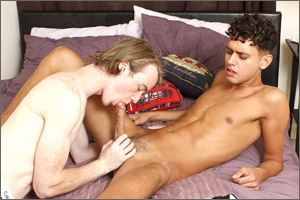 SCENE 4: Marco DuVaul fucks Kai Alexander
Brad's got a lot of explaining to do, the presentation went perfectly, and he and Philippe even had a follow-up meeting, and the company is merging with his, or is it an acquisition? Either way, Brad's the only one staying and the boxes are on the desks for his entire team. Max heads back to the bar, his only solace is down one final pint that he can't even afford anymore. Meeting up with handsome twink Jack once again, the apologies flow and Jack feels sorry for this low-lying ex high flyer. As they meet up after his shift, Jack takes him out for dinner and then Max takes him back to his to say a very sexy thank you! It's a small bedroom, but that just means closer quarters and a very passionate fuck! Jack's big dick is finally put to use as Max devours every one of the 9 inches and his ass swiftly does the same! Pushing down on top of it, Max's beautiful butt swallows Jack's pumping meat as he now owns Max instead of the other way around. Is this the way things are going to turn out, or does the wads of spunk squirting from them indicate a love affair just about to bloom?

WATCH / DOWNLOAD ALL THE SCENES AT: EUROCREME
Members at Eurocreme can watch scenes from this film anytime.
Extensive photography and out takes available for members.
EUROCREME FILMS ON DEMAND:
   AEBN / SMUTJUNKIES THEATER
   MALEFLIXXX
EUROCREME FILMS ON DVD:
   TLA VIDEO