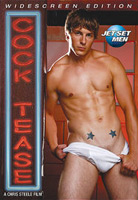 Studio: Jet Set
Directed by: Chris Steele
Year of Production / Release: 2007
Country of Production: U.S.A.

CAST:
Eric Blaine
Braxton Bond
Andrew Justice
Aaron King
Cam Kurtz
Brant Moore
Brad Star
Ryan Thompson
Derrick Vinyard
Mason Wyler
Sebastian Young
From the press notes, courtesy of Jet Set Men:
Director Chris Steele innovates once again with Cock Tease, a mockumentary about a group of guys (both straight and gay) who, in reality TV style, reveal their true sexual feelings. The sex scenes, incredible by themselves, with some of the best names in the business, are shot in widescreen with top production values. Bridging the scenes are bits of dialogue that reveal the psyche of each scene.
The film begins with Braxton Bond's perspective on the mockumentary: "I don't see what the big deal is. I mean, what guy doesn't like getting his dick sucked? Does it really matter if it's a girl or a guy? Sex is sex, right?"
Andrew Justice and Mason Wyler exchange dialog, confessional style, before their scene. It's a case of sexual heat where the teasing and flirting push both guys over the edge and lead to some incredibly steamy sex. Opening in a machine shop, Mason is doing some drilling as Andrew enters. Sexual harassment in the workplace just doesn't get better than this. Justice simulates fucking Wyler from behind through his pants. Is it two playful guys messing around? No. It's the end of a long build-up that's about to explode.
"You know one of these days I'm going to pull my pants down and you're going to have to fuck me in the ass," proclaims Wyler. Justice reacts with that coy smile of his and walks aside. Wyler follows him, wondering what he's up to. Justice pulls a board from the back shop area and holds it in front of him. He pulls out his huge cock, already hard and puts it through a simulated glory hole. Wyler looks at it "You're just fucking with me," he says. "You wanna find out?" asks Justice, and Wyler pauses. He sets down one tool, and moves over to Justice, to reach over for his tool.
Wyler begins by sucking Justice's cock with reverence. After a while the glory hole partition is cast aside and it's no-holds-barred action from there. Justice tops Wyler on the work bench with long, hard, deep strokes. They both shoot massive loads.
"These straight guys who hang out in a locker room know what they're doing," sets the tone by Derrick Vinyard during the dialogue for the next scene. We've all been there. Guys don't dress quickly at the gym. It's a constant tease. Is it a cum on or just a game?
Entering on the locker room. Ryan Thompson is in his tight white briefs changing to work out. Aaron King enters and immediately notices him. King taunts Thompson with his underwear, sniffing them and forcing them into his face. King wears the underwear on his hand with his finger through the cock opening and sucks it in front of Thompson. That gets the action going with King sucking Thompson's thick cock. King is a hungry sucker and greedily takes it all.
Derrick Vinyard stumbles into the locker room, dressed, ready to change for his workout. Instead he whips his cock out and thrusts it in Thompson's mouth who now services both hard studs. You can tell Thompson is a real cock-sucker as his own cock is bobbing and throbbing without his even having to touch it.
Vinyard takes the first shot at King's ass while continuing to suck Thompson The two tops flip King over and switch positions continuing to pound King hard and fast from both ends. The scene ends with both tops shooting massive loads all over King's chest, which he adds to himself.
"Yeah, they all jack off to straight porn, but are they looking at the girls or the guys?" That's the question posed as Cam Kurtz stumbles onto Brant Moore as both leave a dirty book store late one night.
Kurtz drops his bag with his purchase and a vibrating dildo drops out. Moore takes advantage of the moment to approach him with a tease. "So this is what gets you off?" Kurtz asks. It leads to an awkward moment that quickly turns into a hot alley sex scene.
Moore turns on the electric toy and mouths it in front of Kurtz then convinces him to try it. Kurtz drops to his knees and eventually replaces the toy with Moore's cock, which Kurtz sucks greedily. Roles reverse as Kurtz loses his shorts to reveal his huge uncut cock and Moore services it with his hot throat. But that's not what Kurtz wants and turns to show off his luscious ass to Moore who immediately responds by tonguing his beautiful hole.
Moore doesn't fuck him at first, but rather uses the toy on Kurtz hole. After warming him up, it's time to replace the toy with Moore's real tool. Kurtz takes it hard and deep, begging for all he can give. Moore flips him over and we see Kurtz is rock hard from the deep anal massage he's getting. They both end up spraying hot loads of cum all over Kurtz chest, jets of stringy juice fly every where sticking between them.
"You can suck me off if I'm sleeping." That's a great story, and if it weren't true, none of us would identify with it! In this situation, buds Aaron King, Sebastian Young and Brad Star check into a hotel room. Problem is, there's just one king size bed. Being the jock-studs that they are, they wrestle to show their assertive masculine side. Comfortable that they're all "straight," they drift off to sleep.
As the night passes, King stirs and awakens, noticing Star's hard cock pointing into the air as he sleeps on his back. Slowly he risks toward it, avoiding waking him. When he feels safe enough he takes it into his mouth. Star lays asleep without protest. King then reaches over under Young's briefs and begins to suck his cock as well.
Young awakes and joins King in sucking Star. The nocturnal fantasy heats up fast with these muscled studs enjoying each others manhood. King turns on the light and they discover Star wasn't asleep at all, but enjoying their sucking which he instructs them to continue. Star then takes King's cock into his mouth. Young continues to suck Star's cock while King eats his ass.
Star is first to plow King's ass while King continues to suck Young's massive cock. The two tops reverse positions with King on his back. They continue their assault on his hot ass. Star ends up coming all over Young's back while he's fucking King. Young continues to fuck King hard which makes him shoot his load all over his own chest. Young is last to add his spew to the puddle already on King's chest.
The final scene begins with the conclusion of the mockumentary. The camera pulls back to reveal that Braxton Bond had been filmed by Eric Blaine. "So why don't you let me interview you?" asks Bond as he steps toward Blaine. Without hesitation, Bond goes down on Blaine, taking his beautiful cock into his mouth.
These two guys have naturally muscled bodies – Bond licking down Blaine's perfect treasure trail. Blaine is into face fucking and Bond takes it without complaint. As the passion builds, the scent is too powerful, and Bond wants to go south and savor Blaine's hole, his ball sweat dripping onto his face. It's like he's buried his face into the depths of every jock strap he's ever fantasized about.
Bond got what he wanted and now its Blaine's turn as he flips Bond onto his interview chair and powers his long, thick cock into his ass with one gliding stroke. Watching the muscles ripple on these two bodies as they satisfy their mutual sexual urges is too hot to bear.
Bond ends up astride Blaine's cock riding it for all he's worth. You can see him holding his orgasm back with Blaine's cock deep inside rubbing his prostate until he can't take it any longer and his load flies everywhere. He continues to ride and pump Blaine's cock until Blaine can take no more. He pushes Bond aside and rips off the condom, shooting his load."

GO TO: JET SET

MANNET 100 BEST FILMS OF 2007
FILM REVIEW: MANNET