Studio: COLT Studio
Directed by: Kristofer Weston
Year of Production / Release: 2012
Country of Production: U.S.A.

CAST:
Samuel Colt
Marc Dylan
Bob Hager
Scott Hunter
Nate Karlton
Adam Killian
Shay Michaels
Spencer Reed
Will Swagger
ADDITIONAL COMMENTS:
COLT Studio members can watch this presentation online prior to and after DVD release.
INFORMATION FROM COLT STUDIO: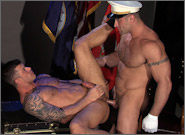 SCENE 1: Spencer Reed and Adam Killian flip-fuck
As the COLT Men arrive on set for the shooting of an upcoming COLT Uniform Calendar, the COLT crew takes some time to talk with the shirtless and thick-muscled Adam Killian. As Spencer Reed can be seen behind him posing for his COLT Uniform photo-shoot, Adam shares about some of his earliest uniform fantasies as well as some new fantasies that come to mind as he watches Spencer's hot and sexy photo-shoot.
   Cut to a close-up of Adam standing at attention in his finest Marine Dress Blues. A white gloved hand belonging to Spencer Reed reaches in and slowly unbuttons each shiny brass button of Adam's uniform jacket. With intense eye contact Spencer leans in for a hot man-on-man lip-lock. Reaching in those bulging dress pants and grabbing a handful of Adam's thick and meaty cock, Spencer goes down on his knees for some attentive service.
   Taking turns, both men give each other's cocks a thorough polishing before Adam bends Spencer over a nearby foot-locker. Lubing up Spencer's hot man-hole Adam get that ass ready and willing before he takes his throbbing hard cock and gives it to Spencer good. Half undressed and half still in uniform, Spencer takes that big cock and loves every minute of it. Before long Adam asks "you want some of my ass?" to which Spencer exclaims "Fuck Yeah!". Switching positions the fuck-fest continues as each man takes his turn giving up his hot ass for the other. After a few flips their cocks are fully loaded and ready to blow. Spencer is taking it hard and on his back as he strokes his cock in hand. Spencer lets it fly, gushing cum as Adam drills his ass. Adam doesn't let up one bit. Fucking that hot muscled ass until the last second, Adam pulls out and strokes out a thick load giving Spencer a thick coating of his hot white cum. Wanting to taste that sweet dick juice Spencer gathers up every drop and licks his fingers clean.

SCENE 2: Spencer Reed and Samuel Colt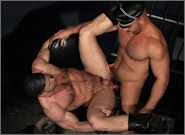 SCENE 3: Samuel Colt fucks Shay Michaels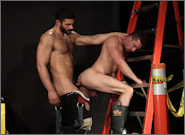 SCENE 4: Bob Hager fucks Scott Hunter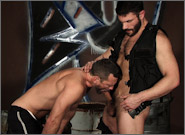 SCENE 5: Bob Hager and Will Swagger
We all dream of being rescued by a hot fireman like COLT Man Bob Hager. But what do Firemen fantasize about? For Bob, his turn-on is Cops. "Cops have so much authority" he says. I'd love to have that authority. To make a man go down on his knees and do what he's told. Cut to a hot uniformed cop staring straight ahead. The whiskered jaw, the badge, the mirrored shades – Will Swagger fits the bill as a man of the law. Bob moves in forcefully, wearing police riot gear as he plants a hot kiss on Will's open mouth. Giving Will a ruff and thorough pat-down Bob positions him down on his knees before him as he unleashes his swollen cock. Bob controls the action as he forces Will to take his whole shaft in deep-throated thrusts. Cock hungry Will handles every inch and greedily laps for more. Will's expert cock sucking skills has Bob's cock dripping pre-cum. Stroking and sucking Bob's juiced up dick, Will milks out Bob's thick white load and takes it on his muscled chest. Still on his knees Will strokes a ball draining load from his swollen man-tool as Bob's steamy hot cum drips down his furry chest.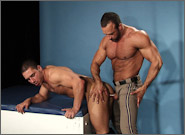 SCENE 6: Nate Karlton fucks Marc Dylan

MORE INFORMATION / WATCH IT / BUY IT (if available) : COLT STUDIO

Hot or Not? Let us know.
[Total:

2

Average:

4

]