Studio: COLT Studio
Directed by: Rip Colt
Year of Production / Release: 2012
Country of Production: U.S.A.

FILM TITLE & CAST:
SCENE 1:
John Pruitt
SCENE 2: DOUBLE EXPOSURE
Chris Thompson
Cole Carpenter
Cory Monroe
Pierce Daniels – 102026
SCENE 3: SHORELEAVE
Ledermeister
Rusty A
David A
SCENE 4:
Mark Edwards
ADDITIONAL COMMENTS:
COLT Studio members can watch this presentation online prior to and after DVD release.
INFORMATION FROM COLT STUDIO:

THIS PREVIEW CONTAINS ADULT SEXUAL CONTENT

SCENE 1: John Pruitt
In this rare footage John's hirsute and muscle bound body is on full display. Be there as John wakes in the morning to greet a new day. Nude and semi hard John rises from his bed to splash some cold water on his face before he ventures outside for his daily exercise routine. Join John for his morning pump and stretch. With his body in motion and his muscles glistening John is the picture of perfect health and masculinity. Finishing up his morning routine John takes a long and sensual outdoor shower.
   John Pruitt set the standard for the many COLT Men Icons that have followed. In this relaxed and casual setting one can easily see the true essence of a COLT Man.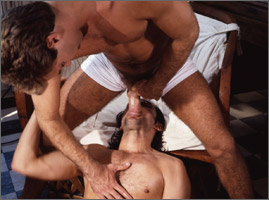 SCENE 2 – DOUBLE EXPOSURE: Chris Thompson, Cole Carpenter, Cory Monroe, Pierce Daniels
The pressures of the office melt away as super-handsome Cole Carpenter unwinds to the sex-talk messages on his answering machine, including an invitation to view a hot new video from his buddy, macho Pierce Daniels, who soon arrives to plug in a wild cassette of two eager young mechanics, humpy Chris Thompson and smooth, blond Cory Monroe. Pipes get blown and valves grind as the screen steams up and Cole and Pierce find it hard not to get it on, duplicating the action in a real DOUBLE EXPOSURE.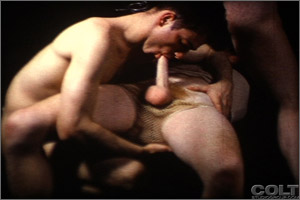 SCENE 3 – SHORELEAVE: Ledermeister, Rusty A, David A
In a dark room, two horny men seek each other out and come together for a night of hot, manly passions. Rusty, looking tough and cruising in his leather comes face to face with David, a young and handsome Navy man on leave and looking for some hot man-on-man action in the big city. Getting down and dirty in a hurry they pull out each otherís bulging cocks and take their pleasures. As they lose themselves in their lust for each other, a burly muscular figure stands in the dark shadows watching them. Rough and ready leather-daddy Ledermeister moves in. Once these 3 men come together itís a firestorm of hot 3-way man action. Itís a frenzy of cock hungry lust as Ledermeister, Rusty and David get downright nasty with each other. A wet and wild climax will have you watching this COLT Vault scene again and again.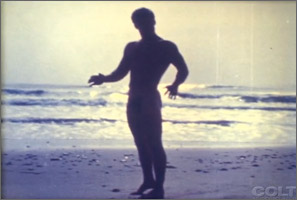 SCENE 4: Mark Edwards
At a relaxed and serene pace, Mark enjoys the freedom of being nude outdoors His rugged and masculine appeal seems as natural as his surrounding as we watch him stroll nude along the beach. Taking time among the rocky and secluded alcoves of the beach Mark enjoys the feel of his naked body in the sun. His hands casually wander and explore his body as he enjoys a little private, self-intimacy. The serene landscapes accentuate his natural masculinity as he wanders freely, wherever his passions take him.

MORE INFORMATION / WATCH IT / BUY IT (if available) : COLT STUDIO

Hot or Not? Let us know.
[Total:

0

Average:

0

]