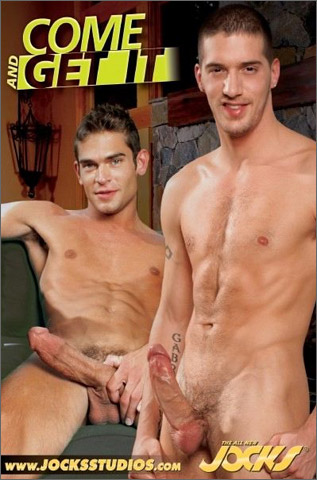 Studio: Falcon Studios / Jocks Studios
Directed by: Steve Cruz and Bruno Bond
Year of Production / Release: 2012
Country of Production: U.S.A.

CAST:
Adam Avery
Spencer Fox
Jesse Jordan
Ridge Michaels
Luke Milan
Ty Roderick
Rylan Shaw
Edin Sol


[jwplayer mediaid="43484″]

FROM FALCON / JOCKS STUDIOS:
The urgent need to get it on never changes, whether the guys are chilling around the house on a late summer's afternoon or cuddling up as the weather turns cooler. Just like the chow bell's ring signaled to the ranch hands to feed their appetites, the simple phrase Come and Get It from these energize studs ignites their sexual appetite and their need to feed their carnal desires takes over. Directors Steve Cruz and Bruno Bond bring their trademark high energy to eight steamed up and sweaty lads who ease into sleaze the way Summer slides into Autumn – it just can't be stopped. Nasty Spencer Fox, blond Ridge Michaels, blue-eyed Luke Milan, and hard-bodied Ty Roderick are the demanding tops for bang-up bottoms Edin Sol, Rylan Shaw, Jesse Jordan and Adam Avery. It's all-sex all the way as the overheated and these super-hung, young guys get it on in every room of the house–a cock eating, ass busting bonanza with mammoth cocks sliding up tight holes. So get ready for vigorous and carefree thrills, as these wild bucks Come and Get It.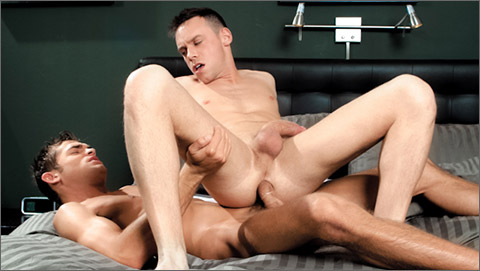 SCENE 1: Luke Milan fucks Rylan Shaw
Here's to enormous cocks and long afternoons of lazy summer lust. The ferocious kisses of Luke Milan and Rylan Shaw shoot lazy out the door, and get these studs in white hot action that makes the bright living room as hot as the outdoors. Rylan's jerkin' at Luke's bone, and the thing never seems to stop getting longer and wider. And, the even bigger surprise is that Luke matches Rylan's cock inch for inch — both boys hang super fat and heavy. They swap messy, spit filled blow jobs, swallowing each other's massive cocks to the hilt. But a gut-wrenching fuck is stirring in their gonads, and after some saliva-slobbered ass eating, Rylan's suddenly bouncing on Luke's super-rigid big bone. With Rylan's legs splayed wide, Luke plugs from below. His giant cock spikes into Rylan's tightly clenching hole. It's a pounding that makes Rylan's cum churn up and out of his engorged tool. Luke's body quivers with tension as he chokes his own sweat-slick cock, and blows his load sky high.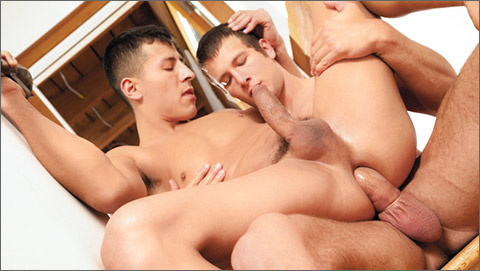 SCENE 2: Spencer Fox fucks Edin Sol
Spencer Fox and Edin Sol are so twisted with lust they don't even make it to the bedroom. Tangled together, they're going at in on the stairway. Compact hottie Edin isn't fazed that Spencer's one of the meanest fucks around. He's got Spencer in a mad frenzy. They rip their clothes off, and hurtle into mad cocksucking. Edin may be small, but every inch of Spencer's swollen cock disappears down his throat. The kid holds still only so Spencer can give him a brutal face fucking. And then Edin's backing his sweet rump up against Spencer's mammoth tent pole, impaling himself so brutally that Spencer braces himself against the onslaught of ass. He sits on the top step, and Edin lowers himself onto Spencer's huge steel rod and pistons up and down every inch of its extreme length. It's such a sensational fuck that they'd explode if they pumped any faster. With Spencer's cock buried deep in his sweet, succulent boy-hole, Edin explodes a sparkler of high flying cum. Spencer jets his load over Edin's chest, and the sated youth licks the left overs off the shiny slick surface of Spencer's still achingly hard cock.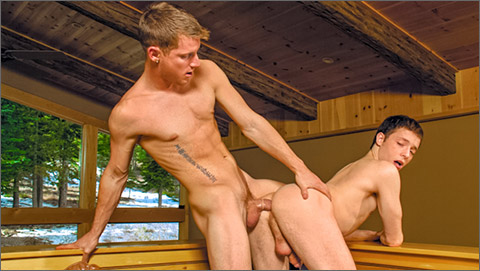 SCENE 3: Ridge Michaels fucks Jesse Jordan
The summer heat's cooling, and Jesse Jordan is wrapped up snug on the sofa in his PJs. But with handsome Ridge Michaels' tongue crawling up his chest, Jesse's cock is soon crawling out from under his waistband. The huge, swollen tool is a mouthful. Ridge downs it all, showing specially lingering love for the big headed knob. Jesse goes for Ridge's overblown blaster, and the guys trade BJs in every possible position. Their gonads are busting, and you can see their balls tightening up in expectation of a dynamite fuck. Ridge plows into Jesse's smooth white buns. This ain't playtime; it's game on. Ridge torments Jesse's moist tunnel and the fierce velocity of the handsome blond's assault has Jesse mauling himself in a frenzy and suddenly erupting in cum. It drives Ridge over the edge, and screaming "holy fuck" as he lays his splattering load all over Jesse.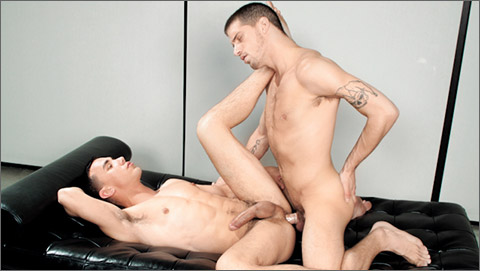 SCENE 4: Ty Roderick fucks Adam Avery
This exchange skips all formalities. Lean Ty Roderick and black-haired Adam Avery are lost in feverish kissing and groping on the den's black leather sofa. Adam clasps his lips onto Ty's throat-choker. Sheesh, it's big and fat and long as you might think possible. Adam swallows all of it with mad, zealous skill, and Ty's glad to return the favor, deep throating his buddy's bloated cock. He licks Adam's shiny ass into submission before driving his mammoth ass-stretcher in deep. The guys grapple together in a fuck frenzy. The size of Ty's cock drives Adam insensible, but his tight hole keeps a strangle hold on Ty's cock. There's pulverizing pummeling on the sofa, and then Ty lies on the floor so Adam can straddle his rock hard humper. While Ty savages his hole, Adam flails at his reddened meat, and both their loads volcanically erupt.

WATCH THE SCENES NOW AT:
FALCON STUDIOS
Falcon Members can watch scenes from this Release anytime online.
DVD Releases debut online prior to DVD Release.

VIDEO ON-DEMAND: AEBN SMUTJUNKIES THEATER
DVDs & ON-DEMAND: TLA VIDEO