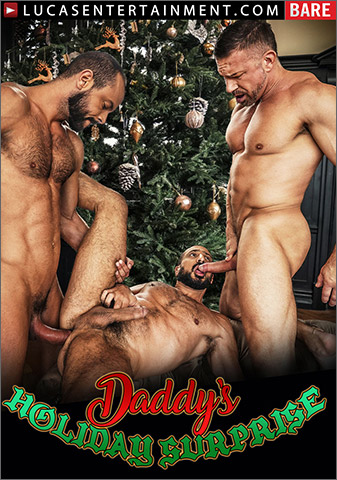 Studio: Lucas Entertainment
Directed by: Michael Lucas
Year of Production / Release: 2021
Country of Production: U.S.A.

CAST:
Valentin Amour
Ben Batemen
Tomas Brand
Freddy Miller
Marco Napoli
Gabriel Phoenix
Joaquin Santana
Sir Peter
Manuel Skye
Ken Summers
INFORMATION FROM LUCAS ENTERTAINMENT:
After a very long year, the Lucas Men put in some extra time and effort to make sure DADDY'S HOLIDAY SURPRISE is extra special! Tomas Brand shares Valentin Amour's mouth and hole with Gabriel Phoenix before returning later and joining forces with Sir Peter to brutally spit-roast Marco Napoli. Ken Summers submits to and rides Freddy Miller's daddy dick. And Manuel Skye breeds Joaquin Santana's ass with Ben Batemen!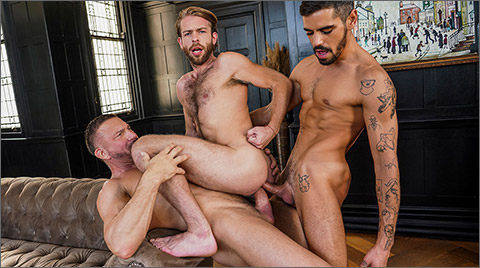 SCENE 1: Tomas Brand owns Valentin Amour and Gabriel Phoenix
Tomas Brand, the King of All Muscle Daddies, has an agreement with the handsome and masculine Sir Peter… when he finds a sexy fresh bottom who is is hungry and horny to serve and obey, they pass the bottom around to wear out his ass. Valentin Amour was introduced to Tomas Brand and his buddy Gabriel Phoenix by Sir Peter after the Portuguese power top stretched out his hole. But Valentin Amour is young and bounces back easily, and when he sets his eyes on Tomas Brand and Gabriel Phoenix, he drops to his knees to immediately service both of their uncut cocks with his wet mouth and warm hole.

SCENE 2: Ken Summers rides Freddy Miller's Daddy Dick
Freddy Miller is a handsome silver daddy with a masculine presence and an incredible muscular body. Freddy Miller also has an appetite for younger guys who are horny 24/7 and have the singular focus of worshiping daddy dick! Freddy has had his eye on the young and sexy Ken Summers for awhile now while traveling in Europe together; not only is Ken Summers adorable, plucky, and leanly muscled, but Freddy Miller is also a sucker for the big brown eyes of young Spanish guys. Freddy Miller turns on the charm and seduces Ken Summers straight into taking off his clothes and surrendering his hard little buns for some extreme anal penetration courtesy of Freddy's daddy dick.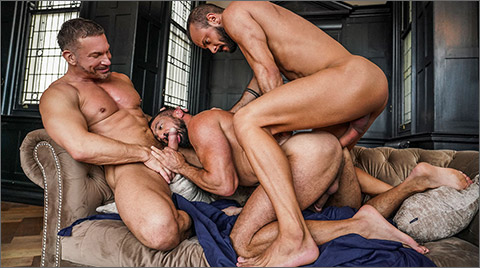 SCENE 3: Tomas Brand and Sir Peter Spit-Roast Marco Napoli
Tomas Brand, the King of All Muscle Daddies, was more than happy with the time he spent breeding Valentin Amour's ass. If you'll remember, Valentin was sent over to Tomas Brand by his masculine daddy friend, Sir Peter. Tomas Brand and Sir Peter decided to spend the holiday together and have some fun the way two macho dad figures should… by sharing the handsome, horny bottom named Marco Napoli. Marco was won over by Sir Peter's energy and handsome good looks right away, and when he was invited to join Sir Peter on his holiday get away with Tomas Brand, his eyes and package bulged with Christmas wonder when both alpha daddies dropped their pants and showed off their raging uncut hard-ons!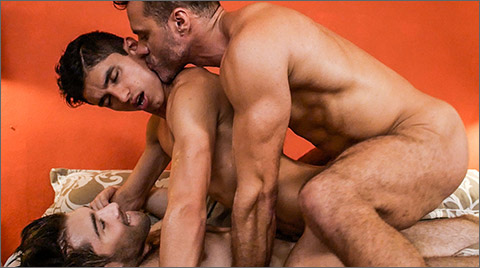 SCENE 4: Ben Batemen and Joaquin Santana service Manuel Skye's Alpha Cock
Manuel Skye is a top-ranking daddy among the Lucas Men, and Ben Batemen is a horny young smart ass who has chased after him for a long time. Ben likes pleasing Manuel Skye, and one of the ways he serves Manuel's needs is by bringing the top daddy young horny bottoms to offer up their asses as personals sex toys for Manuel to penetrate. Ben Batmen brings his tight young friend Joaquin Santana over for exactly this reason. Ben Batemen and Manuel Skye strip him down and share Joaquin's mouth and hole until he's gagging and gaping!

SEE THIS NOW / MORE INFO:
LUCAS ENTERTAINMENT
Scenes Premier online prior to DVD release and are available to view anytime in the Members Area.
Members can watch scenes from all Lucas Entertainment releases anytime online.

VIDEO ON-DEMAND: Lucas Entertainment @ AEBN SMUTJUNKIES THEATER
DVDs & ON-DEMAND: Lucas Entertainment @ TLA VIDEO