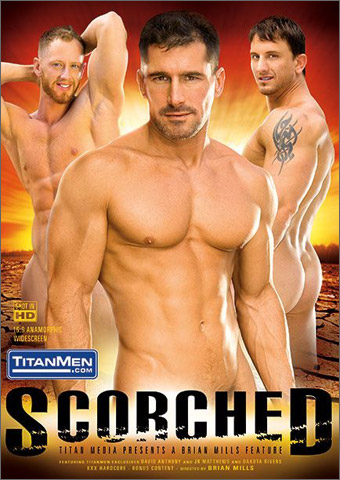 Studio: Titan Media
Directed by: Director: Brian Mills
Year of Production / Release: 2010
Country of Production: USA

CAST:
David Anthony
Gabriel Cross
Jock Hudson
Travis James
JR Matthews
Dakota Rivers
Sean Stavos
FROM TITAN MEDIA WEB SITE:
Heat stroke got you horny? Get some relief with this hot cast, who emerge from the pool as water cascades down the defined crevices of their bulging bodies. TitanMen exclusives David Anthony, JR Matthews and Dakota Rivers lead the charge as massive muscles soak up the sun in this steamy effort. You won't find a better way to beat off the heat… and yourself.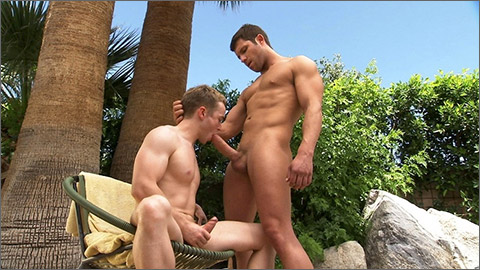 SCENE 1: Travis James fucks Gabriel Ross
After a dip in the pool, silky skinned Gabriel Ross sits down in the sun and drifts off to rest. When his eyes open, tall and tan muscle stud Travis James appears through the steam in the distance. The two smile as the smooth Travis approaches the seated cutie, their arms soon rubbing each other. Travis bends down for a kiss, their two monster cocks already at attention. Gabriel slowly strokes his bud, then opens wide and wraps his gorgeous lips around Travis' shaft as the bright blue sky frames their stunning bodies. Turned on my Gabriel's expert sucking, Travis grabs hold of his head and guides it down in a sultry face fuck. As Gabriel deep-throats him, his own uncut beast repeatedly throbs in stiff-as-steel excitement—his lapping tongue soon begging for another kiss. Travis tongues his bud's hole as the two dump their loads. Gabriel then sits down on the top's dick in one of the hottest sequences ever: As the rock-hard bottom rides up and down, the top wraps his muscular arms around him—rubbing Gabriel's chest and stroking his slab. Gabriel turns his head around and the two kiss, completing an unforgettable image worthy of an art gallery as it perfectly captures their intense connection. Travis plows the bottom in two more positions—including a doggie-style sequence where he grabs Gabriel's hair as he begs to get fucked—before the two shoot again as another kiss ends the fittingly scorching scene.

SCENE 2: Dakota Rivers and Sean Stavos fuck JR Matthews
Nibbling on JR Matthews' ear as he spoons him from behind in the pool, dark and handsome Dakota Rivers has the muscle hunk under his spell. Hairy stud Sean Stavos jumps into the pool to get in on the action, the three horsing around before taking their soaked bodies out of the pool.
The trio instantly assumes the position in a variety of suck chains that have their three bursting boners slick with spit. Masculine moans and the verbal encouragement of Sean and Dakota fill the air: "That's good!" whispers a breathless Dakota as the camera catches every inch of his superhuman physique. After shooting their wads onto Sean's dark and furry bod, JR gets between the two tops. Sean spits onto JR's bubble butt, rimming the bearded stud—whose mouth gets stuffed at the other end by Dakota. Sean fucks JR as both of their balls bounce away. Dakota steps above the bottom to feed the plowing Sean his tool in a hot image, then takes his turn inside JR's ass. With his own boner splayed underneath his legs, JR slurps on the moaning Sean. The trio squirts again, including a white-hot stream from Dakota that coats the bottom's bod. Sean whips his dick on JR's shoulder—then leans in for a final kiss with Dakota.

SCENE 3: David Anthony fucks Jock Hudson
Relaxing on the patio, Jock Hudson rubs his hairy chest as he strokes his stiff slab. Tan god David Anthony approaches the seated stud, feeding him a thumb. Jock flashes his signature smile—then buries his bearded face on his bud's massive jean bulge. With David's monster cock
soon unleashed, Jock milks it like a madman—beautifully tonguing and teasing the shaft before he dives down deep. The two take turns whipping David's cock up, Jock's tongue soon demanding a kiss. David grabs hold of his sac and feeds his balls to Jock, who also gets more fingers and dick in his hungry mouth as he strokes his own big beauty. As his balls get licked, David shoots his load on Jock—who rubs the cum into his hairy bod before squirting. Jock gets his hole slurped, also bending his limber body to stroke David at the same time. The top soon grinds his beast on Jock's gorgeous tan-lined ass before fucking him deep, working up a great rhythm as he plows him from behind. David's muscles tighten and twitch as he gets Jock breathing hard. Soon on his back, the bottom strokes his hardon as he gets fucked, the two staring at each other as their smiles light up the screen. David spits down on Jock's boner as he fucks him, then feeds him more fingers before dousing him with another huge load as an "Oh fuck!" fills the air. Jock rubs the cum in again before another kiss ends the action.

MORE INFO, PREVIEW OR WATCH RIGHT NOW:
TITAN MEDIA
Scenes Premier online prior to DVD release and are available to view anytime in the Member's Area.
Members can watch scenes from almost all Titan Media releases anytime online.

VIDEO ON-DEMAND: SCORCHED @ AEBN SMUTJUNKIES THEATER
DVDs & ON-DEMAND: SCORCHED @ TLA VIDEO