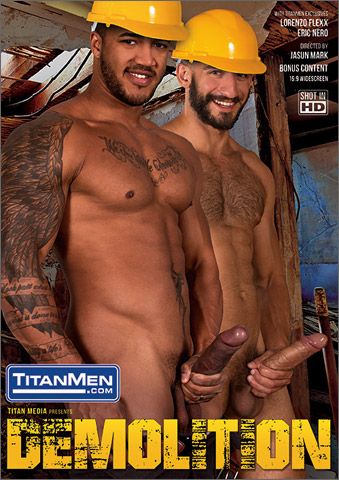 Studio: Titan Media
Directed by: Jasun Mark
Year of Production / Release: 2017
Country of Production: U.S.A.

CAST:
Bruce Beckham
Dirk Caber
Tex Davidson
Lorenzo Flexx
Jack Giles
Eric Nero
Adam Ramzi
Jason Vario
FROM TITAN MEDIA WEB SITE:
The Big D is back, and he's not the only one brandishing a huge tool. The men from Blueprint return with some new hammers, ready to destroy any hole that needs filling. Get wrecked with TitanMen exclusives Lorenzo Flexx and Eric Nero in a down-and-dirty Demolition.
   Construction boss Eric Nero's stroke gets interrupted by architect Bruce Beckham, who has designs on the stud's dick—the two engulfing each other's beasts before flip fucking.
   Landscape designer Adam Ramzi gets a mouth full of cock from Big Ball Wrecking's Jack Giles, then goes all the way with plumber Dirk Caber—who can't stop his own leak in a verbal flip fuck.
   Beefy hard hat Lorenzo Flexx is more interested in Tex Davidson's hammer, spit dripping everywhere as he worships it. Tex sucks back before taking control of his verbal bud's jock ass.
   Eric Nero swallows blue collar Jason Vario's thick, uncut cock—which then soaks the boss's beard in cum after plowing his hole in a deep fuck that has the bottom's massive boner bobbing.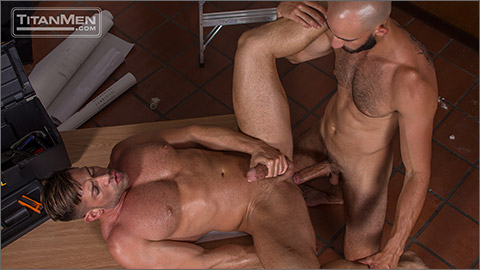 SCENE 1: Eric Nero & Bruce Beckham flip-fuck
Eric Nero strokes his massive meat, but has to tuck it into his pants when the doorbell rings. Architect Bruce Beckham eyes it immediately: "Is that why they call you the Big D?" he asks. "Sure is," answers Eric. "Wanna see it?" Bruce is wide eyed on his knees as Eric's huge cock pops out. He devours it ("Choke on that dick!") before Eric sucks the muscle man's beast back, spit dripping from his beard to the floor—and his own bicep. Bruce sucks Eric again before fucking him. Eric slaps his boner on Bruce's abs as he gets plowed, then fucks him back—his balls banging Bruce's ass. Eric feeds Bruce's cum to him, then shoots on the bottom's fat cock.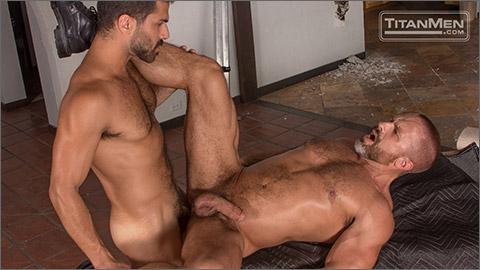 SCENE 2: Adam Ramzi & Dirk Caber flip-fuck with Jack Giles
At work in an empty pool, Adam Ramzi is approached by Jack Giles from Big Ball Wrecking: "I hear you need this hole demo-ed?" The two smile, embracing and licking each other's pits. Adam deep throats Jack's cock and they eat each other—but are soon interrupted by Dirk Caber, who wants Adam all to himself. Adam sucks and eats Dirk, then reaches around to stroke him as he fucks the grunting bottom from behind—squeezing pre-cum out of his cock and feeding it to him. The verbal Dirk ("Fucker!") continues to leak, feeding his finger to the top. On his back, Dirk's stiff shaft pulses up as Adam goes deep. Dirk squirts, then fucks a load out of the moaning Adam.

SCENE 3: Tex Davidson fucks Lorenzo Flexx
After breaking ground on their latest site, two hard hat studs decide to celebrate—and beefy Lorenzo Flexx knows exactly what he wants, dropping to his knees to worship Tex Davidson's monster. "Fuck yeah!" moans Tex as his knob gets slobbered. Lorenzo works up steady streams of spit that cling from his mouth to the shaft, dripping down to the floor from his scruffy face and Tex's sac. "Get down on that mother fucker!" moans Tex as he whips his dick on the sucker's chest. "Yeah baby!" Tex sucks his bud back, his own dick throbbing in excitement. He then fucks Lorenzo ("Gimmie that big dick!"), whose cock twitches as he gets pounded before they squirt.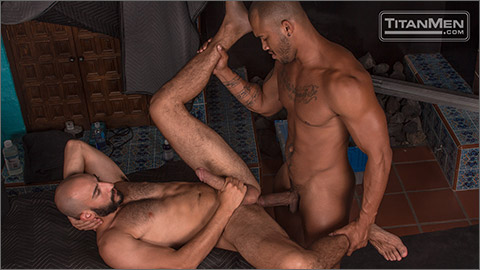 SCENE 4: Jason Vario fucks Eric Nero
Eric Nero stops Jason Vario from destroying a wall. "What else are you offering me?" asks the disappointed construction stud. "I got something for ya," responds the boss, taking out his huge cock. Jason unleashes his uncut meat, the two stroking. "That's a thick cock, dude," admires Eric. "Want me to suck it?" Eric opens wide, engulfing it and teasing the foreskin. Jason sucks back, his nose hitting Eric's groin before he eats his ass. Eric's boner bobs furiously as he rides the top. Jason fucks him from behind, wrapping his arm around Eric as they clasp hands. Eric gets it deep on his back—slamming his cock on Jason's abs before a massive facial coats his beard and face.

MORE INFO, PREVIEW OR WATCH RIGHT NOW:
TITAN MEDIA
Scenes Premier online prior to DVD release and are available to view anytime in the Member's Area.
Members can watch scenes from almost all Titan Media releases anytime online.