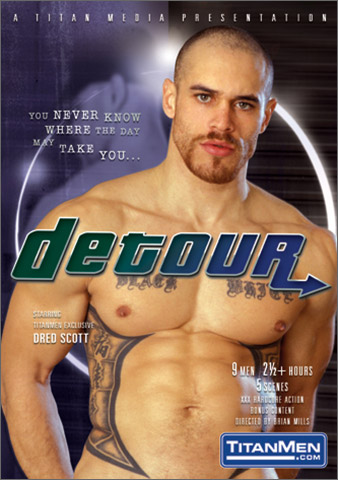 Studio: Titan Media
Directed by: Brian Mills, Bruce Cam
Year of Production / Release: 2002
Country of Production: U.S.A.

CAST:
Brett Clark
Alberto Dias
Gordon Gage
Rick Hammersmith
Cliff Mitchell
Eddie Moreno
Reed Parker
Logan Reed
Dred Scott
Jon-Michael Stuart
FROM TITAN MEDIA WEB SITE:
Sudden, sharp, and sweaty sex is an unexpected SCENE X for these men who are pounded, prodded, and probed as they ravage each other through a series of heavy manhandling rounds of pure testosterone pleasure. You'd better be ready for some of the hottest men working each other over, because this one's gonna put a pulse-pounding SCENE X in your day. In the cookie shop, scruffy muncher Gordon Gage comes face-to-big crotch with a studly redneck counterman, and the two go at it, fucking like rabbits. Big man Logan Reed and his friend find their sweaty run end in an even steamier grapple. Maintenance man Brett Clark and a horny homeowner engage in one of the best workbench fucks since the hammer met the nail. Finally, muscle stud Rick Hammersmith surprises his Latin lover with a package of dildos and lube, and even the delivery stud joins them in an afternoon sizzler.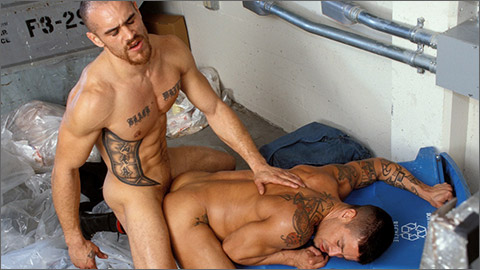 SCENE 1: Dred Scott fucks Eddie Moreno
The city streets bring out the best, the worst and even rough boy Eddie Moreno, for an afternoon walk in the sun. Shirtless and pumped, he is instantly captivated by chiseled TitanMen exclusive Dred Scott. Scott detours down an alley after realizing that this dark hunk is in pursuit of him. From behind a trash bin, Scott grabs Moreno and throws him to the ground, pinning him with a foot on the neck, rendering him helpless. Moreno's curiosity plans have suddenly changed. A thoroughfare of erotically intense punching, kicking and spitting ensues, as Scott demands to know why he is following him. Moreno struggles to gain control but is overpowered. He confesses that it's Scott's cock he is after. From atop the trash bin for serious rimming, Scott then delivers heavy-duty fucking, pounding Moreno's willing ass however he chooses. Deviating from his walk could not have been better.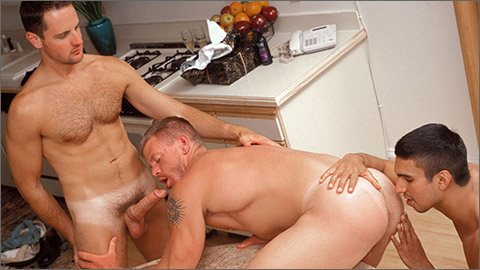 SCENE 2: Alberto Dias & Cliff Mitchell fuck Rick Hammersmith
Latin smooth boy, Alberto Dias celebrates his birthday in style. Delivery stud, Cliff Mitchell drops off two dildos and lube provided by Dias' muscle puppy boyfriend, Rick Hammersmith. The sexual energy has them quickly dropping their pants with Mitchell displaying a nicely hung dick. What looks to be a good fucking for Dias shifts as Mitchell drives his cock into Hammersmith's ass. Dias joins in, and they swap fuck Hammersmith. They pull out the special delivery gift and make good use of the dildos. Hammersmith throws his ass onto the table for some latex fun. Hunk Mitchell goes from big dick top to eager bottom as he indulges the larger of the two dildos. Happy Birthday Dias!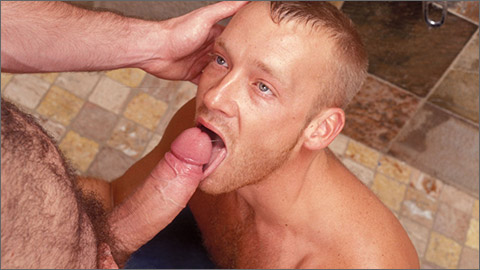 SCENE 3: Bret Clark fucks Gordon Gage
Gage returns to the home construction project to find his boyfriend, Brett Clark, installing a shower nozzle. Beefy Clark tightens the nozzle-head with ease, but becomes easily distracted with the steamy tales of Gage's earlier romp. Horny boy Gage wants to grip onto a nozzle of his own. Heat builds between the two of them as Clark forgoes his duties to tackle a better project. Releasing his tool of the trade, Clark slaps his enormously thick dick-mallet in his hand. Gage sucks on it, gagging as he takes it down his throat. Clark is ready for some deep ass grinding. These two men engage in one of the best workbench fucks since the hammer met the nail.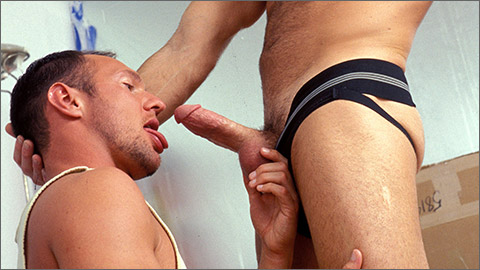 SCENE 4: Logan Reed fucks Reed Parker
Across town, two lovers detour from a run in the sun, and head back for an afternoon tryst. Big man Logan Reed bypasses the water and begins to suck down on the mouth of his ruggedly handsome friend, Reed Parker. That's his beverage of choice. Dominant Reed removes his shirt, exposing one hot and hairy chest as Parker grins with delight and eagerly engages in everything this hunk wants. The two studs heat it up with a powerful fuck. Reed's handsome presence would make any man's hole ache for more. He power-shoots a load all over Parker's tight chest. Considered the best cool down for any cardiovascular sport, a little diversion from water would never hurt. Not like this, anyway.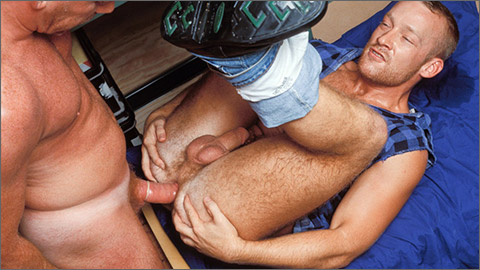 SCENE 5: Jon Michael Stuart fucks Gordon Gage
Scruffy man Gordon Gage stops at the local cookie shop for some treats. Inside, he drops his change and comes face-tobig crotch with studly redneck worker Jon Michael Stuart. He instinctively goes for a delicacy of his own, detouring from the money to press his face against the bulge in Stuart's 501 jeans. Stuart welcomes Gage's mouth ravaging his engorged bulge. Dick slapping and slurping is a treat of its own for this eager cocksucker. Stuart then bends Gage over a table and goes for a cookie of his own. Spreading his ass-cheeks, Stuart dives face first into his tight hole. They move their hot action to the back room after several customers observe him licking deep. This didn't stop Stuart from heading back into Gage's hairy ass. The two go at it, fucking like wild dogs. Gage leaves with his cookies and a thick cum shower. Now that's customer service.

MORE INFO, PREVIEW OR WATCH RIGHT NOW:
TITAN MEDIA
Scenes Premier online prior to DVD release and are available to view anytime in the Member's Area.
Members can watch scenes from almost all Titan Media releases anytime online.