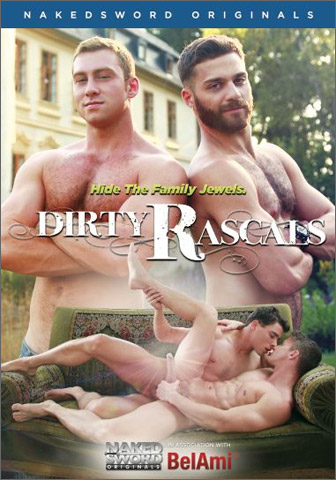 Studio: NakedSword Originals
Directed by: mr. Pam
Year of Production / Release: 2014
Country of Production: U.S.A.

CAST:
Tim Campbell
Tommy Defendi
Darius Ferdynand
Dato Foland
Marcel Gassion
Phillipe Gaudin
Brian Jovovich
Rick Lautner
Connor Maguire
Gino Mosca


[jwplayer mediaid="73647″]

INFORMATION FROM NAKEDSWORD: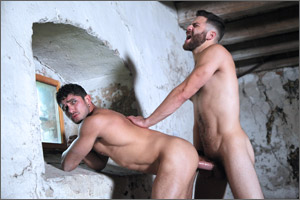 EPISODE 1 – TROUBLE IN THE CHATEAU: Tommy Defendi fucks Dato Foland
Tommy Defendi botches an attempt to steal a trick's wallet, leaving he and his buddy Connor Maguire flat broke. The Dirty Rascals meet at a cafe where Connor reads news of the demise of the Countess Fellini, an infamous character of great wealth with no living heirs. Intending to abscond with a portion of the Countess's fortune Connor and Tommy decide to pose as long lost relatives from America and hitchhike to Fellini's countryside castle. As luck would have it, Fellini's butler, smoldering hunk Dato Foland pulls over and offers them a ride. While Connor sleeps in the back seat Dato invites Tommy to join him for a fuck in a nearby garden. Unable to resist the butler's penetrating green eyes and huge uncut cock, Tommy agrees. Little does Dato know that Tommy is packing some serious meat of his own. A summer rain shower forces the two horny studs into a silo where Tommy makes sure the butler is highly rewarded for his services.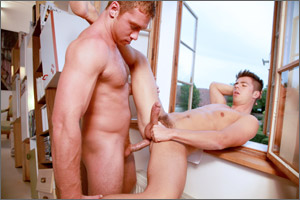 EPISODE 2 – DIRTY DEEDS: Connor Maguire fucks Phillipe Gaudin
Dato delivers our Dirty Rascals to the Chateau Fellini where they find a room full of the Countess's "nephews," some of the most beautiful young men from around the Czech Republic. Headmaster Darius Ferdynand and his cohorts welcome the boys and show them to their room. While casing the castle looking for valuables, Connor stumbles upon Phillipe Gaudin enjoying a bubble bath. Phillipe rises from the tub to take Connor's rock-hard cock in his mouth but after a few seconds Connor pulls up his pants and gets back to his thievery. Surprised by Connor's reaction and hungry for more American beef, the sexy young trouble-maker has something else in mind. He follows Connor into the next room and offers him his giant cock and tight ass, two valuables that Connor is in no mood to pass up.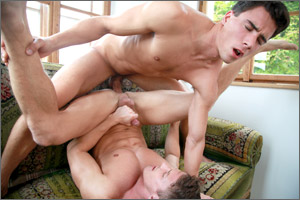 EPISODE 3 – ROPE BURNS: Gino Mosca fucks Darius Ferdynand
With 20 minutes until the reading of the Countess's will it becomes clear that most of the "nephews" are interested in stealing the family jewels. Headmaster Darius Ferdynand feels justified in his claim to the fortune after his years of dedicated service but one of Fellini's favorite nephews, the charming and devilishly handsome Gino Mosca, has another plan. He seduces the stunningly beautiful, ripped headmaster who surrenders completely to Gino's blue eyes, disarming smile, and juicy cock. Before Darius realizes it, Gino has convinced him to try something new involving rope. Is it really a kinky new fetish or all part of his devilish plan?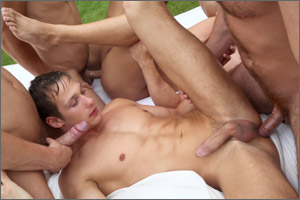 EPISODE 4 – GETTING OFF WITH THE JEWELS: Brian Jovovich, Connor Maguire, Marcel Gassion, Rick Lautner, Tim Campbell
A mad dash with the Countess's jewels leads the entire group of scantily clad house guests out to the castle lawn where they end up in a pile of flesh sucking and fucking on a bright white bed. Connor dominates the dream-like orgy, taking full advantage of the muscular European hunks and their enormous uncut cocks. Once the dirty rascal gets his fill he quietly gathers his things, but will he think to grab the jewels?

WATCH THIS AND A HOST OF OTHER FILMS AT:
NAKEDSWORD
On-Line Presentation, exclusive to NAKEDSWORD
Members can watch this with a host of other films in the NakedSword Library.