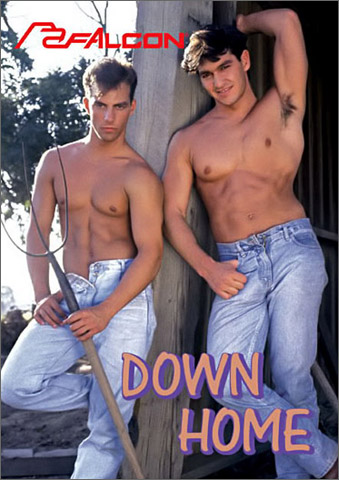 Studio: Falcon Studios
Directed by: Steven Scarborough
Year of Production / Release: 1992
Country of Production: U.S.A.

CAST:
Adam Archer
Paul Bain
Ray Butler
Matt Carpenter
Dylan Fox
Jeff Hammond
Kris Lord
Marc Saber
Danny Sommers
Mitch Taylor
FROM FALCON STUDIOS:
A down and dirty fuckfest with superhung megastar Kris Lord, all-American Jeff Hammond, and a cast of the most wholesome sexy men you'll ever see!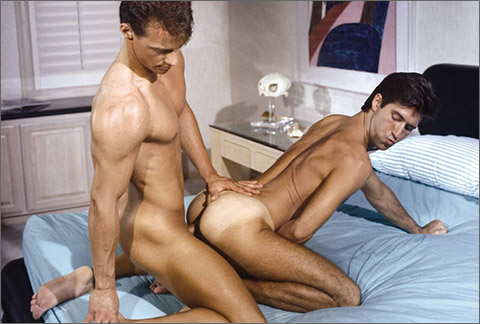 SCENE 1: Jeff Hammond fucks Mitch Taylor
Under the hot rays of the afternoon sun Jeff Hammond snorkels out to Mitch Taylor's boat moored in the river…interrupting a sun-soaked masturbation session. Startled but very turned on by Jeff's sleek form, Mitch invites Jeff home for a shower and sex. Under the stream of water Mitch worships Jeff's form – caressing his butt, sucking his huge thick cock, exploring every well-hewn muscle with his tongue. Slowly he moves from Jeff's massive cock to his ass…warming and opening Jeff's hole. Totally turned on, Jeff and Mitch return to the bedroom for some heavy duty fucking. Jeff plows Mitch with unyielding zeal. Thrust after thrust takes the studs closer and closer to sexual abandon. At the apex of desire, Jeff and Mitch erupt in a spectacular explosion of cum.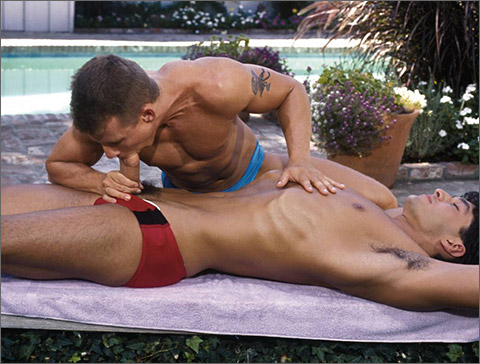 SCENE 2: Kris Lord fucks Danny Somers
As Danny Somers does laps in the pool, he eyes the god-like form of Kris Lord sunning himself by the pool in a speedo so tight it's painted on. Drawn magnetically to Lord's beautiful bulge, Danny approaches and frees it from the clinging fabric, sucking it deep into his throat. Kris fucks Danny's mouth and Danny eagerly takes it before working his way around and rimming Kris's hole. Unable to hold back, Kris slides his cock deep in Danny's hole. Thrust after thrust bring the two studs closer and closer to the inevitable outpouring of hot thick cum and a moment of satiation in the hot summer sun.
   Danny Somers joins Kris Lord poolside for a sun-splashed encounter. Danny strips Kris out of his suit and sucks Kris's mammoth tool before eating him out. His appetite whetted, Danny opens himself up for a hot summer ass-pounding which leaves both men dripping and exhausted beside the pool.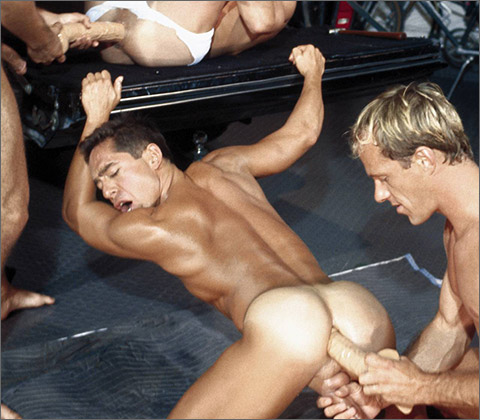 SCENE 3: Paul Bain, Matt Carpenter, Marc Saber and Ray Butler fuck
Matt Carpenter and Paul Bain arrive at the home of buddies Marc Saber and Ray Butler.. .where the two men appear to be working on their car. Matt and Paul have just returned from spying on the sun-soaked sexual antics of Kris Lord and Danny Somers… and they can't wait to share their story. Seeing that Mark and Ray are already turned on, Matt and Paul press their points and soon the men are stripped down and enjoying a hot four-way fuck. Every hole gets filled and every throat gets stretched by cock. The oversexed and unsated studs pull out a double-headed dildo which Marc and Ray back onto while Matt makes sure it slides deep in their holes. They work each other hard and cheer on every full thick load pumped high into the air as one by one they satisfy their desire for cock.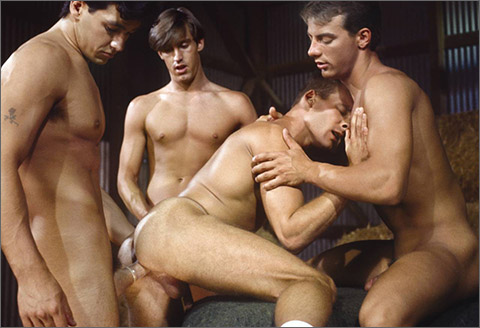 SCENE 4: Jeff Hammond and Kris Lord fuck Adam Archer and Dylan Fox
When Jeff leaves the General Store, Dylan Fox stops him. These two guys haven't seen each other in a long time, but as they stare into each other's eyes they both know exactly what the other wants. It doesn't take long for smooth and handsome Dylan Fox and taut-bodied Adam Archer to lure Jeff back to the barn. Quickly Adam and Dylan get down to business – frenzied ass-eating, ravenous cocksucking and wild fucking. Dylan gets just what he wants as Jeff thrusts his huge cock deep into the young jock. Harder and harder Jeff fucks the surrendered stud while Dylan ravishes Adam's muscular ass with his tongue. Suddenly Kris Lord barges in. He had an idea of what was going on in the barn and he's ready to join in. He buries his cock in Dylan's hungry hole and the foursome gyrates in a hot sexual workout…a wild fuck fest of perfect erotic harmony…ending as each hot stud shoots his sticky voluminous load.

WATCH THE SCENES NOW AT:
FALCON STUDIOS
Falcon Members can watch scenes from this Release anytime online.
DVD Releases debut online prior to DVD Release.

WATCH IT AT: AEBN / SMUTJUNKIES THEATER
BUY IT / WATCH IT AT: GAY HOT MOVIES