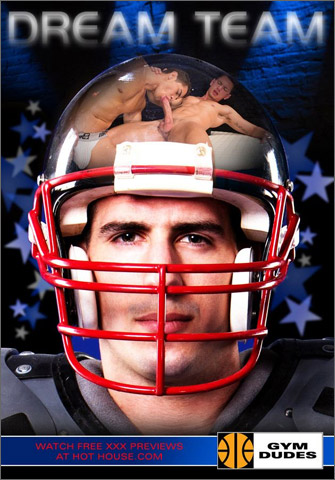 Studio: Hot House Entertainment / Club Inferno
Directed by: Steven Scarborough and Christian Owen
Year of Production / Release: 2013
Country of Production: U.S.A.

CAST:
Tyler Alexander
Bobby Clark
Jayden Ellis
Lance Luciano
Luke Marcum
Nick Parker
Zachary Perry
INFORMATION FROM HOT HOUSE:
The athletic line-up of the year couldn't get any sexier when cover stud Tyler Alexander heads up the Dream Team. These players go all out to earn a spot on the team and enjoy the perks of fucking the hottest guys in the locker room. Check out the impressive stats of Tyler's co-stars Bobby Clark, Jayden Ellis, Lance Luciano, Luke Marcum, Nick Parker, and Zachary Perry; we're certain you'll have your cock out, jacking along to their every move, ready to cream with the Dream Team.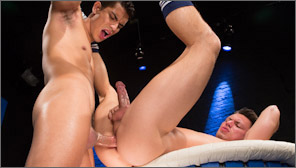 SCENE 1: Lance Luciano fucks Zachary Perry
Dream Team members Lance Luciano and Zachary Perry take the arena for some serious one-on-one gameplay. Lance helps Zachary warm up by working his round bubble-butt with a foot-long dildo. He simultaneously twists the huge latex toy in and out of Zach's ass while milking his thick cock. Things heat up when Lance strips the jockstrap off his teammate and flips him over so he can suck his big dick. Lance whips out his giant Latino cock and slams it into Zach's hungry ass. The ass-fucking continues until both players pull on their cocks and shoot their loads.

SCENE 2: Luke Marcum fucks Jayden Ellis
The Dream Team returns and this time varsity team captain Luke Marcum takes on JV first-stringer Jayden Ellis. Marcum kicks back so Ellis can suck his dick then throws the young athlete on his back and strips off his jock to reveal his throbbing boner. Marcum goes in on Ellis' rock-hard cock then rolls him up on his shoulders so he can lick his balls and eat his ass. In a game-changing move Marcum stands up, shoves his cock in Ellis' ass, and fucks him hard. Marcum throws all his muscle into the fuck session until he can't hold off any longer. He pulls out and drops a load on Ellis' round bubble-butt then, like a good teammate, flips Ellis over so he can jerk one out too.

SCENE 3: Bobby Clark fucks Nick Parker
Don't let Bobby Clark's clean cut good looks fool you: he's a freak for athletic gear. He forces his teammate Nick Parker to wear a catcher's vest plate and cleats then kicks back so the young stud can worship his smelly jock and drink spit from his protective cup. All the fetish play makes Bobby's dick rock hard so he whips it out and pushes it down Nick's throat. Bobby, horned up and ready for more, goes in to taste Nick's jock and cock. He swallows Nick's thick tool all the way to his baseball-size nuts then throws him on his back to fuck his ass. Nick sits down on Bobby's cock and rides him until he pops, shooting a thick load. Bobby stands up and pumps his own dick until he blows all over Nick's athletic gear.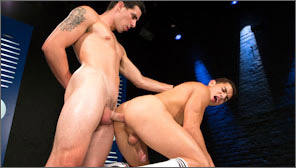 SCENE 4: Tyler Alexander fucks Lance Luciano
Lance Luciano's jack off fantasy becomes a reality when his Dream Teammate Tyler Alexander steps out of the shadows and shoves his huge cock down Lance's throat. Lance eagerly swallows Tyler's rock-hard monster but it's not enough for the handsome team captain; Tyler grabs Lance's head and skull-fucks him until he gags. Before Lance can even regain his composure Tyler moves around to fuck his ass. Lance gets on all fours and opens his hole to Tyler who slams his ass like a true Olympian. Lance continues to stroke his own big dick until he blows followed by Tyler who pulls out and shoots his load all over his buddy's washboard abs.

WATCH IT NOW / MORE INFO AT:
HOT HOUSE & HOT HOUSE BACKROOM
Hot House Backroom Members can see this film anytime online.
With extensive additional photography from every scene.