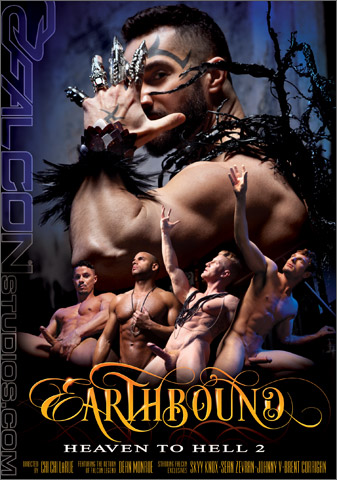 Studio: Falcon Studios
Directed by: Chi Chi LaRue
Year of Production / Release: 2017
Country of Production: U.S.A.

CAST:
Gabriel Alanzo
Brent Corrigan
Andre Donovan
JJ Knight
Skyy Knox
Dean Monroe
Brad Patton
Blake Riley
Armond Rizzo
Andrew Stark
Trelino
Johnny V
Arad Winwin
Sean Zevran
FROM FALCON STUDIOS:
12 years ago…Falcon Studios released Heaven To Hell, one of the most talked-about and successful gay porn movies of all time. An epic story of good versus evil and of paradise lost and pleasure found finally continues in Earthbound: Heaven to Hell 2…
The Devil (Dean Monroe) rules with a harsh hand and his soulless Dark Angels do his evil bidding, reigning terror over all who cross their paths. The Devils slave, Rogue (Skyy Knox) refuses to accept this fate and escapes to the world above, making him Earthbound. On earth, Lord (Andrew Stark) is on a mission to find out who's ripping him off, but Snitch (Trelino) gets in his way and he must pay with a powerful pounding. Frustrated by one of his Rouge going astray, the Devil demands his other minions to service him. Dark Angels Sean Zevran, Arad Winwin and Gabriel Alanzo do as they are told in an epic, hedonistic group sex marathon. Lord is angered and equally in need of relief when he orders his sidekick, Alleycat (Armond Rizzo), to ease the sexual tensions built up in his massive dick with a tender yet intense session. While on a fact-finding mission, Henchman (JJ Knight) comes across the mysterious Biker (Blake Riley) and their anonymous session leads to them cumming Hard across each other's faces and bodies. As Dark Angel (Andre Donovan) closes in on capturing Rogue in a nightclub, he can't resist the sexual energy and astonishing good looks of Barfly (Johnny V). The powerful lust of the moment distracts this Dark Angel from his mission, meanwhile, Rogue finds angelic gogo dancer, Lucky (Brent Corrigan) and finds true love in him, consummated in a passionate and romantic love-making rendezvous, the breathtaking encounter breaks the ties that bind Rogue to an eternal hell.
Human kindness is put to the test as lust and desire fuel the suspense in this highly stylized, erotic, XXX thriller where sex is king but love conquers all!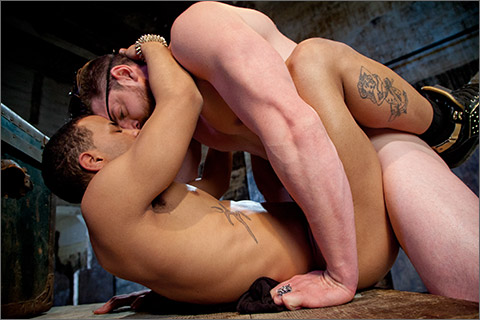 SCENE 1: Andrew Stark as Lord fucks Trelino as Snitch
Nobody snitches and gets away with it. You must pay! When Lord (Andrew Stark) confronts Snitch (Trelino), it takes enhanced interrogation tactics to get him talking. Lord spreads Snitch's ass and has his way with it, using his tongue to prepare it for Snitch's penance. Stripping off his clothing, Lord reveals his massive cock and shoves it into Snitch's mouth. With Snitch's ass wet and Lord's cock throbbing, Lord makes his move. As if possessed with demonic power, Lord pounds his cock deep into Snitch's tight hole. Flipping on his back, Snitch works his uncut meat as Lord penetrates further inside. With Lord still inside him, Snitch blows his load across his ripped abs. Standing over Snitch's face, Lord strokes out a massive, thick load that splatters across Snitch's face. Now that he got what he wanted, Lord pushes Snitch down on the ground and leaves him.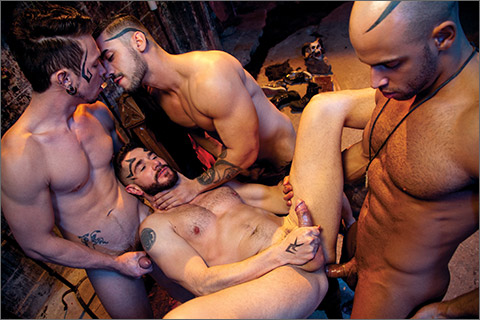 SCENE 2: Sean Zevran, Arad Winwin & Gabriel Alanzo as Dark Angels fuck Dean Monroe as Devil
"Please me," says the Devil (Dean Monroe) to his Dark Angel servants. Duty-bound to satisfy their master, Dark Angels Sean Zevran, Arad Winwin, and Gabriel Alanzo press their hands on Dean's muscular body. The four menacing demons of the underworld turn to each other and savor the pleasures of their flesh. Gabriel opens his mouth to receive Sean's monster cock, slathering it with spit, as Dean swallows Arad's massive sword. Sean eats Gabriel's ass, and Arad spits into Dean's mouth. Borrowing the Devil's throne, Sean takes a seat as Arad services him orally. The four dirty angels congregate together in a seething, writhing mass of bulging muscles, hard cocks, and open mouths. Sean and Dean tag team Gabriel's cock as Arad face fucks him. As Dean relaxes on his throne and watches, Sean thrusts his cock inside Gabriel's ass and pounds him with all his supernatural strength. Gabriel licks Dean's nipples, always trying to please his master. Dean savors the taste of Arad's spectacular cock as it slides into his gullet. But now it's time for the boss to get what he really wants: his hole pounded. Sean slides in first, stretching out Dean's hole. Arad steps up next and drives his meat deep inside Dean. As Dean strokes his cock, Arad moves up to Dean's face and shoots his load into Dean's open mouth and across his dark beard. Sean pounds Gabriel's load out of him, but he's sure to deliver it directly to his master. Sean sprays his load across Dean's thigh, and Dean shoots off a white-hot load.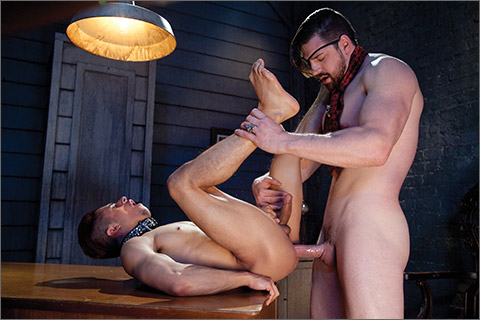 SCENE 3: Andrew Stark as Lord fucks Armand Rizzo as AlleycatLord (Andrew Stark) is angered, and he sends his Henchman out to find some answers. Left to his own devices, Lord turns to his courtesan, Alleycat (Armand Rizzo), to relieve the tension. Stripping off Lord's shirt, Alleycat leans in to teasingly lick Lord's sensitive nipples. Lord wraps his big, strong hands around Alleycat's tight, muscular ass, probing at the crack. Working his way down Lord's impressive torso, Alleycat liberates Lord's huge cock. Opening his mouth as wide as he can, Alleycat uses every one of his mastered techniques to render pleasure to his master. Alleycat tongues the tight, hairy center of Lord's ass, and Lord returns the favor with a wet, sloppy rimming. Using his fingers, Lord pushes his saliva into Alleycat's tight but inviting hole. Reclining on his chair, Lord invites Alleycat to sit down on his cock. Thrusting upwards, Lord pounds Alleycat's willing ass. Picking Alleycat up, with his cock still buried in Alleycat's hole, Lord fucks him wherever he pleases: against the wall, on the desk, and even hovering suspended in the air. Putting Alleycat down on the desk, Lord pounds him hard until Alleycat shoots his creamy load. As Alleycat kneels down on the ground, Lord strokes his thick cock and explodes across Alleycat's face and into his open mouth. Reaching out with his tongue, Alleycat tenderly massages the tip of Lord's cock, as frothy cum drips from Alleycat's chin.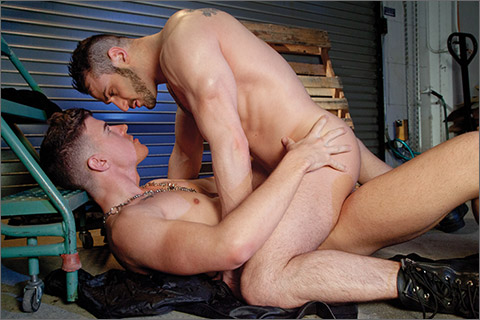 SCENE 4: JJ Knight as Henchman fucks Blake Riley as Biker
Sent on a fact-finding mission by his employer, Lord, Henchman (JJ Knight) encounters a mysterious motorcyclist. Biker approaches Henchman, and doesn't flinch when Henchman cops a feel. But the moment Henchman tries to remove the Biker's helmet, he gets immediately rebuffed. Ducking inside a dark and dirty warehouse, Henchman removes Biker's motorcycle jacket – no shirt underneath. Clawing at Biker's pants, Henchman opens the fly and services Biker's hard cock. Still, he refuses to remove his helmet. Henchman tongues the sensitive tip of Biker's cock and tugs on his big balls. Rising to his feet, Henchman won't take no for an answer: he has to know who he's dealing with. Finally, acquiescing, Biker reveals his identity: Blake Riley. They kiss passionately, completely caught up in mutual lust. Getting on his knees, Biker fishes Henchman's monster cock out of his pants and gives Henchman an intense oral workout. Biker squats down and sits on Henchman's face, using a set of utility stairs to get at just the right height. Pushing his tongue up into Biker's hole, Henchman eagerly savors the warm, soft flesh. Sitting down on top of Henchman, Biker somehow manages to cram Henchman's humongous schlong into his hole. The enormous length and girth of Henchman's cock stretches the skin of Biker's hole, and he braces himself against the stairs to better withstand Henchman's intense pounding. Jerking his hard dick, Biker pumps out a copious load across Henchman's washboard abs. As Henchman strokes himself, Biker laps up his own load from JJ's torso. As Biker teases Henchman with his tongue, Henchman ejaculates a massive, spurting load that shoots across the room and hits Biker in the side of the head. After licking Henchman's cock clean, Biker shares the taste with Henchman in a final, fiery kiss.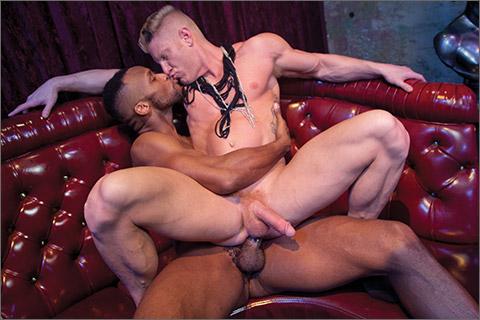 SCENE 5: Andre Donovan as Dark Angel fucks Johnny V as Barfly
The Devil's Dark Angels have been sent to a sinful nightclub to capture and return Rogue who abandoned their master. In his quest for information, one of the Devil's Dark Angels, Andre Donovan, encounters a bar patron, Barfly. After learning what he needs to know, Andre decides to have some fun with Barfly. A single kiss snowballs into writhing and groping, which then turns into Barfly sucking Andre's massive cock. Moistening his fingers with spit, Andre probes Barfly's hungry hole, eager to sample its pleasures. Spreading Barfly's ass wide, Andre dives in tongue first and delivers a frantic rim job. Removing all his clothing, Andre slaps his huge cock across Barfly's ass, then presses it inside. As sweat glistens on their bodies, Andre picks up speed, pounding the hell out of Barfly. After doing it doggy style, Andre positions Johnny in a seated position, using gravity to bounce him up and down. Barfly's huge balls flop up and down as he rides Andre's thick fuck stick. When he climaxes, Barfly shoots a hot, white load across Andre's muscular thighs. Kneeling before Andre, Barfly eagerly licks the Dark Angel's cock and balls. His reward is a blast of cum to the face, and he gratefully uses his tongue to clean Andre's throbbing cock.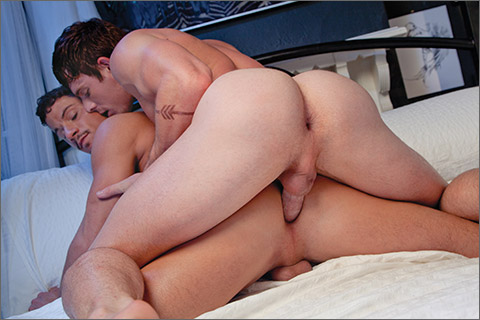 SCENE 6: Brent Corrigan as Lucky & Skyy Knox as Rogue flip-fuck
Rogue (Skyy Knox) was a sex slave, but he turned his back on his master, The Devil and became Earthbound. After stumbling into a crowded bar, Rogue finds his personal angel: Lucky (Brent Corrigan), an angelic gogo dancer. It's true love at first sight, and the power of their love frees Rogue from his enslavement by the Devil. Rogue, overwhelmed with gratitude, kisses Lucky passionately. Removing their clothing, Lucky wraps his lips around Rogue's huge cock. Switching places, Rogue slathers spit along the shaft of Lucky's cock, then uses his fingers to probe inside Lucky's tight hole, then gives Lucky a taste. Lucky throws his legs in the air, and Rogue presses his face between Lucky's ass cheeks. Flipping places, Lucky reciprocates. Sliding his tongue along Rogue's crack, then rubbing his cock right down the center. Slowly at first, then picking up speed, Lucky starts fucking Rogue doggy style. Their hard muscles flex and bend as they grind their bodies together. As Lucky lays back on the bed, Rogue uses his powerful legs to raise and lower himself on Lucky's hard cock. Standing up by the side of the bed, Rogue drives his hard member into Lucky. The incredible sensations of Rogue's cock inside him gets Lucky ready to blow. He strokes his cock and cums into Rogue's mouth, who then snowballs it back to Lucky with slow, tender kisses. Kneeling over Lucky's face, Rogue shoots his load right into Lucky's open mouth.

WATCH THE SCENES NOW AT:
FALCON STUDIOS
Falcon Members can watch scenes from this Release anytime online.
DVD Releases debut online prior to DVD Release.