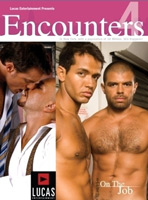 Studio: Lucas Entertainment
Directed by: Tony DiMarco
Year of Release / Production: 2007
CAST:
Jack Bond
Chad Hunt
Vin Nolan
Spencer Quest
Pete Ross
Brad Star
Manuel Torres
Wilson Vasquez
Ryann Wood
INFORMATION FROM LUCAS ENTERTAINMENT:
SCENE 1: Stock Options (Concept by Tony Dimarco)
Another hectic day on Wall Street means nothing but stress for CEO Spencer Quest. Things escalate when he butts heads with merging partner CFO Jack Bond at an intense meeting that leaves everyone at the table speechless. That evening, as their workday runs late while ironing out the deal, Quest and Bond have a one-on-one meeting and take their anger out on each other by sucking each other off and flip-flop fucking on the table. Talk about relieving stress!
SCENE 2: Wide Receiver (Written by Chad Hunt)
A friendly game of touch football in Central Park ends with Chad Hunt taking straight boy Brad Star home (his girlfriend's too busy for him). The two pop open some brewskis while Hunt turns on some "pussy channels" on the tube to try to get Star in the mood. It works, and soon Hunt is chowing down on Star's smooth dick and ass. After loosening him up a little with a beer bottle, Hunt ends up plunging his monster dick into Star's tight bunghole.
SCENE 3: Bar Back (Concept by Tony Dimarco)
It's the end of a busy night, and bartender Vin Nolan and bar back Pete Ross are the only ones left to clean things up. Ross can't resist brushing up against Nolan behind the bar, but Nolan is reluctant to his advances and doesn't want to do anything to jeopardize his job. So the two take things to the bathroom, where they suck cock and Nolan eats Ross' ass before pounding it from behind. They then head to the toilet, where Ross rides Nolan's dick while he sits.
SCENE 4: El Marican (Written by Richard Munguia)
It's a scorching hot day, and web designer Ryann Wood is on a tight deadline when suddenly all the power in his apartment goes out. Enter burly electricians Wilson Vasquez and Manuel Torres, who realize they've come a long way just to fix a blown fuse. Conversing with each other in Spanish, the two decide to get a little more out of the situation and the threesome suck and fuck on an exercise ball to a cum-tastic conclusion (with a surprise ending!).

GO TO: LUCAS ENTERTAINMENT