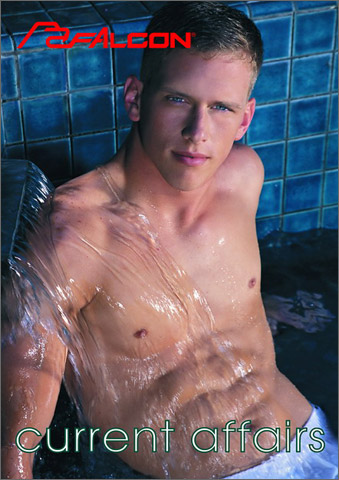 Studio: Falcon Studios
Directed by: John Rutherford
Year of Production / Release: 1998
Country of Production: U.S.A.

CAST:
Marco Antonio
Rod Barry
Kyle Becker
Mike Branson
Brian Daniels
Brennan Foster
Jeremy Penn
Jean Rivera
FROM THE FALCON WEB SITE:
Falcon exclusive Kyle Becker and his boyfriend-newcomer Marco Antonio-share past sexual histories which helps to steam up their new relationship! Also starring Falcon exclusives Jeremy Penn, Mike Branson and Brennan Foster; plus Rod Barry, Brian Daniels and Jean Riviera. This is hot action to the fullest! Guaranteed to get your motor running!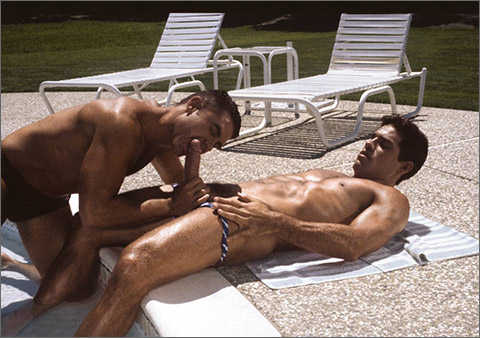 SCENE 1: Mike Branson fucks Kyle Becker
Kyle Becker describes lying poolside next to the tanned Herculean form of Mike Branson. Enamored with the provocative bulge in Mike's speedos, Kyle attempts a furtive peak…awakening the sleeping giant who quickly recognizes Kyle's intent and has his own erotic agenda. Mike invites Kyle to take a peek and he eagerly accepts the invitation, freeing Mike's huge thick cock from the tricot trappings. Kyle hungrily sucks Mike's cock-filling his mouth with the bulbous head; sliding his tongue up and down the engorged shaft-burying Mike's tool deep in his own throat. The rippled sunbathers slip off their suits and stroke their rigid cocks. They engage in a bit of swordplay, slapping their dicks against each other before Kyle kneels and offers his firm round ass for Mike's enjoyment. Mike massages Kyle's hole–opening him up in preparation for the inevitable and much anticipated fucking to come. Kyle begs Mike for his cock. Mike eases it in, then delivers his tool with rhythmic, ever-quickening thrusts as he plows Kyle's hungry hole. The sun beats down as the men become lost in their erotic play. The more they play, the more they want. Mike reclines and Kyle eagerly settles down onto his erect cock, working himself into a frenzy and finally spilling his load over Mike's chiseled abs. In a moment, Mike's own ivory fountain completes the pool and the two satisfied men heave a sigh of release.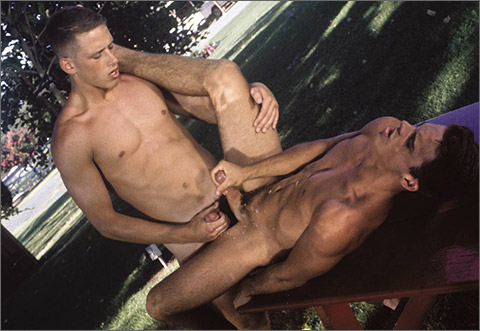 SCENE 2: Jeremy Penn fucks Brian Daniels
Behind the barn, Brian Daniels badgers Jeremy Penn for some action. At first, Jeremy is hesitant, afraid of discovery, but Brian insists and Jeremy relents. Brian pulls Jeremy's jeans down, revealing his primed erect cock. Brian goes down on it with abandon, greedily taking Jeremy's prick deep into his throat. Then he demonstrates his oral skill…working his tongue around the tip and along the shaft while Jeremy gasps with pleasure. Braced against the red siding, Jeremy leans back, letting Brian nibble and suck his cock. The young men relocate to a nearby picnic table and Brian lies back with legs spread wide. Jeremy massages and opens Brian's ass while Brian rims him. Then Jeremy takes Brian from behind and slips his cock into Brian's hole, nuzzling and nibbling the nape of his neck, wandering to the tip of his ear while rhythmically thrusting into him. The men reposition themselves and Jeremy energetically pounds Brian's ass as he reclines. Soon the men have reached their climax and delivered their goods before collapsing in an exhausted, languid embrace.

SCENE 3: Brennan Foster, Jean Rivera & Marco Antonio flip-fuck
Marco Antonio joins Brennan Foster and Jean Rivera for an inspired threesome. Jean kneels between Brennan and Marco, loosening their jeans and feeding on their stiff hard cocks. Slowly the men strip off their clothes as Jean works his way between Brennan's long smooth cock and Marco's uncut tool. The trio of tight muscled studs forms a cock-sucking daisy-chain, separating only to lavish specific attention between cheeks or on dangling balls. They move like a well-trained unit, gyrating around one another and savoring each members' special maleness. They suck each other, then fuck each other, until each man has overheated and spilled over, finally relaxing in the afterglow.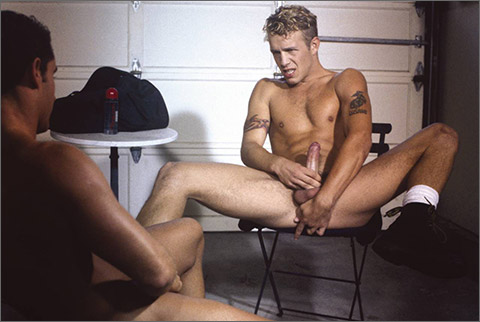 SCENE 4: Kyle Becker & Rod Barry
Kyle Becker faces of with Rod Barry-a mean sex-pig exuding a thick sap of sensuality. Rod taunts Kyle with his uncut cock, waving it in his face. Rod verbally baits Kyle and forces him to watch as he shoves a well-lubed plug up his butt. His asshole twitches with each insertion and Kyle is the appreciative audience to this sexual performance. Under Rod's directions, he strokes and pulls his cock. Rod then orders Kyle to lick the sweat off his face. Eyeing each other lustily, the two men pump their shafts until they can contain themselves no longer and give in to their respective orgasms.

SCENE 5: Marco Antonio fucks Kyle Becker
Kyle Becker sneaks back into bed, horny as hell. He shakes Marco Rivera awake and the two warm to each other-both men tingling with the knowledge of their secret trysts. Kyle kneels between Marco's legs and worships his partner's beautiful uncut cock, playing with the foreskin and tenderly nibbling on the shaft. Marco lays back, soaking in the attention before he returns the favor, throating Kyle's stiff prick. They sixty-nine, enjoying each other's warmth and excitement, feeling their desire rise. They rub their cocks together, Marco sliding his foreskin over Kyle's smooth tip. Unable to restrain his ardor any longer, Marco fucks Kyle with gusto. They flip-flop and Kyle takes the lead, filling Marco with his cock. Marco reaches his peak and spews his load across Kyle's chest, prompting Kyle's own orgasm. There is nothing as potent or thrilling as this current affair as the two men fall exhausted into a well of kisses.

WATCH THE SCENES NOW AT:
FALCON STUDIOS
Falcon Members can watch scenes from this Release anytime online.
DVD Releases debut online prior to DVD Release.

WATCH IT AT: AEBN / SMUTJUNKIES THEATER
BUY IT / WATCH IT AT: GAY HOT MOVIES