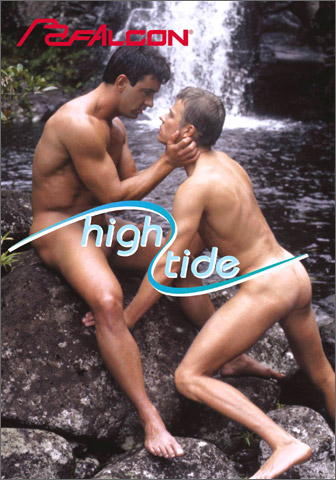 Studio: Falcon Studios
Directed by: John Rutherford
Year of Release / Production: 1997
CAST:
Matthew Anders
Jake Andrews
Rod Barry
Kyle Becker
Mike Branson
Kristian Brooks
Tom Chase
Brian Cruise
Sebastian Cruz
Michael Lucas
Jeremy Penn
Christopher Scott
Anthony Shaw
Colby Taylor
Travis Wade
INFORMATION FROM FALCON STUDIOS:
A hot young man — with a fabulous job, home, and a beautiful… girlfriend? All is not as it seems in this tale of a lost love gone astray. Starring Falcon Exclusive Superstar Tom Chase and introducing Falcon Superstar Matthew Anders. Shot in beautiful exotic locations on the island of Hawaii and featuring the hottest cast ever assembled.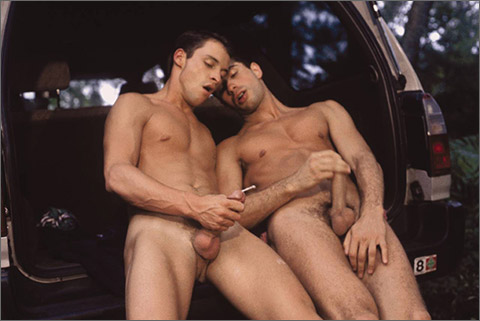 SCENE 1: Colby Taylor, Matthew Anders and Michel Lucas
Hiking through a tropical forest, Matthew Anders happens upon two other travelers-Michel Lucas and Colby Taylor. The two stunning young men are out enjoying the sights and each other…asking Matthew to snap their photograph amidst the natural splendor of a tropical forest. As soon as Matthew leaves, the couple decides to enjoy their own respective beauty. Colby services his eager friend, taking Michel's stiff uncut cock into his mouth, savoring the tool from tip to shaft, finally bathing his balls with broad sweeps of a soft but insistent tongue. In no time at all, Michel is on his knees returning the Colby's oral affections, his tongue wandering over the balls and into the crevice of Colby's ass, his finger probing the pucker of his hole. Raising him up, Michel fucks Colby hard and fast; he continues the erotic rhythm as the pair lay nestled in the back of their car. Frenzied, anxious for release, the two taut men stroke themselves to orgasm, blasting each other with their thick hot loads.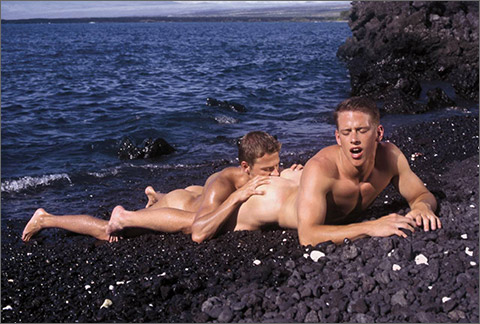 SCENE 2: Jeremy Penn fucks Matthew Anders
Relaxing on a remote black sand beach, Matthew Anders lies back, soaking in the sunlight. Muscled blond jock Jeremy Penn spies Matthew on the sand. Jeremy impulsively blankets Matthew's body with his own, then pulls Matthew up and into the surf. Standing naked in the shimmering water, their passion churns and swells like the surf surrounding them. Matthew finds himself drawn irrepressibly toward Jeremy's stiff erect cock, worshipping it from the cleft of the tip down to the gentle curve of Jeremy's full, protruding balls. Soon Matthew is devoting his attention to Jeremy's firm round ass…spreading his cheeks and probing Jeremy's hole with an insistent tongue…transporting Jeremy into a highly charged erotic state. The two relocate to an igneous outcropping and Jeremy slides his aching cock deep into Matthew's hole. Jeremy forcefully and rhythmically fucks Matthew until the delectable ache of orgasm expands, triggering an explosion of pearly ropes which adorns Matthew's back.

SCENE 3: Poolside Orgy with Kyle Becker, Rod Barry, Anthony Shaw, Christopher Scott, Kristian Brooks, Travis Wade, Matthew Anders and Jake Andrews
Back at the house, Matthew Anders meets Jeremy's buddies lounging poolside-Jake Andrews, Christopher Scott, Travis Wade, Kristian Brooks, Rod Barry, Anthony Shaw, and Kyle Becker-enjoying the sun. Christopher Scott takes on Jake Andrews and Kyle Becker; Kristian tangles with Travis, while Anthony devotes himself to servicing Rod Barry's stiff prick. The scene becomes a frenzied orchestra of male satiation. Jake feeds Christopher a dildo, which he eagerly accepts. Travis stretches Kristian's hole with a buttplug while Rod inches a set of latex balls into Anthony's ass. Anthony groans ecstatically as Rod pulls the toy out…one segment after another. Rod zeroes in on Anthony's ass, pounding it with abandon. Christopher sucks Jake as Kyle fucks him from behind while Travis buries his tool deep in Kristian's hole. The seven studs continue fucking, sucking, stroking and pleasuring themselves until each man-urged on by his lusty mates-forcefully ejects his load, soaking in all the masculine energy.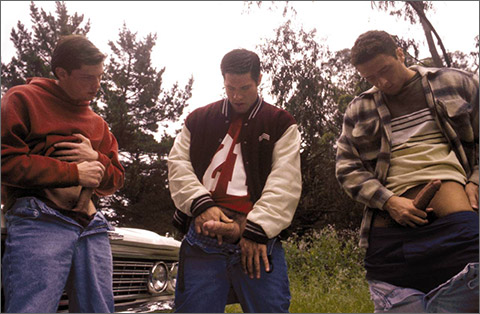 SCENE 4: Brian Cruise, Sebastian Cruz, Mike Branson fuck Matthew Anders
Stumbling out of a club, Matthew is overcome by three thugs-Mike Branson, Brian Cruise, and Sebastian Cruz-determined to teach him a lesson. The brutal trio takes turns stuffing their thick cocks into Matthew's mouth, then decides to spirit him away to a remote location. Stuffing Matthew into the trunk of their car, they speed off. Parked on an isolated hill, the horny hoodlums vie for the opportunity of being the first to exploit the dazed blond stud. Brian Cruise wins, forcing his thick hard cock down Matthew's throat. Brian pulls his captive from the trunk and fucks him hard and fast. Sebastian and Mike can hardly wait for their turn. Sebastian takes over, pumping Matthew forcefully. Mike takes his turn, feverishly pounding Matthew's ass. The trio taunts Matthew as they ravage his ass, then all three shoot their loads across the small of his back. Shorten Synopsis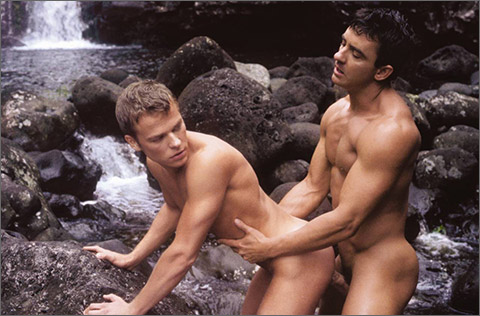 SCENE 5: Tom Chase fucks Matthew Anders
Seven years later, Matthew Anders is back where he belongs-with Tom Chase, the true love of his life. Time has not diminished their ardor, rather it has only strengthened their bond. Rediscovering themselves, the lovers frolic in the surf, playing in the sand, walking hand in hand. They seal their love with a kiss in the surf, while in the background a cathedral of waterfall and rocks reflects their passion. Matthew devotedly sucks Tom's huge cock drawing every rock-hard inch deep into his throat. The two transmit their undiminished love to each other with long looks; their passion steamy and sensuous. Tom lovingly takes Matthew's cock into his mouth, then meanders to his hole, massaging and priming it for a full session of fucking. They make up for lost time as Tom pumps Matthew full with his huge dick, each stroke throbbing with pleasure and passion. They stroke off and finally explode, releasing their essence. Still basking in the afterglow, they sit alone on the beach, as the waves serenade them.

WATCH THE SCENES NOW AT:
FALCON STUDIOS
Falcon Members can watch scenes from this Release anytime online.
DVD Releases debut online prior to DVD Release.

WATCH IT NOW AT: AEBN / SMUTJUNKIES THEATER